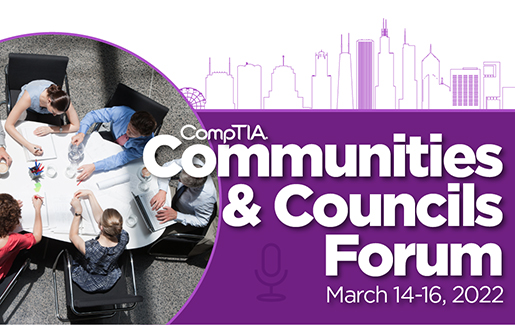 Collaboration has always been the key to the success of the CompTIA Communities & Councils Forum (CCF). And this year, we're thrilled to reconnect in person! When you join us in Chicago, March 14-16, 2022, you'll not only have the opportunity to contribute your ideas and experiences regarding the most pressing issues and trends in the technology industry, but you'll also get to revel the camaraderie that we've been missing for the past two years.
If that isn't enough motivation to get you to the windy city, we've compiled a list of 10 highlights you won't want to miss at CCF this year.
1. Connect With Other CompTIA Members—in Person!
Who's ready to be in a room with other people? CCF offers plenty of time to catch up with your friends and make new connections. Attend the first-time attendee welcome orientation, and join us at the Mix & Mingle, networking breakfasts and St. Patrick's Day celebration.
2. Join the First Hybrid MSP Client Solutions Mastery Path Session
The MSP Client Solutions Mastery Path is your ticket to growth. This seven-month, intensive hybrid program is designed to help MSPs maximize their profits through solution selling. The first session will be held in-person at CCF. You must register ahead of CCF and space is limited.
3. Learn to Optimize Your Business and Workforce
CompTIA has a path into a career in technology for everyone. From middle school workshops, to apprenticeships, certifications, communities, and the CompTIA Career Tech Academy. Join Debbie Kestin Schildkraut, CompTIA's vice president of global member engagement, as she engages the audience and a panel in conversations to increase awareness of the need for diversity and how to introduce technology as a career opportunity for everyone interested.
4. Hear from CompTIA's New Chief Community Officer
MJ Shoer was recently named CompTIA's Chief Community Officer. He will kick off CCF 2022 and talk about what that title means for members and how CompTIA is committed to bringing together technology innovation and collaboration. Hear the latest on CompTIA's efforts to drive the adoption of technology and advance the industry this year—and how you can help!
5. Engage a Genius to Help Grow Your Business
These reservation-only, one-on-one sessions with a selection of handpicked subject matter experts allow CompTIA members to get customized advice for their business. Take advantage of this opportunity. Appointments are available for sales, marketing, and cybersecurity geniuses. Reserve your appointment time today by emailing [email protected].
6. Hear the Latest Public Sector Trends: Space, Trade & Government Tech
If you have clients in the space tech, trade or local government sectors, CompTIA may be able to help you. Our Public Sector Councils connect leading technology companies and dedicated professionals with key government officials to grow their businesses and careers. A dedicated session on March 15 will detail everything happening in those areas that you should know about.
7. Connect with Peers During a Community Meeting
If you're not already part of a CompTIA Community, attend a meeting at CCF to learn how CompTIA can help your business grow and thrive. Our Cybersecurity, Emerging Technology, Managed Services and Advancing Tech Talent & Diversity communities will be meeting in person to discuss best practices, current trends and innovations that can help your business.
8. Have a Great Idea? Make Your Voice Heard
We want to know how the latest trends in the tech industry are impacting technology businesses like yours – and how we can support you. Attending CCF is a chance to do just that. Contribute your ideas in interactive sessions or one-on-one to help CompTIA and members advance the tech industry.
9. Celebrate with the CompTIA North America Spotlight Awards Winners
Refuel with some lunch and inspiration! Join us in congratulating the winners of this year's CompTIA North America Spotlight Awards, announced live! Winners will be recognized in Future Leader, Advancing Women in Technology Leadership, Advancing Diversity in Technology Leadership, Community Leadership, and Industry Advisory Council Leadership categories.
10. Maximize Your Membership
Are you getting the most from your CompTIA membership? Are you sure? There's a good chance there are benefits you're missing out on. At CCF, you can learn how to get the more from your membership. Stop by the membership lounge to chat with a CompTIA representative and attend a membership session to learn more about member benefits and other opportunities.
Bonus: Enjoy Downtown Chicago!
St. Patrick's Day weekend is an awesome time to enjoy everything Chicago has to offer. CCF gives you some free time to explore. If you're able to arrive a few days early, the Chicago River will be famously dyed green on March 12 – it's quite a sight to see! Plus, you get two nights on your own to reunite with old friends—or make new ones!
There's a place for everyone at CCF. Don't miss this opportunity to contribute your ideas, create partnerships that help shape the future, network with peers and learn more about the topics and trends that matter to you the most. Registration is free for CompTIA members. We can't wait to see you in Chicago!