Executive Vice President, Social Innovation & CEO,
Creating IT Futures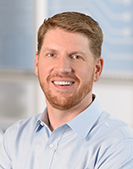 Charles Eaton
Executive Vice President, Social Innovation & CEO, Creating IT Futures

Charles Eaton leads CompTIA's three philanthropic endeavors. As executive VP of social innovation, Eaton oversees NextUp, our newest initiative to introduce middle schoolers to the possibilities of tech careers, and CompTIA Giving, which supports tech-focused charities through financial and volunteer resources.
As the CEO of Creating IT Futures, he leads CompTIA's main IT charity which enables people to improve their lives through employment in the IT industry. Eaton joined CompTIA in June 2010 and has 23 years of non-profit management experience.
Prior to joining CompTIA, he was responsible for fundraising, business development and marketing for the Association for Professionals in Infection Control and Epidemiology (APIC), a growing healthcare association focused on improving healthcare quality and patient safety.
Before joining APIC, Eaton was vice president of member relations for the Consumer Technology Association (CTA), which organizes the largest tradeshow in North America, the International Consumer Electronics Show (CES) in Las Vegas.
Eaton graduated with a Bachelor of Arts in English from Duke University and has four kids, ranging from elementary school age to working adult.