President and Chief Executive Officer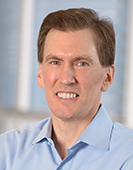 Todd Thibodeaux
President and Chief Executive Officer, CompTIA

Todd Thibodeaux is the president and chief executive officer of CompTIA, the leading non-profit trade association for the global technology industry. CompTIA represents more than 2,000 member companies and 3,000 business partners spanning the worldwide technology industry.
Since joining the organization in 2008, Mr. Thibodeaux has led the expansion of CompTIA's commitment to advancing industry growth through education and training programs, market intelligence and research, networking events, professional certifications and public advocacy.
Mr. Thibodeaux is a frequent commentator and source quoted in news coverage of the technology industry, including the Associated Press, Bloomberg News, Entrepreneur, Forbes, and USA Today. He also contributed written columns to a variety of business and industry publications, including CIO and InformationWeek Dark Reading.
Before joining CompTIA in July 2008, Mr. Thibodeaux spent more than 17 years with the Consumer Electronics Association (CEA), where he served in a wide range of roles culminating as its senior vice president of industry relations.
Mr. Thibodeaux is a life-long IT and tech enthusiast dating back to his very early years. The son of an electrical and mechanical engineer, his love of technology continues to this day and he has infused CompTIA with a renewed sense of enthusiasm for the industry the organization represents.
He is a graduate of the University of North Carolina at Wilmington (Bachelor of Science, economics, 1988) and George Mason University (Master's degree in economics, 1997).