CompTIA IT Industry Training
Corporate members can take advantage of CompTIA's Industry Education, the most popular and highly rated member benefit. Members can utilize CompTIA's vendor neutral training to fill their learning portals with recorded sessions or live virtual training to educate staff, partners and prospects on business topics relevant to today's ever evolving technology industry. Education is delivered through a variety of mediums including 45- to 60-minute longer-form and executive certificate sessions, as well as self-paced e-learning courses.
If you wish to access training resources, consider becoming a CompTIA corporate member. You can join here or reach contact a member representative at [email protected]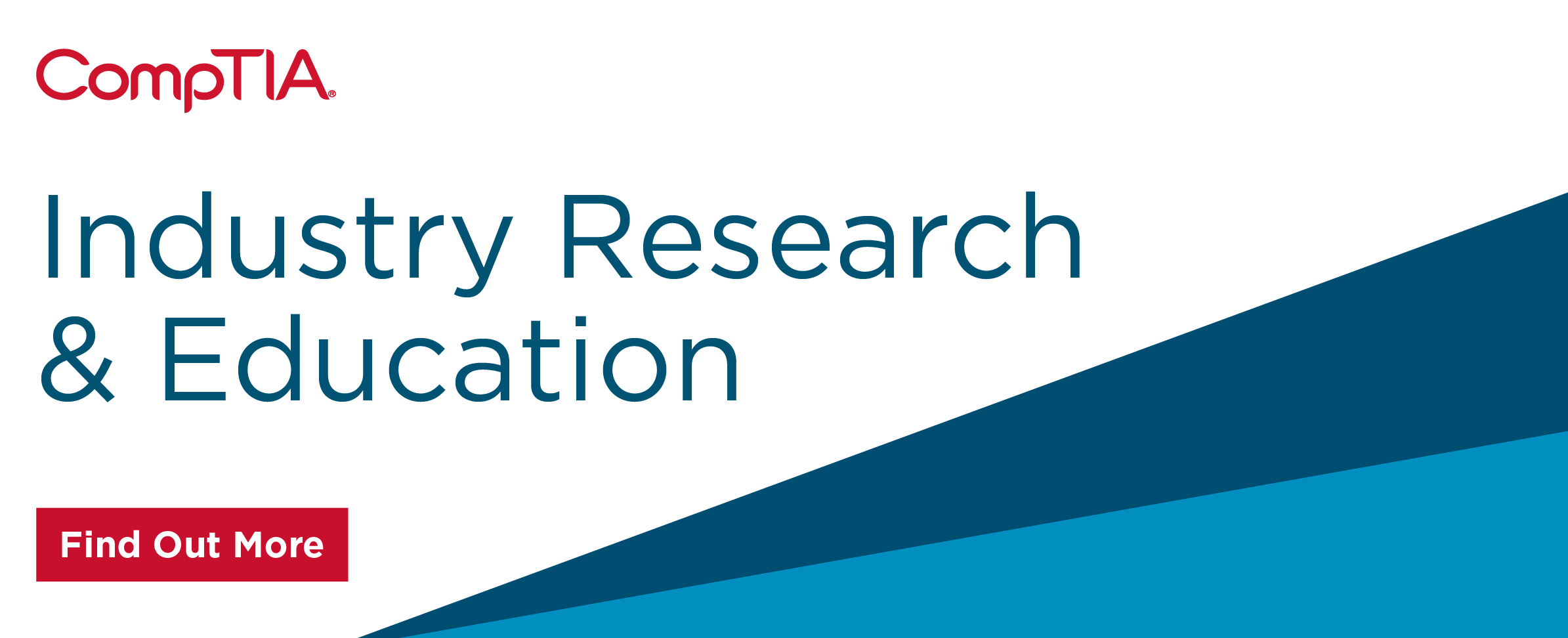 Upcoming live virtual training sessions are listed below.
CompTIA Channel Training
Contact your member representative at [email protected] for information on how to take advantage of the sessions below. Refer to our Industry Training Catalog for more detailed descriptions.
Vendor and Distributor Education
Available in live virtual and recorded formats
Channel Account Management (CAM) 101

Our most popular course for our corporate vendor members, this six-module course prepares CAMs to successfully recruit, align, prioritize, manage and market through partners. Read more here.

Channel Account Management (CAM) 201

Building on the foundations of CAM101, this four-module course prepares Channel Account Managers to improve the vendor value proposition through strategic partner planning, enabling recurring revenue, and developing a better understanding of the partner business.

Building an Indirect Sales Channel

In a series of webinars, this course offers vendors considering a channel route-to-market strategy first a criterion for evaluating the fit for their business, then a step-by-step process for successfully implementing a partner program.

Register for the series beginning March 29 at 1 p.m. CT.
Industry Trends
45-minute to 60-minute research presentations available in live webinar and recorded formats
Cyberstates and Cyberprovinces

These annual workforce studies focus on regional workforce and policy issues across North America.

IT Industry Outlook

An annual study that identifies tech industry, tech workforce, and IT channel trends and issues.

State of the Channel

An annual study that tracks the emergence of technology, customers, partnerships and other dynamics within the ever-changing technology channel.

Trends in Cybersecurity

An annual study of cybersecurity businesses and practitioners on the emerging trends in cybersecurity and privacy.

Trends in Managed Services

An annual study of manage service providers that reflects evolving business models and solutions, customer trends, operational standards, and the current state of business.
*These presentations represent a portion of CompTIA's research portfolio. Other virtual live or recorded research presentations may be available. Contact your membership representative at [email protected] to learn more.
Industry Education
45-minutes sessions on managed service business best practices available in live webinar or recorded formats
Accelerating Your Sales Strategy

This session takes participants through selling techniques of traditional and digital strategies that will help sales form new relationships with targeted decision makers, including line of business (LOB), C-suite and other key decision makers.

Advanced Sales Techniques

Participants will concentrate on building strategies and value propositions, review the elements necessary for a successful sales strategy including the importance of customer retention and use of sales business analytics—and why it matters.

Business Agility

Develop agility for adjusting to the constantly changing technology landscape, identify and evaluate market trends and developments that affect business strategy and use best practices to assist your customers to cultivate their own agility.

Social Media for Tech SMBs

Participants will learn how to create new business with effective social media campaigns, how to create and maximize demand generation and capitalize on customer reach, including how to optimize target audiences and understand the analytics for success.

Business Continuity and Data Recovery

Don't let an unplanned incident or disaster take your critical systems offline. Learn six steps for constructing an optimum BCDR plan for your business and for your customers.

Operational Efficiency

Healthy businesses can increase revenue while cutting down on unnecessary costs and allocating resources appropriately. Participants will learn how to build business processes that can help to effectively manage and automate resources.

Tackling Cloud Security Concerns

Learn how to assess your customer's current landscape, ensure good security practices are part of their digital transformation and create an overall ideal cybersecurity posture as more of their critical systems move the cloud.