Chair
Global Vice President of Cloud & MSP,
Proofpoint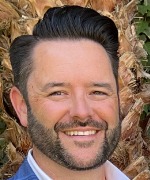 Jason Eberhardt
Global Vice President of Cloud & MSP, Proofpoint

I have wide-ranging experience in the areas of Information Security, security products, and large-scale implementations. I am a positive, results-driven, and innovative individual with proven success in balancing operational efficiency and business growth with client satisfaction, offering more than 21 years' progressive and stable experience with world-class organizations. I take pride in my ability to effectively combine corporate objectives and values with personal and professional goals, and work ethics. I employ proactive management and strong leadership techniques to generate accomplishment-driven workplace environment, resulting in employee loyalty. I build and foster strategic business relationships with C-level executives, maintaining customer/partner satisfaction at all levels.
I have held many positions in my career from being an Implementation Engineer to Chief Technology Officer. I bring all levels of my experience to my positions, and I have the ability to see from both sides of the table. I am an excellent communicator and enthusiastic leader with passion in all that I do, including introducing and leading change.
I care about all I do. When you care everything falls into place. I have a positive can do attitude in everything, and it shows with my personal challenge in every task I works towards.