Chair
Founder,
Hageman Scale-up.eu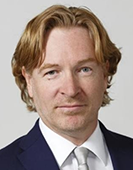 Jos Hageman
Founder, Hageman Scale-up.eu

Jos Hageman studied law at Leiden University. His interest for innovation, development and technology quickly lead him to a career in the Technology sector. He has now more than 20 years of experience in this sector.
After several years in various roles for smaller companies in the field of both hardware and software, Jos Hageman joined Samsung Electronics in 2000. He was responsible for the European branded Optical Disc Drive business, resulting in impressive sales growth all over Europe. In 2007 he joined Microsoft where he started with Benelux responsibility for PC sales in the retail channel. Subsequently, from 2008, he was responsible for partner management of large OEM partners in EMEA and strategical investments with them to develop markets and introduce new products and technologies.
Since 2017, Jos established his own consultancy firm, Hageman Scale-up, helping companies that have international ambitions with building strategies, business development and innovation. In his free time he is active in the field of politics with a special interest in making tourism more sustainable and reducing the negative impacts on space, environment and living conditions.