Our Story

The Computing Technology Industry Association (CompTIA) is a leading voice and advocate for the $5 trillion global information technology ecosystem; and the estimated 75 million industry and tech professionals who design, implement, manage, and safeguard the technology that powers the world's economy.
Through education, training, certifications, advocacy, philanthropy and market research, CompTIA promotes industry growth; the development of a highly skilled workforce; and a commitment to creating an environment where innovation happens and the opportunities and benefits made possible through technology are available to all.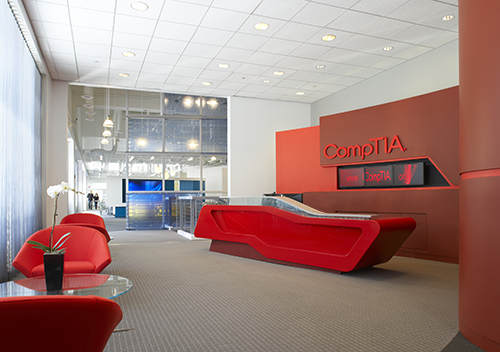 We are a vendor-neutral, independent source of information on a wide range of technology topics, including cybersecurity; education, training, and certification of the global tech workforce; new and emerging technologies; legislation and policies affecting the industry; and workforce data, development, and trends.
Our membership spans the full range of technology companies: established Fortune 500 leaders, small and medium-sized tech businesses that help customers solve real business problems around the world; and emerging tech-service innovators that support the implementation and management of the latest technology solutions.
We routinely engage with individual technology professionals through a variety of programs, including our CompTIA IT Pro membership group and our certification program, the largest vendor-neutral credentialing program for technology workers. CompTIA has awarded more than 2.7 million certifications in areas such as cybersecurity, networking, cloud computing and technical support.
CompTIA also maintains a robust partner program around the world with thousands of academic institutions, not-for-profits, job corps centers and other organizations. Together we are educating, training and certifying new generations of technology workers.