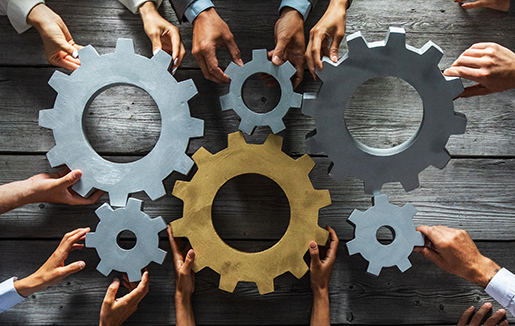 Ever since I took on the role of chief community officer for CompTIA earlier this year, I've spent a lot of time talking to our members and thinking about how we can work together to create an even better experience and add even more membership value.
First, Nancy Hammervik, who is now CEO of CompTIA Tech Career Academy, deserves tremendous credit for having built a robust and healthy membership community at CompTIA over the last 11 years. It's only because of the strength of the foundation that Nancy and the team built that we are able to pursue our refreshed focus as the CompTIA community, a thriving ecosystem of MSPs, tech vendors, distributors, influencers, and everyone else involved in creating and delivering technology to solve real business problems.
As we move forward, we recognize that CompTIA exists to serve our global community of members and to help every individual and business we serve unlock their individual and organizational potential to change the world. Yes, change the world. I believe that in my very core. We work in an incredible industry, one that has created more opportunities than the world has ever known. Our entire team is driven by the mission to help our members serve their customers as they empower the global economy and safeguard societies.
It takes a collective effort to accomplish all these things—a great number of people in many different roles working together toward a common goal. It takes a community. With that in mind, I have challenged our team to get closer to our members in 2022, meeting you where you are and being accessible to you whenever you need us. We want to hear from you. How can CompTIA best serve you? We know CompTIA is the best value in the industry and want to be sure you are taking advantage of all the benefits available to you.
Four Challenges to Help Us Make You More Successful
We're challenging ourselves to be an even better trade association in 2022. Therefore, I have a challenge for you in 2022, actually four.
Get More Engaged, Empowered with Your Peers
I also want to ask for your help. CompTIA has a lot to offer to our members. If you're a member, you know the value CompTIA offers to you and your business. Help us spread the word. Let your peers know about CompTIA and all that we have to offer. Let us know the social media groups you hang out in, so we can join you there. Talk about CompTIA in these communities and let your peers know how easy it is to get involved and how rewarding it is to be part of this incredible Association.
Finally, I want to personally invite you to come to CompTIA Communities & Councils Forum, March 14-16 in Chicago, mentioned above. This member-only event is the perfect opportunity to get more engaged in all things CompTIA. Connect with other CompTIA members, in-person. Join the first, hybrid MSP Client Solutions Mastery Path session. Learn to optimize your business and workforce. Engage a recognized leader in our Genius Café to help grow your business. Hear the latest trends in public sector. Connect with peers during a community meeting. Make your voice heard. Celebrate our latest Spotlight Award winners. Maximize your membership and enjoy Chicago! I hope to see you there.
On behalf of the entire CompTIA community team, thank you for your membership. You are why we do what we do. You are CompTIA.
Register Now for CompTIA Communities & Councils Forum 2022
Not a member? Not a problem! Register and get a one-year complimentary membership for you and your entire organization*!
*Non-member solution providers pay $350 to attend CCF and receive a one-year complimentary membership. Vendors and distributors apply the event fee towards member dues.