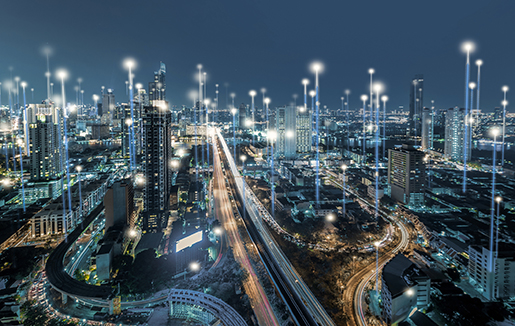 Technology is growing and there is no doubt that it will continue to be a part of our everyday lives. Despite popular opinion, the Internet of Things, otherwise known as IoT, is not new technology. In fact, IoT dates back to the 1980's. IoT is comprised of connected devices, allowing users to access remote functionality in real time. In more recent years, businesses are recognizing the value and putting more toward IoT investments. Here are some IoT statistics you need to know.
IoT at a Glance
As artificial intelligence (AI) and machine learning technology continue to improve, IoT is advancing and expanding at a steady rate. Quality providers, IoT connections, wearables, 5G and other enabling technologies are helping to support the development of smart cities, big data, smart homes, increased automation, and more connectivity across the globe.
IoT is comprised of physical devices that communicate with one another over a network or internet connection. If you can control it from another device, you're using IoT.
Some popular examples of IoT include:
Amazon Alexa hubs
Google Home
Ring doorbells
Smart watches
Smart appliances
Nest thermostats and smoke alarms
Smart door locks
Fitness trackers
Astonishing Internet of Things Facts & Statistics
IoT seems like emerging tech, but really the Internet of Things is just a bridge between the physical world and the digital one. Here are some fun facts about IoT.
The first IoT device was a soda machine at Carnegie Mellon, which led to the development of the first widely used IoT device—ATMs.
IoT involves so much data that it is measured in zettabytes.
IoT is responsible for powering smart cities, such as Shanghai, Seoul, New York, Barcelona and Beijing, the top five smart cities according to Juniper Research.
General Internet of Things Statistics
IoT has a ton of business and personal applications.
PWC reports that 93% of executives believe the benefits of IoT outweigh the risks.
IoT Analytics shows that 545 of IoT projects are driven by cost savings.
Global IoT spending is expected to hit $1.2 trillion in 2022, reports IDC.
According to Cisco, 500 billion devices are expected to be connected to the internet by 2030.
Internet of Things Market Size
The Internet of Things is experiencing steady growth, a trend that is expected to continue with the number of IoT devices growing regularly.
The global internet of things market size reached $ 4.8 billion in 2021.
The IoT market is anticipated to grow to $1,854.76 billion by 2028, a CAGR of 25.4% from 2021-28, according to Fortune Business Insights.
Internet of Things Growth Stats
IoT is growing year over year, with significant growth potential coming over the next decade.
IoT revenue is expected to grow to $594 billion in 2022.
Connected IoT devices is expected to reach $15.9 billion by 2030.
Security of IoT Devices Statistics
The connectivity of IoT means that our devices are constantly communicating on networks and with other technologies to help us be more efficient. However, much of that data flows continuously without being protected by necessary security protocols.
Smart Home Statistics
People have been looking ahead to smart homes in popular Sci-Fi entertainment for decades and we now are reaching the technological capabilities that can bring these futuristic dreams to real life.
According to Statista, smart homes are forecast to grow to 350 million by 2023.
There were 258.54 million smart homes in 2021, which accounted for 12.2% of all homes.
It's estimated that there will be more than 400 million houses with smart home devices and systems by 2025.
The Internet of Things in Healthcare
IoT devices are very helpful for monitoring patients and communicating data to health professionals for review and diagnosis. The need for telehealth during the pandemic made IoT ideal for many healthcare applications. Much of the health-specific predictive capabilities rely on big data, combining internal and external data sources which is essential in IoT, allowing for better leveraging of data and greater insights into patient health, according to Forbes.
The IoT healthcare market is forecast to grow from $60.83 billion in 2019 to $260.75 billion by 2027, at a compound annual growth rate of 19.8%.
Deloitte reports IoMT (Internet of Medial Things) is anticipated to reach $158.1 billion in 2022.
The healthcare market for IoT is anticipated to reach $534.3 billion by 2025, according to Grand View Research.
IoT Technology Statistics
IoT technology expands far beyond individual consumers. Forward-thinking municipalities are looking to create smart cities as part of a connected technological world, both for personal and professional efficiencies.
Smart city projects accounted for $129.02 billion in spend in 2021, reports Statista.
Ericsson estimates there will be 18 billion IoT devices in 2022.
The wearable device market is anticipated to top $19.12 billion by 2026.
Industrial, Energy, and Construction IoT Stats
There are significant use cases for IoT in the industrial, energy and construction sectors.
Commonly referred to as Industry 4.0, industrial IoT is one of the largest segments for IoT projects, anticipated to reach $106.1 billion by 2026.
Global energy IoT is anticipated to reach $75.3 billion by 2026.
Construction has been a late adopter, but IoT spend is expected to reach $16.8 billion by 2024 in this sector.
China is the leading country for industrial robot usage.
Internet of Things Forecast
IoT devices are forecast to grow to more than 25.4 billion in 2030.
What's in It for You as a Contributor to the Internet of Things Growth?
IT professionals who are interested in contributing to IoT or becoming an IoT engineer should look to develop the following skills:
Computer programming
Network security
IoT network building
Machine learning and AI
Custom-built hardware
Linux
Data analytics
Agriculture IoT Stats
IoT has significant value for the agriculture industry, helping to support sustainable growth amidst rising food demand and supply chain resilience, while reducing the need for manual labor. With agriculture IoT, farmers can monitor conditions such as light exposure, humidity, moisture levels in the soil, general crop health and levels of irrigation. Self-driving tractors, livestock checks and drone usage for remote monitoring also helps make farms more efficient.
Worldwide, the agricultural IoT market value reached $4.02 billion in 2021.
Business Insider forecasts almost 12 million agricultural sensors worldwide by 2023.
The global IoT market for agriculture is expected to reach $30.8 billion in 2028, a CAGR of 10.6% over the forecast period, according to a report by Reports and Data.
FAQ About Internet of Things Stats & Facts
Here are some of the top IoT FAQs people ask.
What is an IoT Proof of Concept (PoC)?
A proof of concept is intended to show businesses how an IoT solution can solve a business problem. It helps businesses to determine if IoT is the right choice for their situation.
How is IoT used in business?
There are multiple IoT applications for businesses. Generally, IoT is used to maximize output, collect data, and analyze behavior, create insights, monitor processes, and enhance tracking.
Is IoT secure?
IoT can be made to be secure, however security breaches are a risk with IoT, and devices should be secured as much as possible to limit any incidents.
What is industrial internet of things, or IIoT?
IIoT is also known as Industry 4.0 or IoT use in the industry sector. This term is often considered synonymous with smart manufacturing and is the application of IoT in industry.
How is IoT used in smart cities?
IoT allows for greater connectivity and better management of resources for growing populations, creating smart solutions for the consumption of resources.
How Many IoT Devices are There in 2020?
There were 8.74 billion IoT devices in 2020, according to Statista.

How can I protect my IoT?
Experts in anti-virus and computer protection recommend the following to protect your IoT devices.
Configure your router properly, changing the default name of your device.
Give your network a strong password using a combination of upper and lowercase letters and special characters.
Use a guest network for visitors.
Update your software regularly to ensure the right security controls are current.
How many IoT devices have cybercriminals hacked?
IoT solutions are an enticing target for cybercriminals. Symantec reports that there are approximately 5,200 attacks on IoT per month, which totaled about 1.51 billion breaches in the first half of 2021 alone.
Can IoT work without the Internet?
By their very nature, IoT devices work in tandem with other devices. Most IoT devices need a connection to function to their full potential by connecting to other IoT devices, however many will have limited functionality without access to the Internet. For example, an Alexa won't play music without a connection to the Internet, but it will still allow you to set timers and alarms.
IoT has great potential for the future of our homes, businesses, and cities. Want to learn more?
Want even more interesting IT and IoT statistics and facts?
Check out CompTIA Quick Stats, a library of data from CompTIA's research team to use in presentations, strategic documents and market research.