Chair
Tech Workforce Evangelist,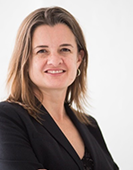 Val Haskell
Tech Workforce Evangelist,

Val Haskell's career in technology started with a non-traditional hiring outreach program that the Texas Department of Public Safety launched to fill IT positions. Her tech career began with IT support and eventually took her around the world with a large enterprise software company. After more than two decades in the technology industry, she elected to take a break and focus on the intersection of tech industry and diversity, equity and inclusion.
Val has been recognized for her professional and civic leadership by the American Marshall Memorial Fellowship 2007, Leadership Dallas 2010, and Leadership ISD 2013. She served on several boards: Chair for Leadership ISD, Board member Reading Partners, Dallas Independent School District Budget Review Committee Member and Dallas Police Department's Citizens Police Review Board. Val has a passion for education, which for years had her focus on the public-school system. In working with public schools, she realized the need for more adults to have on-ramps to stable careers. Due to her own positive experience in technology, Val would like to see more people, from all backgrounds, find the on-ramp to her field. She resides in Dallas, TX with her wife and two dogs.