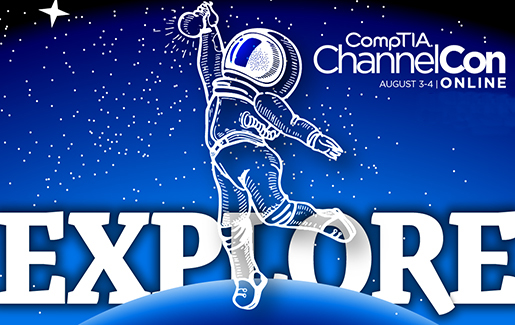 There's a reason why CompTIA chose "Explore" as the theme for ChannelCon Online this year. The world has changed so much that it's become critically important to always be searching for new technology innovations and improvements that can help businesses succeed.
This year, ChannelCon featured 10+ hours of content and networking to explore and attracted more than 2,000 viewers across all the various sessions. We were also able to add six in-person ChannelCon networking receptions across the country—attracting some longtime CompTIA members and quite a few new faces as well.
If you couldn't attend every session this year, you still have the chance to explore. We've captured it all and it's now available on-demand. To get you started, here are 10 things we encourage you to check out in the spirit of exploration and discovery!
1. How to Change the Cybersecurity Conversation with Customers
ChannelCon Online kicked off with an engaging keynote by Theresa Payton, president and CEO of Fortalice Solutions and co-found of Dark3. Payton presented on the state of cybersecurity, then answered questions from CompTIA CEO Todd Thibodeaux. She told attendees that too often technologists try to explain complex security processes and solutions to those without technical backgrounds—and that's a failing proposition. Instead, she says we need to change the way we explain what's going on, how we aim to fix it and why the customer should care. The archived video is available only to registered ChannelCon attendees through October 2021. Didn't attend? You can access the session, What's Your Cyber IQ? What Every MSP Should Know When Selling Security Solutions.
2. Emerging Technologies Redefined
Emerging technologies continue to be an important subject for CompTIA members. This year's ChannelCon Online featured two sessions highlighting some applications and uses for innovative products and services. In Practical and Profitable Applications for Emerging Technology, CompTIA's Emerging Technology Community gave viewers a sneak peek of the upcoming Top 10 Emerging Technologies in 2021—which now goes beyond a simple list. In What to Consider When Implementing an AI Solution, IBM's Rama Akkiraju, co-chair of CompTIA's Artificial Intelligence Advisory Council, answered questions that both business decision makers and AI practitioners should consider before investing in AI. You can also access the full guide created by the AI Advisory Council here.
3. Evaluate Your Cloud Readiness
As MSPs and solution providers evolve their businesses, the ability to evaluate new cloud applications and services is critical. CompTIA's Business Applications Advisory Council detailed two new resources: the Solution Provider Cloud Application Readiness Assessment and the Cloud Applications Playbook, to help you better understand your cloud readiness. Watch now.
4. CX and PX: Keys to Future Success
Customer experience (CX) and partner experience (PX) have become top initiatives for channel firms as they embrace new types of clients, communications, technologies and demands. CompTIA's Carolyn April highlighted key findings from forthcoming CompTIA's 9th State of the Channel research that demonstrates just how critical both top-notch CX and PX are for success. Watch now.
5. Spotlight on Employees: Are They Engaged & Effective?
It's never been more important to keep employees engaged to boost morale, productivity, and job satisfaction. In addition, businesses are utilizing technologies to improve connectivity, security, and collaboration for the remote workforce. With proper attention, both can result in a healthy mentality and authenticity. The CompTIA Advancing Tech Talent and Diversity Community explores the benefits and risks of bringing your whole self to work and the importance of an authentic leadership style in Only 39% of Your Employees (Fully) Engage at Work – How Do You Get to 100%? You can also read more about employee engagement here. Meanwhile, members of CompTIA's seven industry advisory councils talked about how technologies like AI, blockchain, drones and IoT are being leveraged to help remote workforces become more efficient and productive in Tech Together 2.0: Addressing the Needs of the Remote Workforce.
6. Congrats Hannah Lloyd, CompTIA's 2021 Member of the Year
CompTIA's Nancy Hammervik and Josh Kilker presented the 2021 Member of the Year award to Hannah Lloyd, who has developed two companies from startup to global brand with multiple vendor alliances, opened the U.K., U.S., Canada, Benelux, South African, ANZ, Irish and Asian markets for both, received a CompTIA Channel Changer award and was selected one of the top 25 Women in Tech by PCR in 2020—and she's just getting started. Looking forward, Lloyd plans to continue her commitment to further diversify the channel and advance the technology industry. Read more.
7. Explore the Virtual Solutions Showcase
This year, more than 80 vendors and distributors showcased their latest and greatest products, services, and programs virtually. And just because ChannelCon Online is over, doesn't mean the conversations have to end. Check out your favorite vendors, learn more about a new technology and contact one of the exhibitors that you missed live. The Solutions Showcase will remain open until the end of the year. Check it out.
8. ChannelCon Participants Network in Person and at Online
If you've been craving interpersonal connections, ChannelCon did not disappoint! We hosted a variety of networking opportunities, both virtually and in-person. Our virtual happy hours and raffles are always a big draw—and this year we were pleased to offer in-person get togethers in Arizona, California, Florida, Illinois, New Jersey and Texas. Members of the CompTIA ISAO also met in Arizona and Florida. Search for #ChannelCon on Twitter to check out all the action.
9. Stalk the Social Wall
See the best of the best of ChannelCon Online 2021 on our social wall! Here we've aggregated the best ChannelCon-related social media posts in one place. This is a great place to see what attendees were excited about, who they enjoyed meeting and what they participated in. It's worth a peek! Check it out.
10. Mark Your Calendars
We had so much fun this year—and we're already planning next year! Save the date and plan to join us for ChannelCon 2022, scheduled for Aug. 1-3, 2022, in Houston. Stay tuned for more information.