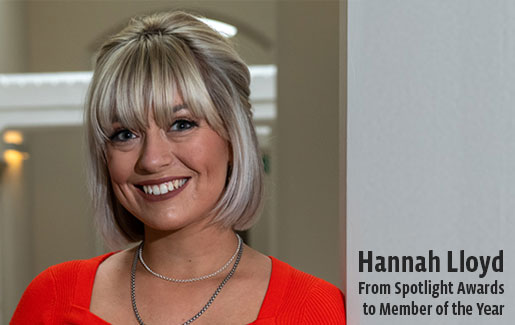 This article has been adapted from The Future Looks Bright: Building Tech Role Models for the Next Generation, which appears in the Fall 2021 issue of CompTIA World magazine.

At 28 years old, Hannah Lloyd has developed two companies from startup to global brand with multiple vendor alliances, opened the U.K., U.S., Canadian, Benelux, South African, ANZ, Irish and Asian markets for both, received a CompTIA Channel Changer award, and was selected one of the top 25 Women in Tech by PCR in 2020—something she believes was influenced by her work with CompTIA. And she's just getting started. As CompTIA's 2021 Member of the Year, Lloyd plans to continue her commitment to further diversify the channel and advance the technology industry.
"Being young and a woman in a heavily male-dominated industry, where I am 90% of the time the youngest person at the table, can be difficult," she said. "Breaking glass ceilings takes time, continuous work and determination. There's no correct way, and there should be no predetermined stereotype as to how someone can succeed in any industry, including the tech sector."
Finding Her Path
Like many in the industry, Lloyd sort of fell into a technology career. Educated at an all-girls school in the U.K., technology wasn't really a subject that was encouraged, she said, and many girls were pushed more into humanities studies. But after graduating with a degree in English literature and unsure of her next steps, Lloyd took a leap and interviewed with a NOC and service desk vendor. She began her tech career as a full time inside sales representative just one month prior to graduation at the age of 21.
Seven years later, she is the vice president of channel sales at inSOC, an AI-driven platform designed to detect security breaches and is keen to give back to the industry that she loves. She serves as the vice chair of the CompTIA UK Business Technology Community and actively contributes to the Advancing Tech Talent and Diversity Community, the Benelux Business Technology Community, and the Cybersecurity Community.
Her dual mission is to inspire women in the channel to get involved with CompTIA and to show women outside of the industry that technology is a place where they can thrive. Ultimately, she hopes her efforts—as well as those of other CompTIA members—will lead to people finding their own pathways to successful tech careers.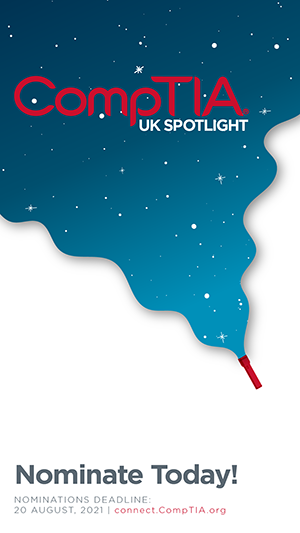 "Hannah is such a great success story and an inspiration for any career-minded person—especially young women—to pursue a career in technology," said Nancy Hammervik, executive vice president of industry relations at CompTIA and CEO of CompTIA Tech Career Academy. "Twice, Hannah has been recognized with a CompTIA Spotlight Award and it's been fantastic to watch her grow her career as she grew her engagement with CompTIA.
Her passion and dedication are greatly appreciated. She has done much for CompTIA and the industry, and I am so happy for all her tremendous success."
Engaging With CompTIA
There are, of course, many ways for CompTIA members to help advance the tech industry: economically via new solutions, narrowing the skills gap and heightening the abilities of vendors, VARs, and solution providers, and also through a more humanitarian approach—helping women and underrepresented populations as well as the next generation to feel like they belong. All are important to Lloyd, but she's especially passionate about a people focused approach.
"When I initially joined the UK Community's Executive Council, I was one of only three women who were serving," she said. "Over the last three years, I have actively introduced and encouraged other women within the channel to engage with CompTIA and participate within community meetings. This has both widened their own networks and allowed them to demonstrate their immense capabilities and skills—which in turn has brought great value to the general membership."
Today, that council's gender mix is about 50/50.
More recently, Lloyd is leading a cross continent team of volunteers to enhance and build a resource library for solution providers. The end game is to provide tangible documents to help MSPs grow their businesses in efficient ways while providing guidance. The initiative will continue to bolster CompTIA as an industry expert with regard to education and thought leadership, said Lloyd.
Her engagement has not gone unnoticed by her CompTIA member peers.
"Hannah contributes knowledge, energy, enthusiasm and personality into the UK Business Technology Community. Not only that, she volunteers to help others wherever she can and is willing to stand up and be counted," said Tracy Pound, founder and managing director of Maximity, and chair of CompTIA's Board of Directors.
Participation in these projects not only enhances her own network and benefits her company, but it also brings positive enhancements to the channel, according to Lloyd. "I want to pay this support forward in every way I can," Lloyd said. "I believe our industry is built on the value of community and networking, and for me, CompTIA is at the heart of these values."
Building Confidence
Today, Lloyd speaks with confidence. She's engaging, successful and well spoken—but that hasn't always been the case. The only girl born into her family in three generations, Lloyd never felt out of place, the result of a positive upbringing that somewhat prepared her for work in a stereotypically male-dominated industry. But that doesn't mean she didn't seek or want endorsement from others.
"It's taken me a long time to not need validation from another person in the company," she said. "I get nervous, I get intimidated, and I go through this process in my head. But I move through it. I know I can demonstrate my ability."
While she believes women are often underestimated in the workplace, Lloyd's later-in-life diagnosis of attention deficit hyperactivity disorder (ADHD) added another layer to her personality—one that she chooses to look at as a gift, not an obstacle.
"ADHD in women isn't talked about too much. There are things I can do very well. For instance, I have a photographic memory, I can remember names and I can problem solve very quickly," Lloyd said. "Everyone is better at certain things and ADHD is just a heightened sense of that."
There's a misconception about hiring neurodiverse individuals—like those with ADHD, and she loves to prove people wrong.
"People who are neurodiverse are very good at certain things and can be a huge asset to the team," she said. "There's always going to be people who say you can't do something. I don't like thinking that you can't do something."
She credits her involvement with CompTIA and the communities for instilling a confidence within her that she now values and cherishes.
Recruiting Women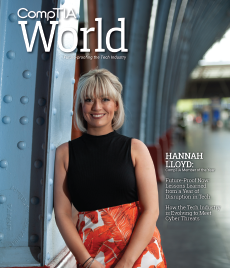 Much of Lloyd's efforts revolve heavily around working to change the face of the technology industry in order to serve as a role model for younger generations. It's all about celebrating achievements and people, promoting relatable role models, and showcasing the different ways to get into technology, she says, and anybody who has a passion for technology can succeed with the right attitude. She hopes this message will resonate with women in particular.
"The best women I've worked with want to know how to support the team and other women, in particular," Lloyd said. "We should be able to straighten each other's crowns–not knock them off. We have to support each other."
The whole point is to know what your strengths are, believe in yourself and be part of a team that can help you succeed. Anyone pursuing a career in tech should want to learn and can't be afraid of failure. Her advice for getting into the industry: continue asking questions and stay curious.
"You have to ask questions. Everyone I've ever met in the channel has always been open to mentorships and sharing knowledge," she said.
Looking Ahead
Lloyd certainly practices what she preaches. Recognizing how swiftly the business can change, she says she doesn't operate with a definitive set of future goals in mind.
"I never like to plan too far into the future," she said. "The business will change, the industry will continue to change, and no year is ever as you plan it to be. I will always go with my gut as to what my next step will be."
Right now, that goal is to continue building a company that she believes in and loves.
"I'd love to be able to bring more salespeople into the business and be able to help other young women as a mentor," Lloyd said. "I always want to be working in tech and be part of this community because I truly love what I do."
Your Journey Starts Here: Apply to the UK Spotlight Awards
There is still time to get your nominations in for the UK Spotlight Awards but the deadline is approaching. CompTIA and the tech industry are strong because of leaders like you who tirelessly give your time, energy, and skills to help advance the industry and its workforce. That's why we're calling on you to nominate yourself or a colleague for a CompTIA UK Spotlight Award. Winners will be recognized this year during a special celebration around CompTIA EMEA Member & Partner Conference. Nominations close on 20 August.