Innovative and emerging technologies such as artificial intelligence, blockchain, business applications, cybersecurity, drones and IoT have long helped organizations solve business problems and be more efficient, productive, and profitable. But that may have been never important than over the last 18 months, when many of the world's businesses had to shift their employees to work remotely.
Tech companies quickly pivoted their own business models while developing new products and services that allowed customers to operate as normal as possible. To demonstrate how emerging tech helped to keep us working during that difficult time, CompTIA's Industry Advisory Councils are collaborating on Tech Together 2.0, a project similar to the one completed earlier this year that demonstrated how emerging technologies worked in concert to keep our food supply chain safe.
At CompTIA's recent ChannelCon Online, members from each of the councils spoke about how their respective technologies has transformed the way we work during the pandemic. Here's what they had to say:
Behind the Scenes, Artificial Intelligence Keeps Workers Safe
AI powers a lot of backend processes that people may not even realize, including pattern recognition embedded in cybersecurity protocols that helps keep companies safe all day, every day, according to Lloyd Danzig, chairman and founder of the International Consortium for the Ethical Development of Artificial Intelligence and co-chair of CompTIA's AI Advisory Council.
"When there's a distributed workforce, and people log in to secure servers from all over the world, from different devices, those cyber concerns and requirements are increased exponentially. There's a lot of pattern recognition done in an automated and optimized fashion by AI and machine learning that allows people to work more fluidly from home from their own devices," Danzig said. "Not long ago, unless you had a company-issued [device], you almost couldn't do your core functionality away from the office. AI has enabled the remote workforce to function more efficiently and easily."
In addition, the custom backgrounds you can add to your Zoom screen also leverage AI technologies—perhaps saving your colleagues from seeing how messy your room is, Danzig joked.
"You can also ask the microphone to filter out background noise so people can hear just you," he said. "There's all sorts of mathematics and machine learning running in the background making people's lives a lot easier and delivering higher-quality audio and video."

Business Applications Connect Us in New Ways
Speaking of Zoom, video sharing and video conferencing applications were thrust into the spotlight during the pandemic, allowing us to feel connected when we couldn't be in the same room, according to Jason Eberhardt, head of Global Cloud and MSP at Bitdefender, and co-chair of CompTIA's Business Applications Advisory Council.
"I've made many friends over the last year that I've never met in person," Eberhardt said. "These are the types of things that can help your business because nothing is more important than a personal connection. Software-as-a-Service applications make things happen at the office, home, wherever you are."
Other business applications including VPN and antivirus have also paved the way for successful remote work, he added.
"We're all trying to help make things easier, whether it's delivering products, solutions, upgrades," said Eberhardt.

Blockchain Helps Verify Data, Credentials Anywhere
During the pandemic it's been critical that health care and other workers have access to specific buildings, floors, and devices to help keep us all safe. Solutions leveraging blockchain can provide a verifiable single source of truth that lets organizations provide that access safely and securely, according to Deborah Kestin-Schildkraut, IBM Global Business Development Executive, ISV Advocacy, and co-chair of CompTIA's Blockchain Advisory Council.
"A digital health pass enables businesses to verify health credentials for employees or customers or anybody entering a facility. And it's being done in terms of privacy. We don't want our personal information out there. A digital wallet allows individuals to maintain control of their personal health information and share it in a way that's secure, verifiable and trusted," she said. "This technology will totally be scalable for things like cruise ships, airlines, hotels and other travel areas where users could share their health status in a private way."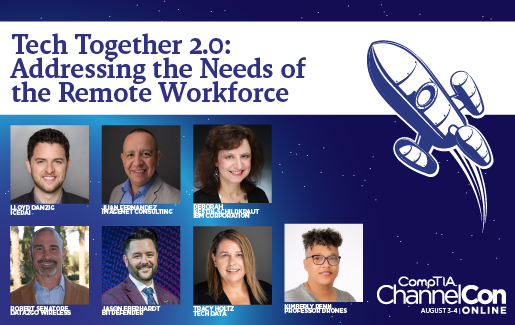 Opportunities Abound for Tech Companies
Tech vendors, solution providers, MSPs and others that sell or influence the sale of technology have a unique chance to capitalize on all of this change and disruption, according to Juan Fernandez, vice president of managed services at ImageNet Consulting and co-chair of the
Channel Development Advisory Council
.
"My new commute is from… my bed. I used to have to drive long periods of time. I can grab a cup of coffee, head out to the patio, jump on a VPN, use biometrics to log into my machine and I'm connected to the infrastructure so I can start my day," Fernandez said. "Remote work has changed us forever. The great thing is it's given us autonomy to do things differently. The Channel Development Council recognizes this, and it gives us opportunity to work with vendors and technologists, consumers, and end users to develop new methodologies. We continue to look for more great opportunities to enable the remote workforce."
Cybersecurity Keeps Distributed Workforces Safe
As fast as companies transitioned employees to work remotely, the door opened for increased cybersecurity threats from bad actors looking to take advantage during a crisis. As a result, new cyber products, services, and protocols were implemented to help ensure that we worked as safely as possible, according to Tracy Holtz, director of security solutions at Tech Data and co-chair of CompTIA's
Cybersecurity Advisory Council
.

"Lives changed dramatically, and security concerns became heightened. We have to accelerate cybersecurity training and education around password management and secure passwords in addition to implementing new technologies in the digital transformation that was accelerated in the remote workforce," Holtz said. "A secure access service edge became critically important. In addition, VPN became prevalent in every part of our lives. Other technologies have also accelerated, when you think secure access technologies, SD-WAN, web application firewalls, zero trust security architectures become important. Those will be a continued focus for every company as we evolve over the foreseeable future for continued hybrid work environments."
Drones Bring New Conveniences, Efficiencies
If students at the University of Houston get hungry but don't want to go get food, it's OK. The food can come to them. Late in 2019, the higher learning institution deployed 30 autonomous delivery robots capable of delivering food right to your door. It's a perfect example of how drone technology is helping remote workforces as well, according to Kimberly Penn, founder and CEO of Professor Drones and vice chair of CompTIA's Drone Advisory Council.

"You don't even have to be a student; you can be on campus attending an event. You order via an app, and instead of someone on a bike, here comes a robot on its way," she said. "They bring food up to your floor, office suite, and you can continue to be productive."
Another example of unmanned vehicles delivering value to remote workers comes through drones equipped with 5G access points that can be requested in certain locations where connectivity is either low or strained due to many users, Penn said.
"Wouldn't it be amazing if we could have a drone to stay tethered on days when there was really heavy usage with lots of video calls to strengthen my signal. Then it could disconnect to head to another part of the building. This is our future. We're seeing more of these types of services for remote workers that allow us to continue to be productive," she said.

IoT Enables More Automation, Enablement
While fewer people may be working in offices these days, those offices still need to be maintained, cleaned and guarded. Internet of things (IoT) devices enable organizations to do just that, according to Robert Senatore, CEO of Data2Go Wireless and a member of CompTIA's IoT Advisory Council.
"How does IoT help us move forward as human beings? Sensor data and gathering information is critical to help businesses make decisions. IoT and automation and data collection through sensors and other pieces of wireless hardware have been really important. They're still able to capture data without people in the office, things like temperature readings, doors open or closed, a myriad of items that allow the operator of a business to still maintain control by gaining information and then acting on that information," he said. "Our world has changed but technology is here and helping us cope with these changes at a large scale, creating efficiencies and still allowing us to keep our businesses moving forward."