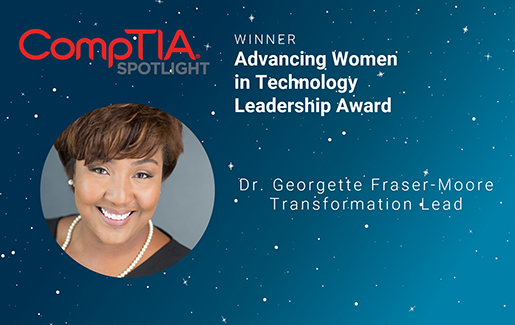 By the time many females start to lose interest in pursuing a tech career, Dr. Georgette Fraser-Moore was already engrossed in hers. Coding as a middle schooler and taking college computer science classes before she even turned 18, Fraser-Moore kept going and going—and never paid attention to anyone who told her she couldn't or shouldn't.
Now the CEO and president of Transformation Lead, an Atlanta-based company that helps businesses transform digitally, Fraser-Moore wants to make sure the pipeline of young females joining the tech industry is always filled. Her passion and commitment to helping women led her to receive CompTIA's Advancing Women in Technology Leadership Spotlight award for 2022.
Fraser-Moore recently spoke with CompTIA to tell her story, including how she started and why she wants to help young females pursue tech careers. Here's a look at what she had to say:
Why is advancing women in technology important to you?
"It's important to me because I believe that advancing women in technology helps to further the advancement in technology as a whole. Women bring so much to the table. There's been this push recently to have more diversity and more representation of diverse groups. When I started in tech, I was the only woman in my class and the only woman in the room a lot of the time, but I didn't notice it. I love technology, but when I started, my focus was on innovation and making sure that I personally did my best. It wasn't at the forefront of my mind that I could help others. It wasn't until I started growing in my career and someone mentioned that I was a role model and an inspiration to them that I realized it was not only a privilege, but it was my responsibility to empower others, give back and open the door for more women to advance in this male-driven field.
"I started coding when I was 11 and when I was 17, I entered college to be a computer science major. Then I joined the workforce in a software development then business analyst role. But I didn't realize until I was in a leadership position how important diversity and advancing women in technology were. I was focused on getting the job done. I was trying to be the best me I can be at that moment, and I didn't notice there needed to be more me's. I didn't realize there were people who didn't think they could do what I was doing. I had so many conversations with women and young girls specifically, many of them doubted their ability to pursue technology. They didn't even know that career paths like mine were an option for them. When you look at the statistics and see that of the small percentage of women that pursue technology-based careers, so many end up leaving mid-career, you have to look around and say what's wrong, why do they have this doubt, why don't they feel like they belong here? I took it upon myself to personally do everything in my power to erase those doubts and increase those opportunities so they can be successful."
What challenges/trends around Advancing Women in Technology do you want to bring more attention/awareness to?
"One challenge I see is that diversity and inclusion have become trendy terms. But there's still a lot of work to do to put it into practice. Tech has always been a predominantly male field, like a mechanic. To change this we have to be purposeful. We have to make practical changes, starting with changing behaviors and changing how we do things, and how we think about the technology space. We have to be purposeful and put in the work needed to change the culture of the tech space. I'm not saying to fire the males to hire more females. That doesn't work. But the job market is steadily growing. We have to be purposeful to create opportunities so that women do not feel excluded. Women should be encouraged and feel empowered to enter the room, and hopefully, and hopefully, when they look around they will see other smart and competent women in the room with them."
How are you working with CompTIA to help address those issues and promote that awareness?
"When I joined CompTIA, it still was very heavy male. Over the last several years that I've been part of the organization, you definitely see a lot more women. Not just in the population but in leadership roles, being decision-makers and having a voice at the table. Also in the communities, people showing up at the Communities & Councils Forum and ChannelCon. It shows me that CompTIA is not just talking about it but we are doing the work to be about it. You can see the progress made over the years—we have the Advancing Women in Technology group. Even the idea of having the Advancing Women in Technology award in itself shows that the CompTIA values the advancement of women and is encouraging others to want to get involved. If you're rewarding it, it encourages others to see opportunity. CompTIA is leading the way and making the effort to be more inclusive, and I am so proud of that!"
What are you most proud of in your career and what's helped you get to where you are now?
"I'm proud of being able to give back. Winning this award brought me to tears. I don't do any of this for recognition. I was in awe that I was being acknowledged for something that I would do just because I love doing it. I started my company because I love helping people, creating jobs, and creating generational wealth in our communities. My whole purpose is to help others. So I'm proud of this award, that someone else saw something that I'm doing and thought it was valuable. I'm proud that just doing the right thing and being a good person is something that is in high regard."
What advice do you have for MSPs and other tech businesses around advancing women in technology?
"Be purposeful in your goals in advancing women in technology. The old saying goes 'if you fail to plan, you plan to fail.' You need a plan for change in an organization. The second piece of advice I would give is to start with one thing at a time. Don't try to boil the ocean or treat it like it's this huge test. You can start the change with just one person or one initiative at a time. It's amazing that what you think is a small thing could actually be a big thing to one person or the community around them."