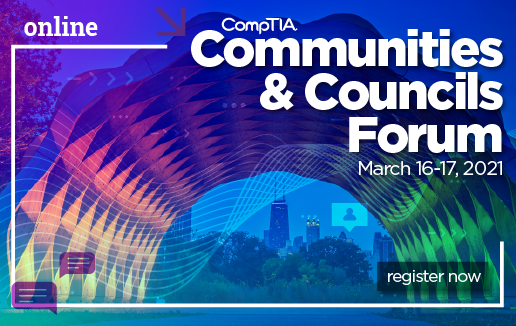 CompTIA's Communities & Councils Forum has long provided some of technology's best and brightest minds the opportunity to come together and work on projects that will benefit the entire IT industry. Case in point: the Channel Readiness Assessment, developed by the Channel Development Advisory Council and just published.
But it's also a great chance to network with peers and learn more about the technologies, topics and trends that matter to you most. You can register for the event here—it's open to anyone—and then come back to check out the 10 things you shouldn't miss from this year's meetings on March 16-17:
1. Learn About CompTIA's Key Focus Areas for '21
Nancy Hammervik, executive vice president of industry relations and CEO of CompTIA Tech Careers Academy, shines a light on four key areas of focus for CompTIA this year—workplace culture, cybersecurity, emerging technologies, and business technology solutions—and how each can be leveraged for robust and lucrative success in a post-pandemic world.
2. Reserve a Table in the Genius Café
These reservation-only, one-on-one sessions with a selection of handpicked experts and thought leaders allow CompTIA corporate members to ask questions about how to improve or expand your business. Timeslots for the 25-minute sessions fill quickly and have proven extremely popular—and powerful—in CompTIA events in EMEA. For CCF, geniuses will be ready to discuss three topics: sales, marketing, and cybersecurity.
3. Get the Scoop on Blockchain: What It Is and When to Use It
CompTIA's Blockchain Advisory Council has created a lot of great content over the past year: a terminology glossary for beginners; the real scoop on myths about blockchain; and a decision tree that helps determine if it's the best fit to solve your specific business problem. At CCF, three blockchain leaders will discuss the technology, real-world use cases in the market, and how you might add it to your own solutions offerings.
4. Behind the Curtain: A VIP Invite to See the CompTIA ISAO
The CompTIA ISAO may be CompTIA's best-kept secret, but not for long after this session. Executive Director MJ Shoer leads an interactive panel on a behind-the-scenes tour of the ComPTIA ISAO, including the members-only Cyber Forum where you interact with other members, consume targeted cybersecurity content, and receive threat reports from our team of cyber analysts. Plus, see how the TruSTAR threat intelligence platform helps members protect against the latest security threats and listen to MSP, vendor and platform partners answer your questions live.
5. When Gen X Meets Gen Next: Talking Blockchain, Bitcoin and Beyond
CompTIA's senior vice president of industry and public sector outreach, Annette Taber, and her son Garrett launch a new pre-CCF podcast by sitting down to have a multi-generational discussion on emerging technologies. Specifically, the two will talk blockchain, Bitcoin, and why every tech company should pay attention to cryptocurrency and the technology behind it.
6. The Spotlight Could Be On… You
This year's CCF includes a special opportunity to recognize the winners of the 2021 CompTIA Spotlight Awards and congratulate them during a virtual happy hour. Awardees will be honored for outstanding contributions in the last year for Advancing Women in Technology, Advancing Diversity in Technology, Community Leadership, and outstanding service and commitment as a CompTIA Industry Advisory Council member.
7. How to Use Cyber Intelligence to Stay Ahead of the Bad Guys
It is critically important for tech vendors, solution providers—and all businesses—to share cyber risk information and reduce the risk of hacks and ransomware attacks. MJ Shoer, executive director of the CompTIA ISAO, will be joined by a panel of guests to talk about how the CompTIA ISAO helps their companies stay informed about the latest cybersecurity threats and take prescriptive measures to stay protected.
8. Improving Your Channel Readiness—What Every Tech Vendor Should Know
The CompTIA Channel Development Advisory Council has built a Channel Readiness Assessment tool for tech vendors that want to build a new channel strategy or improve their current initiatives. Completing the assessment will help companies better understand where they are in the channel-building process, what their strengths and weaknesses are, as well as actionable advice on how to improve with partners. Advisors Jason Bystrak of D&H Distributing and Juan Fernandez of ImageNet Consulting will discuss the tool, providing tips for everyone to get the most out of their channel partnerships.
9. How to Sell Solutions—and Become the Business Advisor Your Customer Needs
Your customers don't just want help with technology anymore—they need answers that solve real-world business problems. For today's tech companies and channel partners, that means selling solutions which incorporate end-to-end support that meets long-term business goals. A panel led by Carolyn April, senior director of industry analysis with CompTIA, will shed light on the challenge of becoming closer with customers. Hear from solution providers, sales trainers, and channel development experts to address the impact, realities, and urgency as MSPs become more and more crucial to business continuity, data protection, and keeping their clients running.
10. Best Practices for Developing and Nurturing Your Homegrown Talent
When it comes to finding the right talent to fill a new or empty job role, consider looking within your own backyard first. But be warned, taking a one-size-fits-all approach to nurturing your current talent may not work to keep your high-potential employees stay happy and productive. In this session, the Advancing Tech Talent and Diversity Community shares methodologies and best practices to ensure that you have the right person for the job—when you need them.
Bonus: Find Your Community, Get Involved
Finally, several of CompTIA's member communities plan to hold live regular meeting sessions during CCF. That's your turn to tune in and hear the latest from your peers and industry experts around IT Security, Advancing Tech Talent & Diversity, Emerging Technology, Managed Services, as well as our international communities representing the UK, Benelux, Canada, and ANZ.