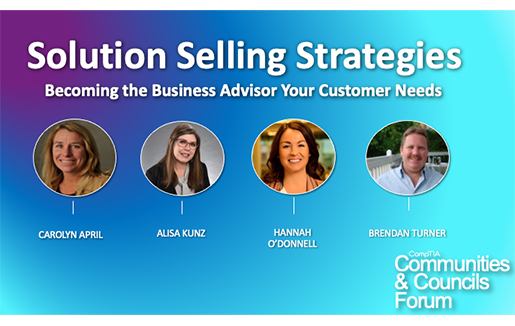 There's a big difference between selling technology and helping customers solve business problems. Managed service providers increasingly are recognizing that trend and focusing more "solution selling" and the need to evolve their businesses.
But there are a lot of things to consider: What exactly is solution selling? What changes need to be made? How do you get employees to buy in? And how do you keep the business running smoothly along the way?
To answer these, and other questions, Carolyn April, senior director of industry analysis with CompTIA, moderated a panel of MSP experts during CompTIA's Communities & Councils Forum Online. Here are seven tips they discussed to help MSPs navigate through the transition and position their business for long-term success.
1. Talk with Your Customers, Not at Them
It's hard to know what your customer needs if you don't first understand where their challenges lie and what problem they're trying to solve. The key to building a solution is to listen to your customers first, then figure out how you can help them, according to Alisa Kunz, senior director of sales enablement at TeamLogic IT.
"Instead of going in and talking about features, benefits, and fear tactics, [try to] really understand their business initiatives, challenge, and their expected outcome," she said. "There's no way you would know what type of solution to win with without doing that question-based selling first. It's about educating, listening, then putting right solution in place to have the biggest impact."
2. Take it One Step at a Time
When it comes to being the best business advisor and partner to your customers, it's best if you do you, according to Brendan Turner, president of Turner Techtronics, an MSP/solution provider for more than 30 years.
"Don't do too much at once," Turner said. "We started out as desktop support and pivoted to managed IT. But you want to focus on services that you're good at and that you can partner with other companies on in order specialize and build up a team around those services."
3. Hire for Social Skills, Not Just Tech
It's easier to find employees who have strong resumes and technical skills, but someone with really strong communications, to talk with customers, is a bit trickier, said Hannah O'Donnell, director of sales at Collabrance.
"At the end of the day, you want someone with empathy, urgency, and the social skills to be able to go out there, connect with customers and build those relationships," she said. "If you can find those individuals with the personality and social skills, you can train them on solution-based selling."
Remember that may be up to 70% through their decision-making process before they even know you exist. Your team's role is to provide them with answers to the final questions they have. O'Donnell recommended two books: Secrets of Question-Based Selling and They Ask, You Answer that explain tactics on how to ask the right questions and respond appropriately.
"Our role is getting their questions answered when they're looking for information. If we as salespeople outline the questions we hear and answers those on our websites, social media, and discussions, that will help differentiate us," O'Donnell said.
4. Develop the Right Roles for Your Staff
As you build a staff proficient in both technical and soft skills, it's important that you position individuals in the roles to maximize their unique skills. Also, it's important to have dedicated account managers to continue to communicate with customers and build the relationship.
"People have different types of personalities. You need the 'hunters' to find and close business, but you still need build the relationships and support existing customers," said O'Donnell. "It's difficult to close a customer, but you also want to keep them happy. If you can create stickiness, you can create customers for life."
5. Schedule Quarterly (at Least) Business Reviews
While many large enterprises hold regular business reviews with their business partners, the practice isn't as common with SMBs, according to the panelists. Talking roadmaps and long-range planning helps ensure that everyone's headed in the right direction, according to Brendan Turner, president of Turner Techtronics.
"It's not only about the SLAs and KPIs and making sure we're hitting all the targeted service levels, but it's also about reviewing ongoing projects, training updates and technology," he said. "We discuss what we're doing at other client sites, depending on confidentiality. We want to make sure customers know we're looking for new updates and new technologies for them."
6. Don't Drop the Ball on Security
If you're solving a real business problem for a customer, you have to make sure you've got security covered in there too. Especially because a lot of customers may not be thinking about security, may not want to spend on it, or don't know what they need to do—and not do—to keep safe.
"It's important to have solutions to meet customers' needs, but also you have to be able to talk [security], or just have the information to educate customers on the importance of having different security measures in place," Turner said. "We're also making a big push into security to give an avenue of training for our employees. They're learning more about security to help them advance their career."
7. Invest in Training, and Not Just Technical
The MSP industry isn't really a technical business, it's a customer service business that happens to leverage technology to solve business problems, according to TeamLogic's Kunz. Her company has a soft skills training program for employees to sure that customers are happy with their service.
It can be a competitive advantage. "Most clients we take come from MSPs that had poor customer service skills," she said.
Increase Your Solutions Selling Success with More CompTIA Resources
CompTIA members have access to libraries full of business- and technology-focused content to help you grow your business. Learn more about how CompTIA membership can support your business.