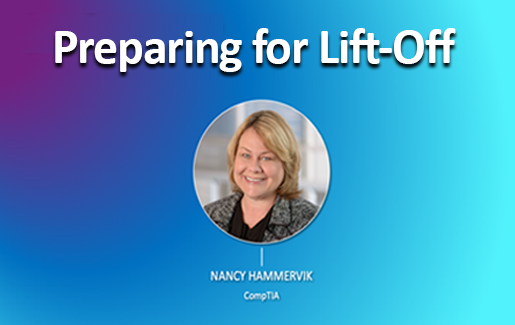 Cybersecurity, emerging technology, solution selling, and workforce dynamics are the key trends technology firms should be embracing, according to Nancy Hammervik, executive vice president of industry relations at CompTIA, and CEO of the CompTIA Tech Career Academy, who kicked off the virtual 2021 CompTIA Communities and Councils Forum.
"We have endured a massive disruption to the way we work and live. And while we are still wearing masks and social distancing, one in five Americans has received at least one dose of a vaccine and the light at the end of the tunnel is getting bigger and brighter. It's time to start preparing for lift-off in a post-pandemic world. We still face challenges, but much of that is giving way to new opportunities at new levels," said Hammervik.
Cybersecurity: A Critical Foundation for Business

The trends in cyberattacks have been alarming and increased substantially when companies pivoted to work-from-home business models in March 2020. Hammervik shared a variety of statistics:

Global cybercrime damages will reach $6 trillion this year.
According to a Deloitte report on cybercrime, 47% of individuals working from home fell for a phishing attack.
In the first three months of the pandemic, more than half a million people were affected by breaches in which the personal data of video conferencing users was stolen and sold on the dark web.
It's been a common refrain over the last decade that "every company is a technology company," but understanding and using technology isn't enough. Securing technology, if you want to mitigate the risk of a cyberattack, is critical. For managed service providers (MSPs), providing security services is not only a business opportunity, it's a business imperative, and according to CompTIA research, just 38% of MSPs are offering cybersecurity-related services.

"Every MSP has an opportunity—and even a responsibility—to make cybersecurity part of their practice and offer cyber awareness and education to their customers, risk assessments, ensuring business continuity plans are in place, performing regular reviews, and even cyber crisis simulation exercises," said Hammervik.

Leveraging Emerging Tech for Cutting-edge Solutions

Post-pandemic, the opportunity to invest in solutions that leverage emerging technology will be greater than ever. According to KPMG, 88% of small business executives and 80% of large enterprise leaders said emerging technologies helped them through the pandemic.

"The pandemic had profound impact on the worlds view and appreciation for technology, and in many ways, tech saved the day. Technology allowed us to pivot to a work-from-home and learn-from-home world. Technology allowed many businesses to stay afloat as they pivoted to online business models for ordering and delivery. And with that pivot, many realized the incremental opportunity of data collecting and analyzing customer buying trends and preferences," said Hammervik.

But beyond businesses realizing the opportunity with emerging technology, responding to and managing the COVID-19 pandemic showcased emerging tech in action—from utilizing AI and edge computing to shift through endless amounts of data about the virus to robots that can take temperatures and deliver tools to hospitals to blockchain that can trace outbreaks while keeping patient data private.

"As a result, the world now has a greater appreciation and trust in technology and the many examples of how emerging technologies were deployed to address a world crisis can be used to inspire business solutions," said Hammervik.


A Shift from Selling Services to Selling Solutions

According to Hammervik, it's time to start standardizing the terms "solution" provider and "service" provider.

"Services tend to connotate reactive, templated, transactional offerings versus solutions, which are proactive, customer centric, customized offerings and responses," said Hammervik. "Top-performing solution sellers excel at understanding customer needs, marketing and delivering on the value proposition, and negotiating and closing deals compared to their more transactional peers."

According to CompTIA research, this shift is already underway. Sixty percent of MSPs say they plan to increase their services mix and 42% of MSPs said a pivot to new biz models/markets helped their business through the pandemic.

As technology firms move to selling solutions, upskilling and retraining of the sales and technical staff must be a priority. Sales teams should be prepared to spend more time with clients in order to understand their business, their goals and their pain points. In order to be a trusted business advisor and partner, you must be able to provide ROI and make good on your value proposition.

"Revenues and margins can increase when mapping to business value. During the pandemic, SMBs turned to their technology partners to build strategies and transform their businesses. We should leverage that enhanced role and continue to identify and solve business problems," said Hammervik.

Prioritizing Workforce Development

The skills gap is an ongoing issue in the tech industry. Jobs are plentiful and employers are beginning to see that non-traditional paths to an IT career are providing opportunities for more individuals to enter the field.

"Today there are more than 700,000 open positions in tech. The industry is becoming more receptive to alternative paths to technology careers with many employers dropping college degree requirements. Employers frustrated with their attempts to find and retain talent, and are skilling and upskilling staff, and investing in employee training programs," said Hammervik.

It's not just about finding talent, employers need to pay more attention to diversity, equity and inclusion (DEI) in the workplace—to build better cultures and help close the gap. Unfortunately diversity statistics have stalled and there are renewed efforts to build DEI programs within companies that deliver results.

"Building DEI programs into the workplace culture has been proven to drive customer satisfaction and loyalty, innovation, revenues and margins—but it's also the right thing to do and will contribute to a more equitable society," said Hammervik.

CompTIA Resources to Build Your Business

From networking and educational events to original research, member-created resources, discounts on cybersecurity insurance and certifications, among other benefits—CompTIA members can access the tools they need to tackle the four pillars of technology business growth. Learn more about how CompTIA membership can support your business.