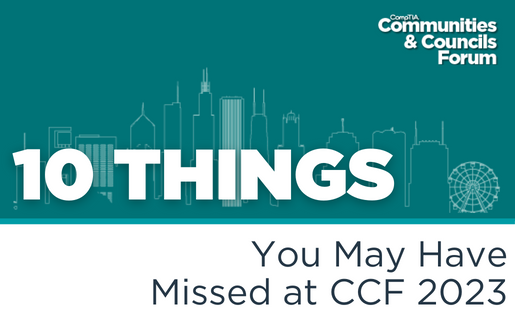 From exclusive research previews to important new cybersecurity initiatives to Spotlight Awards honoring CompTIA members—CompTIA Communities and Councils Forum (CCF) 2023 had something for everyone.
Of course, attendees also spent a lot of time networking, worked on new resources to benefit the entire IT industry and heard valuable business-building tips to take back home. If you couldn't join onsite—or maybe you missed something—here are the highlights from CCF 2023.
What's Next for CompTIA Membership
CompTIA's MJ Shoer, chief community officer, welcomed attendees with an overview of what's next for CompTIA Membership including new and enhanced member benefits and program enhancements.
He detailed how CompTIA's regional communities are structured to foster global collaboration and shared how the CompTIA community is collaborating to help solve the tech talent shortage.
During the keynote Shoer outlined the five key areas CompTIA is focused on for 2023:
Closing the confidence gap, driving diversity and filling the pipeline

Investing in certification, training and testing

Cybersecurity industry leadership

Advocating for closing the future gap skills and driving the adoption of technology

Growing CompTIA's reach and relevance.
CompTIA Announces New Cybersecurity Programs
Wayne Selk, vice president, cybersecurity programs and executive director of the CompTIA ISAO offered news on the on the new Cybersecurity Trustmark and the Cybersecurity Emergency Response Team.
The CompTIA Cybersecurity Trustmark is an organizational Trustmark designed to help MSPs and solution providers elevate their cybersecurity awareness and readiness.
"The CompTIA Cybersecurity Trustmark is the onramp to getting started with developing a full cybersecurity program inside of your organization," according to Wayne Selk, vice president, cybersecurity programs.
The new Cybersecurity Emergency response team will be led by a dedicated group of CompTIA members. Volunteers will provide guidance to industry peers victimized by a disruption of their system availability, data integrity or confidentiality by a cybersecurity or other event. A dedicated 800 number and online forum will be coming soon.
Spotlight Shines on Community, Council Leaders
CompTIA dished out its annual Spotlight Awards during an evening celebration for the first time, including one for a new cybersecurity category. The six CompTIA members were honored for their peer-to-peer recognition and thought leadership are:
Future Leader Award: Andrea Ayala, director of technology alliances, Gradient MSP.

Advancing Women in Technology Leadership Award: Rebecca Woods, founder and vCIO, Bluebird Leaders

Advancing Diversity in Technology Leadership Award: Dominique Andrews, chief people officer, Logically

CompTIA Community Leadership Award: Alex Spigel, co-founder and CEO, Choice Cyber Solutions
CompTIA Industry Advisory Council Leadership Award: Jill Klein, head of emerging tech and IOT, CDW

Cybersecurity Leadership: Bill Campbell, CEO, Balancelogic
CompTIA Members Give Back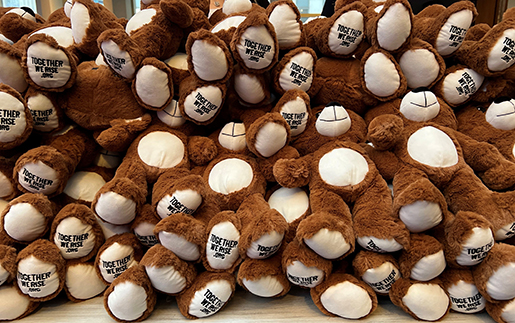 At the opening reception, CompTIA members participated in a service project to benefit Chicago-area youth, assembling and decorating duffle bags filled with comfort items for children in foster care. The event, presented in partnership by CompTIA Spark and Foster Love - Together We Rise, benefits Cornerstone Community Outreach and was a great way to start the conference and encouraged lots of member networking.
MSP Brainstorming: Growing Business and Finding Talent
What's keeping MSPs up at night? Staying competitive, finding and retaining talent, growing and scaling business, and protecting from the latest risk are just a few challenges they face every day. CompTIA's Managed Services Committee is hoping to provide some much-needed support.
"This is a new era, a new world that we are stepping into. What an exciting time to be in tech. As a community, we can rally together to create opportunities and solutions for real problems," said Juan Fernandez, Juan Fernandez is the global channel chief of HacWare, CEO of MSP Growth Coalition and an executive council member of CompTIA's North America Community, during the Managed Services Committee meeting at CCF.
Committee members brainstormed ideas in four key areas: staying competitive, finding and retaining talent, growing and scaling business, and protecting from risks. Stay tuned in coming months to see the results of their labors.
Emerging Tech Committee Dives into Digital Transformation
Across the tech industry, the term "emerging technology" has become a catch-all descriptor for the futuristic advances that will drive the next wave of innovation. And with emerging technology established as a strategic way for IT leaders to build solutions on new platforms, it's no surprise that during this session, panelists discussed digital transformation, the challenges with adopting these new technologies and the factors driving change.
Committee members brainstormed ideas around four key areas around digital transformation that MSPs should be aware of:

1. How to help clients establish processes for evaluation and adoption
2. How to evaluate clients for digital transformation readiness
3. New offerings for using and supporting emerging technologies
4. How to accelerate internal digital transformation efforts
Keep an eye out for the resources that this committee develops to help MSPs ask the right questions and add value to their service offerings.
Workforce Committee Works Toward Solutions for the Tech Talent Shortage
It's no secret that the industry is facing a massive shortage of skilled professionals to fill myriad in-demand job roles. During the Workforce Committee meeting at CCF members came together to brainstorm ideas, discuss challenges and work towards solutions to this issue.
Attendees also heard from a panel of individuals from CompTIA's workforce solutions team. They offered tips on how to utilize CompTIA programs to upskill your workforce and resources members can take advantage of to find the talent they need to be successful.
"For many years [CompTIA] has been offering certifications and testing, but now we're building full-blown training programs to help get more folks into tech jobs," said Nancy Hammervik, chief solutions officer, CompTIA. Hammervik's team works with academic institutions, government workforce organizations and employers to offer training for upskilling, reskilling, onboarding and career placement.
The Workforce Solutions Committee plans to create resources informed by the input they received from community members during this session to help you navigate all the programs CompTIA has that can help you find, upskill and reskill the talent you need to be successful.
Research: CX, Market Demographics Top Channel Health Factors
Customer experience and adapting to new market demographics and buying patterns are key drivers for a healthy, happy channel but economic uncertainty and inflation present big challenges, according to Carolyn April, senior director of industry analysis at CompTIA, who previewed CompTIA's upcoming State of the Channel 2023 research.
"Customers are expecting top-notch service and omni-channel communication now. They want as much reduced friction as possible. The reason they can insist on that is they have more choices now. Cloud has really opened up choice for customers, so their experience has become essential," said April.
Cybersecurity Committee Tackles MSP-Client Liability Issue
CompTIA's Cybersecurity Committee is tackling that issue, helping to develop a list of actionable steps and procedures from 12 categories within the report, a process started during a breakout meeting at CCF.
"There's no way that MSPs can be 100% responsible and liable for security of an organization. They must have buy-in with the customers. We have to start speaking language of governance. If we're going to ask you to invest in security in your organization, we're going to be clear on how to partner to get there," said Joy Beland, vice president of partner strategy and cybersecurity education at Summit7 and member of CompTIA's Cybersecurity Advisory Council. "No amount of tools can make you secure if a customer's culture does not change. That adoption stems from writing the policies, procedures, understanding their role and your role in each of categories."
ChannelCon 2023 Registration is Open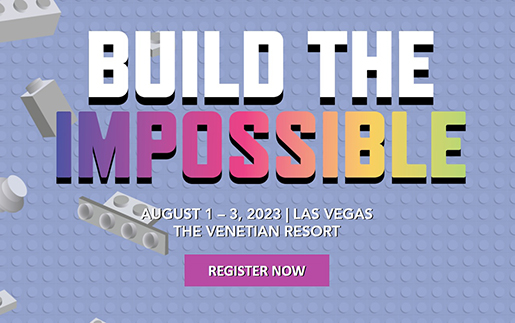 ChannelCon, CompTIA's premier conference for the technology industry, is slated for Aug. 1-3 in Las Vegas.
Don't miss this opportunity to network with peers and partners, attend sessions dedicated to helping you unlock your business's potential, and get a taste of the latest innovations during the Technology Vendor Fair. Don't miss out!