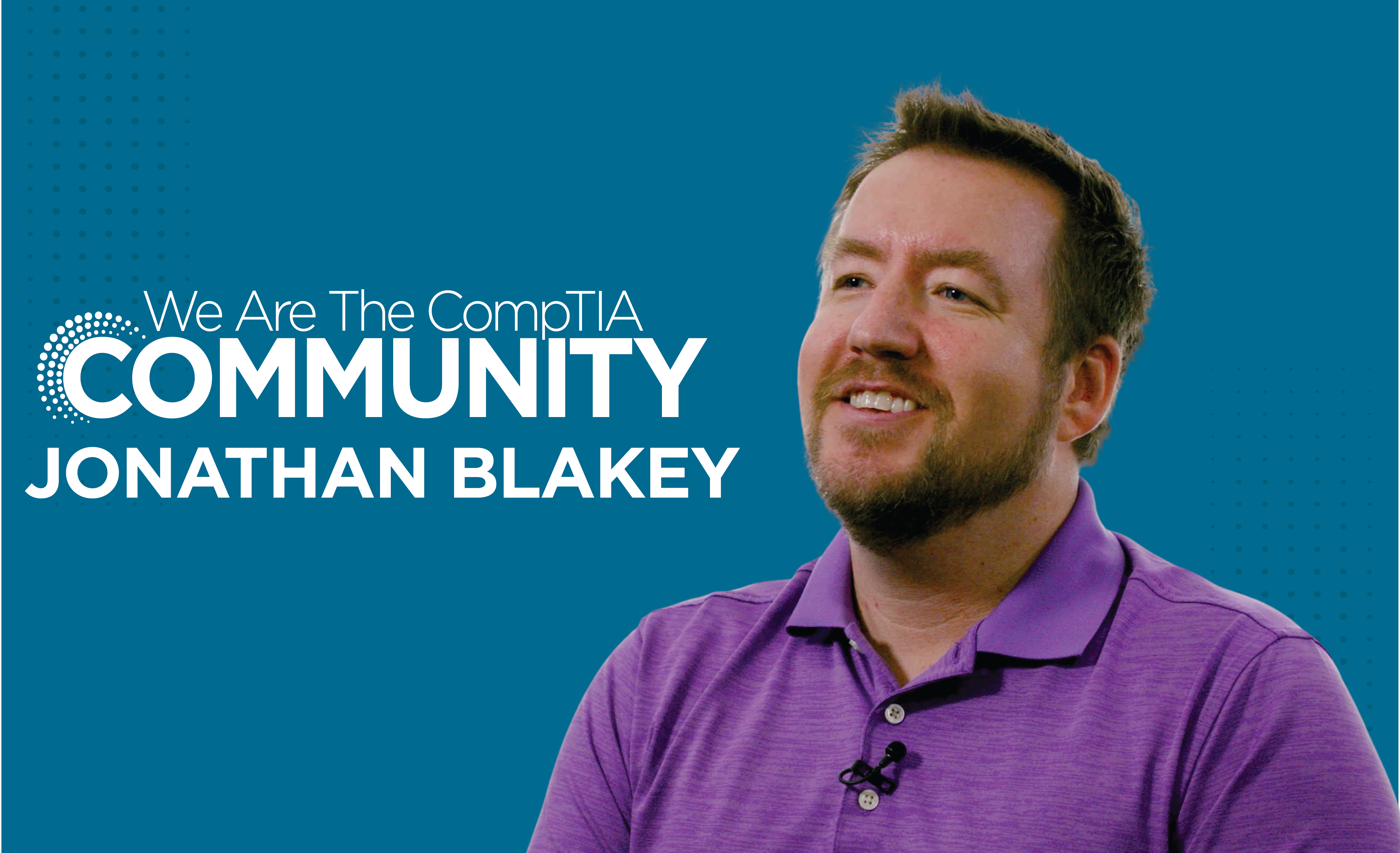 CompTIA members work with us—and each other—to build the resources and tools that demonstrate how innovative technologies help businesses be more efficient, productive and profitable. Why do they do it? We're going to let them explain.
In this Q&A, Jonathan Blakey, vice president of technology at TAG National, talks about how CompTIA membership has helped lend credence to his industry education and expertise—and why it's important to engage with the community.
Read more to get Jonathan's perspective on how CompTIA membership can help you build your industry expertise, including:
Validating your expertise and experiences within the industry
Engaging with a community of leaders, like-minded thinkers and innovators
Learning from others in the space and sharing your knowledge
Related content: See more We Are CompTIA stories here.
How long have you been a CompTIA member?
I've been a CompTIA member for about five years, and I've been involved with the Channel Development Advisory Council since 2019.
What brought you to CompTIA?
What brought me to CompTIA was looking for a place to expand industry knowledge of trends and emerging technology, but to do it removed from having to be sold anything by a specific vendor. I wanted to be able to do it with freedom to learn about the trends and technologies without attaching a company or vendor.
What makes CompTIA so special?
The people involved in it. Being a nonprofit, being a volunteer [organization], people are really engaged in CompTIA, really wanting to make a difference in improving the industry as a whole. When you're around like-minded people that are there to network, learn, build, and relationships and communication in order to better the community and in the industry, it's a great place to be. Lots of good relationships have been formed within this group.
How has being on the council helped your career?
Being on the Channel Development Advisory Council has helped my career by giving some validity that what I bring to the industry has been validated by others. Being able to improve, encourage and contribute within my council from my experiences and my expertise is so important. Basically, it's a rubber stamp that says: "Hey, we value what he brings to the table." And CompTIA's councils have really led to that.
How would you describe CompTIA to peers?
CompTIA is a global organization. If you're wanting to learn about the technology industry, what's new and emerging, what is working for others, what's out there, threats, strengths and opportunities within the industry, it is the place to be. You can have your own skill sets validated through CompTIA certifications—they're widely regarded as the best in the technology space to certify that you know what you're doing and talking about.
How would you advise a new CompTIA member to make the most of their membership?
You will get out of it what you put into it. Engage with other members, engage with the materials and the deliverables that are out there, use those in your business, but mostly, look to reach out to others that are in the same space as you to learn from them. That's the best way to get the most out of the membership.

How has being a CompTIA member helped you shape your role within the industry?
Because of what I do in consulting and educating within my own group and my own career path, being part of the CompTIA councils really has said, "Hey, there's some external validation of what he's telling us that is accurate and true." Having the brain bank of everybody in CompTIA [behind me] is building the foundation of what I'm talking about. It's undergirding it with a lot of truth that's widely accepted within the industry. By being a CompTIA council member and by being a CompTIA member, it's not just me making things up. It is being validated by the foundation of the CompTIA communities and CompTIA materials that are put out there, including the training and the certifications—everything that is out there has built the foundation of what I train, teach and educate my clients on. When they see the CompTIA attachment, it lends credence to what I'm saying.