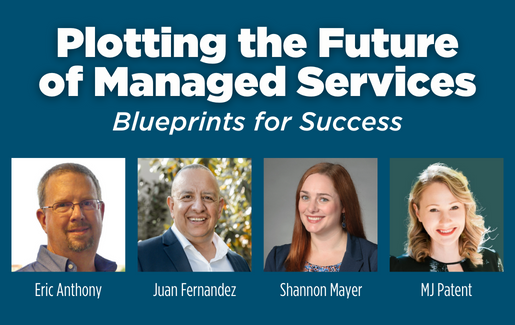 Staying competitive in a fast-moving, always-changing market is a big challenge for many MSPs. How do you find and retain talent? How can you grow the business? How do you stay protected—and make sure you customers are too? There are no simple answers—and many times those questions just beget even more challenges and concerns.
But CompTIA's Managed Services Committee is hoping to provide some much-needed support.
"This is a new era, a new world that we are stepping into. What an exciting time to be in tech. As a community, we can rally together to create opportunities and solutions for real problems," said Juan Fernandez, global channel chief of HacWare, CEO of MSP Growth Coalition and an executive council member of CompTIA's North America Community, during a Managed Services Committee breakout session at CompTIA's Communities & Councils Forum.
Fernandez noted that MSPs were instrumental —"the sure footing"— in helping businesses navigate through the turmoil caused by the pandemic, and now it's time to take the next steps.
"I think 2023 is the year of education for us and customers. We have a new role to play. There's a lot of opportunity, but the undertone is change. That's what we're here for, we want to figure out how to make sense of all this and be part of the change. We're here because we want to make a difference," he said.

Hot Topics: Employee Experience, Business Outcomes, Cybersecurity
To start the process, the Managed Services Committee plans to develop resources and content for MSPs in several areas: Staying competitive, finding and retaining talent, growing and scaling business, and protecting from risks.
A show of hands during the session revealed that MSPs are investigating new technologies and new solutions more than their customers are. That's good news, Fernandez said, because it indicates that MSPs are thinking proactively and planning for long-term growth.
"The game is changing, and I love the fact that the game is changing. I've always felt like the little guy trying to become a big company. How do you compete against goliaths? You have to be faster, more nimble," he said.
Some ideas MSPs should consider this year, and topics the committee will focus on include:
Creating a better employee experience process
Expanding customer conversations to include business outcomes (not tech)
Taking a serious approach to cybersecurity
"We really appreciate the input and participation," said Eric Anthony, director of MSP evangelism at Egnyte. "We collected a lot of great ideas. This is how we're going to drive participation and initiatives going forward. I'm really looking forward to getting some of these things done. My group talked about risk. How do you talk risk and not make it 100% about cybersecurity? There's a lot of things that are risk but not cybersecurity."
MJ Patent, founder and CEO of Alveo, echoed the sentiment that competitive advantage is critical to MSP success and shared ideas of how to make that happen.
"We built out a list of things that gives us a competitive advantage: People, thought leadership, addressing customer needs. How do we do it? Knowing your client needs, client research and service portfolio management. Make sure you can clearly articulate your services and how that aligns to the value you create for customers," she said.
When it comes to finding and retaining tech talent, tech training programs should be a key component, said Shannon Mayer, director of customer demand generation at Kaseya.
"Investing in employees up front to have the skills and knowledge to do their job sets the stage for long-term relationships with employees," she said. "When it comes to retaining talent, having a proper growth plan for employers and making it transparent to employees so they know what they need to do to grow with the company, are important."
Have a great idea? Let everyone know!
Join the North America Community to connect with other MSP leaders and share your thoughts.