Chair
Director of Security Solutions,
Tech Data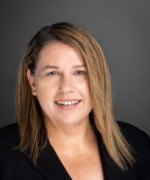 Tracy Holtz
Director of Security Solutions, Tech Data

Tracy Holtz serves as director, Security Solutions for Tech Data. She is responsible for providing the strategic vendor strategies, direction and accelerating security sales performance across our entire security solutions vendor portfolio. Leveraging vendor sales, training and enablement, Tech Data's custom solutions and delivery services through the Tech Data partner and sales ecosystem.

Tracy joined Tech Data in 1997 beginning her career in finance prior to joining the vendor management organization in 2000. With 22+ years of experience at Tech Data, she has held multiple roles of progressive responsibility including vendor management, business development, and program management.

Prior to her service at Tech Data, Tracy began her career in the IT industry when she joined Trans World Electronics in 1993 and held positions in finance, sales and purchasing.

Tracy has received numerous awards and recognitions for her business and channel achievements and is passionate about educating children about cybersecurity education and career opportunities. Tracy is based in Clearwater, Florida.