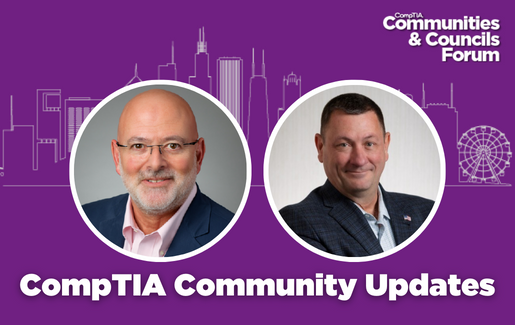 From opening new doors to help you scale your tech business and be more efficient, productive and profitable to helping MSPs increase their cybersecurity resilience, there are a myriad of new and enhanced benefits available to CompTIA members, according to MJ Shoer, chief community officer, CompTIA.
These initiatives are all a part of a larger strategy to help close the confidence gap, increase our positive impact and expand globally to grow CompTIA's reach and relevance.
"[The tech] industry is different than any other industry in the world," Shoer said during a keynote session at CompTIA's Communities & Councils Forum (CCF) in Chicago. "[CompTIA] is a fierce advocate for the industry. We want more people to get into this industry and have great careers, and we're expanding globally to meet our members where they are anywhere in the world," he said.
CompTIA detailed several of these new benefits and program enhancements to advance the industry and help make your tech businesses more successful. Here's a look at several of them:
Community Structure Fosters Global Collaboration
Last year at CCF CompTIA announced a realignment of our communities formed around the regions in the world where our members live and work. The six CompTIA Communities include North America, UK & Ireland, DACH, Benelux, ANZ, and soon to launch, Association of Southeast Asian Nations (ASEAN).
"Within each region, we created what we call a committee structure; across the globe we have four active committees in different regions. We have our Advancing Tech Talent and Diversity Committee, focused on workforce and DEIB, Cybersecurity Committee, Managed Services Committee and Emerging Technology Committee. Not all four exist in every region, Shoer said. "As a community you can decide which trends and topics are most important to you and you can spin up a committee very easily within the structure of your community to focus on that."
Committee members participate in initiatives, provide thought leadership, share best practices and work together to solve common business problems relevant to your region.
CompTIA Community Collaborates to Help Solve for Tech Talent Problem
It's no secret that there is a massive talent gap present in the tech industry today. In partnership with ConnectWise, CompTIA's Community and Workforce Solutions teams announced the launch of our Ticket to Tech program, a training program that will help bring over 300 new recruits into the industry by bridging the confidence gap, driving diversity and filling the pipeline with skilled tech professionals.
Aligning with CompTIA's mission to unlock potential, this 17-week online program helps prepare underemployed individuals for fulfilling, lucrative careers in technology.
"Once the recruits graduate, they are available for direct hire or they're available for an apprenticeship program," said Nancy Hammervik, chief solutions officer, CompTIA. "This is an incredible example of how our industry can solve for our own problem. The days of posting your open jobs on your website or working with a recruitment agency and thinking people are going to walk in the door are over. We all need to get together and solve for the problem."
How can you get involved? Hammervik detailed four ways:
Hire the individuals that graduate from the Ticket to Tech program either as a direct hire or as an apprentice.

Volunteer as a guest speaker to share more about what you do with recruits.

Volunteer to facilitate mock interviews.

Work with CompTIA to collaborate on a training opportunity in your own region.
Interested in Helping Train the Future Workforce? Reach out Kathy Brennan, senior director, student affairs, CompTIA, at [email protected] to find out more.
New Member Experience Center & Member Education
CompTIA offers so many great benefits to our members, and we understand at times it can be difficult to find exactly what you're looking for. Which is why the new member experience center has been revamped to help you make the most of your CompTIA membership.
"This is designed to give you a little bit more of a white glove, concierge experience with your CompTIA membership," Shoer said. "The member experience center itself is available Monday through Friday, 8-5 p.m. CT, but with our new systems you can communicate electronically anytime." This 24/7 access means you can maximize your member benefits and minimize the time it takes to find the information you're looking for.
Alongside the Member Experience Center, members have access to the Member Learning Portal where you can access more than 22 self-serve, on-demand courses to help you advance your business. Resources available include the Marketing Toolkit for MSPs, among others.
"We have professional educators on staff that build these courses together with a group of over 40 subject matter experts in the industry who help advise on what the course topics should be," Shoer said. "You're missing out if you're not taking advantage of them, and those that do give it a 96% positive satisfaction rating."
CompTIA Announces New Cybersecurity Programs
CCF served as a public opportunity for CompTIA to announce some incredible new benefits to help members increase their cybersecurity resilience. The first being CompTIA Cybersecurity Trustmark, an organizational Trustmark designed to help MSPs and solution providers elevate their cybersecurity awareness and readiness.
"The CompTIA Cybersecurity Trustmark is the onramp to getting started with developing a full cybersecurity program inside of your organization," according to Wayne Selk, vice president, cybersecurity programs. The CompTIA Cybersecurity Trustmark maps to several control frameworks recognized as industry-accepted best cybersecurity practices to ensure that MSPs have a clear path to foundational cybersecurity hygiene.
The second being the introduction of the new Cybersecurity Emergency Response Team, led by a dedicated group of CompTIA members. Volunteers will provide guidance to industry peers victimized by a disruption of their system availability, data integrity or confidentiality by a cybersecurity or other event through a dedicated 800 number and online form.
"Much like the [CompTIA Cybersecurity] Trustmark, this is a much-needed solution for the MSP space today," Selk said.
Connect With Us on Socials

Keeping up with us on our social platforms is a great way to be the first to hear about CompTIA's newest research, resources and initiatives.
Follow Us on Our Social Channels for the Latest Updates:
Start Planning for CompTIA ChannelCon 2023!