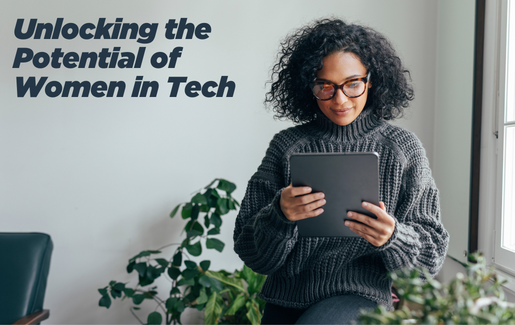 The theme of this year's International Women's Day is #EmbraceEquity, a nod toward overcoming challenges associated with bias, stereotypes and discrimination in the workplace. CompTIA has many resources to help female workers support each other and provide guidance to advance their careers and businesses, including the Advancing Women in Technology Interest Group.
Groups like this work toward diversity, equity and inclusion (DEI) in the technology industry. But how are we doing? What does the future look like? And what more can we do?
Here's what some CompTIA women had to say:
How Are We Doing?
It's a work-in-progress, but we're getting there. And the rewards are worth the work.
"Women can feel guilty, feel like we've dropped a ball or we're focusing too much on work, or too much on family. But we bring a lot of benefits to the workplace. We're strong communicators, good at networking, managing teams and working within teams." – Claire Jenks, director, Jenks Creative
And it's not just about getting your foot in the door. It's about advancing your career.
"Employers cannot just talk the talk. They must walk the walk and hold themselves and staff accountable for practicing DEI concepts every day, in every workplace activity, from hiring to building leadership teams." – Nancy Hammervik, chief solutions officer, CompTIA
There will always be naysayers. That's precisely why we need support.
"As a woman in tech, I've had many men over the years say they don't think it's 'fair' that women should be given a different opportunity to advance, get promoted or recognized. Minority groups need that helping hand precisely because they don't yet have an equal voice. They need the support to feel included and valued to shine, whether that's based on gender, ethnicity, beliefs, disabilities or any other potential points of bias." – Tracy Pound, founder and managing director, MaximITy
Feeling a sense of belonging contributes to unlocking potential.
"The biggest thing that keeps me up when I think about the tech industry is really thinking about how are we developing an inclusive environment for people to thrive and feel like they belong? Where there is room for opportunity is really thinking about the people who have established careers – they've been there for three to five years, and they are thinking about their next step." – Susanne Tedrick, author of "Women of Color in Tech" and technical trainer, Microsoft
What Does the Future Look Like?
The number of women in cybersecurity will grow in the coming years.
"In recent years, there has been a push to increase the representation of women in the cybersecurity industry, and this trend is expected to continue in 2023. Diversity is vital in any industry, and women bring unique perspectives and skills to the table in cybersecurity. Research has demonstrated that women tend to be more risk-averse and possess strong problem-solving abilities [than men], which is an asset in this field." – Barb Paluszkiewicz, CEO, CDN Technologies
As an industry, we are more mindful of our behaviors.
"Tech has always been a predominantly male field, like a mechanic. To change this, we have to be purposeful. We have to make practical changes, starting with changing behaviors and changing how we do things, and how we think about the technology space. We have to be purposeful and put in the work needed to change the culture of the tech space." – Dr. Georgette Fraser-Moore, CEO and president, Transformation Lead
Women are looking at organizational culture and values when looking for a job.
"Does the company share your values? How do they treat their employees? Is the workforce diverse—gender, race, orientation, etc.? I joined Check Point because they share my values of diversity, inclusion and equality, investing in the next generation of the IT workforce, opportunity for growth and more." – Rita Loncar, head of sales, strategic accounts and federal government, Check Point Software Technologies, Ltd
What More Can We Do?
Connect with women, share your experience and support others.
"Actively engaging with women in the industry to encourage their involvement in CompTIA community meetings is so important to me. I am so proud of the work I continue to do in helping to not only diversify the council, but to strengthen the networks and sense of belonging among women in the IT channel." – Hannah Lloyd, vice president of channel sales, inSOC Inc
Use data to make informed changes.
"We started leveraging data by looking at gender and ethnicity in terms of who we were attracting as job applicants and then who was hired. It wasn't a reason to judge ourselves; it was just collecting the data and starting to make sense of it." – Miranda Ruane, account executive, vCom Solutions
Be intentional about your decisions.
"We have to actively work to expose ourselves to other demographics. We have to be intentional about advancing diversity in tech, which is why organizations like CompTIA are so important to the industry. When we expose ourselves to other points of view, other cultures and people who don't look and think like us, then we open ourselves up to innovation because we have a wider breadth of ideas that speak to a wider breadth of customers." – Kris Blackmon, chief channel officer, JS Group
Stay committed to tangible outcomes.
"Embracing equity begins with the mindset of impact over intent. Only those organizations that move beyond policies and training with their authentic commitment to tangible outcomes will be the trailblazers for equity." – Jennifer Browning, chief people officer, CompTIA