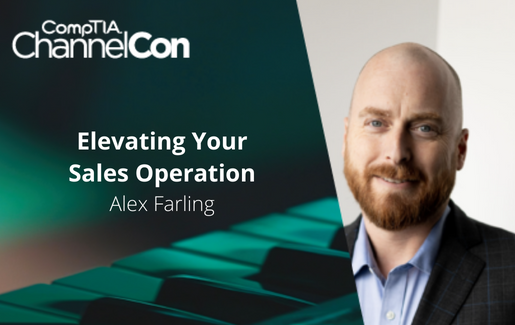 In order to compete in today's aggressive and continually changing marketplace, MSPs have to keep evolving as well—not just in products and services, but in how the entire sales process works… or more specifically, how it works for your customers.
Alex Farling, co-founder and channel chief of Lifecycle Insights, detailed the top three things MSPs—or any sales team—can do to elevate their sales operations and make lasting, meaningful connections with current and potential customers during a session at ChannelCon 2022.
1. Understand Consultative Selling
The traditional way of selling used to be transactional, whereby one party provides and the other buys. While effective to a degree, this old method is no longer a driving force behind vendor partnership or provider decisions.
"As the saying goes, 'people buy from people' so building that relationship is important, especially for MSPs," said Farling. "It's becoming a hyper-competitive space and we want to go deep and wide with our customers. That only happens with good relationships."
The needs and expectations of today's customers have changed. Companies research online before contacting a potential provider and they start the discovery process with more information and education than ever before. If your sales team is focused on closing the deal instead of building the relationships, it's likely you're missing out on chances to make your expertise, customer service and other products and services the invaluable partner of potential customers.
"Bringing the cash register to the first meeting cuts out all opportunity to know your customer and find out what exactly they need," said Farling. In today's marketplace, the biggest challenge in sales operations is moving from a business transaction to a business conversation. "Consultation is a conversation," he said. "And you don't want to be left out of the loop."
2. Develop a Framework for Success
Once your sales team understands and adopts the consultative mindset, it's a "land and expand" opportunity. One thing companies must consider is that this is no longer a short sales process—building quality relationships takes time. One way to help manage the long-tail workflow is to develop a framework that provides insights into a prospect's pain points, and helps you develop what business value you can add.
While there are many ways to do that, Farling highlights three main steps:
Identify your specialization: Pinpoint the important factors that make you the stand-out provider.
Determine your niche so that you can be specifically helpful to the right people, instead of marginally qualified across the board. Customers want—and will pay for—proven experience and market expertise.

Develop a customer profile so that you, as an MSP, know who you want to work with. The consultative mindset means that you zero in on the customers that you can grow with and develop impactful strategies.
Differentiate yourself from the competition. It's a crowded marketplace and only getting more competitive. What helps prospects determine who to give their time, energy, and business to is what value you can provide, and that goes beyond one-time transactions.
Determine roles and responsibilities: The CEO/CFO/CTO might be the one to pull the trigger but it's equally as important to have buy-in from everyone involved. Identify roles and provide clear expectations and establish a reasonable timeline for delivery. Also, don't forget the other departments.
"When you ally sales, marketing, and account management, you're letting your prospective customer know what it feels like to work with the whole company, not just one name, person, or department," Farling said. "It underscores that your relationship is all one cohesive thing."
Create a communications strategy: Because the sales and implementation process is a conversation, you want to be sure you're clear and concise with your communication. This goes beyond just how you speak, but when and how long each segment of the process is estimated—from first discovery calls to implementation to training to ticket response. Being respectful of people's time goes a long way in building and maintaining the trust and loyalty of a customer. And not respecting that can be damaging.
3. Form Effective Habits
Much like tending a garden, building long term and substantial relationships takes time, care and effort. The old mindset included cold-calling prospects, e-blasting huge customer databases and reaching out only when a new product was available to sell. Customers—like people—don't like to feel unimportant, especially when it comes to big investments in their company.
"After a meeting, I'll sit in my car and jot down any notes, impressions, questions, any information I think will help me personalize and tailor my customer's experience with me," Farling said. "Make the time to be attentive and it adds up! Everyone can find 20 minutes each day to make new connections."
Another effective habit is to document your process. Use standardized forms, write a sales playbook, have a review cycle for documentation, messaging, and best practices so that each member of your team—from sales to IT to marketing and beyond—know what makes your company different and effective to customers.
"By documenting your process, you can evaluate it and that's how you stay on top of improving," says Farling. "Move beyond 'this is what we do' and into a 'this is how we do it' because the insight and knowledge is what customers want to put their trust in. Be that provider."