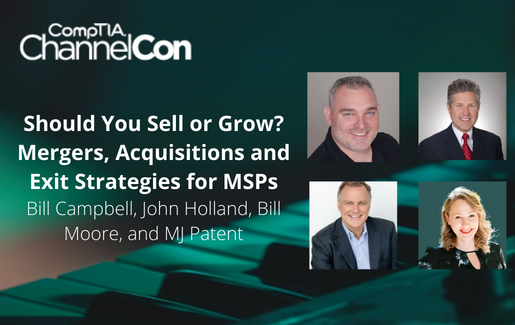 There have already been more than 700 MSP mergers and acquisitions in 2022, with likely exponentially more M&A conversations taking place every day. During a recent panel discussion at ChannelCon 2022, 63% of attendees said they were thinking of selling their companies, or at least wanted an option to sell. More than 40% said they are considering the purchase of another company.
But amidst all the current economic tumult, is now a good time for managed service providers to buy, sell, or should they wait it out? The answer, as you might imagine, is—it depends. It's also not so much as when should you sell, but how and why, according to the ChannelCon panelists in a session titled "Should You Sell or Grow? Mergers, Acquisitions and Exit Strategies for MSPs."
"The headline news is scary, with 9% inflation, high interest rates, and signs of recession," said John Holland, managing director of Corporate Finance Associates, an investment banking firm based in Laguna Hills, Calif. "We don't have a crystal ball for the future, but in the IT space M&A still is very hot. We just closed a deal with a $55 million cybersecurity VAR and there were a multitude of acquirers interested. Demand for MSPs with recurring revenue is still robust. The Wall Street Journal reported recently that M&A is down compared to last year. But to keep that in perspective, last year was unusually high. It's getting back to normal rate of transactions, rather than collapsing."
Why Are You Buying/Selling?
Bill Moore, president of Thrive CFO, a business finance firm in Rolling Hills Estates, Calif., cited four reasons why MSPs, among other businesses, might typically look to make an acquisition:
In-Market Consolidation
New Market Expansion
Strategic Acquisition
The "Acqui-Hire
"The strategic acquisition brings in new products or services to sell to clients. Security presents that opportunity now," Moore said. "As far as 'Acqui-Hire,' getting quality technicians is difficult. Some MSPs are looking to acquire a company not for its customer base, but for its technicians. They're not just looking at the owner, but at the people and their skillset."
There are a multitude of reasons why MSPs may look to sell their business or grow through acquisition, according to Bill Campbell, CEO of Balancelogic, a Waldorf, Md.-based MSP, but the most popular may be because the company has hit a plateau. "Most people that started an MSP are good at what they do, they're technicians. But they can't take the business to the next level," he said.
At that point, any company interested in buying or selling needs to start preparing the business—shoring up the accounting books, instilling a positive company culture, and developing the right strategy for a potential acquisition, said MJ Patent, moderator of the ChannelCon panel and CEO of Alveo, a business strategy firm based in Scottsdale, Ariz.

"Studies show that 70% of M&A transactions fail," Patent said. "They're not asking a lot of questions on culture, sustainability. Having a plan for all those things is important," Patent said.
The good news for MSPs is that there's a lot of investment and equity firms keen on buying into their business model today.
"All of you are probably getting calls from private equity. They're hungry. They have cash to deploy. If they don't deploy cash, they don't make a return for their investors," Holland said. "Those conversations can start to plant a seed in your mind. 'Hey, I wasn't thinking about selling, but this is a great offer.' Private equity calls these proprietary transactions. They're not competing against other bidders. That could work out for you. It might be best the best offer you'd ever get. But normally when an asset is sold the value is maximized when there are multiple bidders. If you get a proprietary offer, test the market and see if you get a second."
What Are You Worth Anyway?
The hardest part of an M&A strategy for many MSPs could be calculating what their business is worth to another company. In many cases, there's a lot of emotional attachment built up over years of hard work, and that can lead to an owner having an inflated view of his or her own company. An informal framework of indicators to calculate the value of an IT services firm can include:
Value Enhancing Indicators
Scale
Recurring Revenue
High EBITDA Margin
Growth with Robust Sales Pipeline
Customer Retention
Competitive Advantage
Strong Management Team
Reliable Accounting
Value Detracting Indicators
Project-by-Project
Declining Revenue
Weak Management Team
Customer Concentration
High-Customer Churn
Litigation
Low EBITDA Margin
"Talk to friends, peer groups. There are a lot of people that own the same kind of business, and that's s OK. They'll share how they made an acquisition work, what they did to prep. You have a lot of resources in your own backyard. You don't need to spend tens of thousands of dollars to research. Reach out and ask for help," said Campbell.
Patent agreed, adding that when you are calculating a value for your company, be honest about your skills, your business plan, your long-term strategy. And talk to people. "That takes it away from being an emotional decision. It's your baby and you're giving it to someone. You don't want anyone to call your baby ugly. But if you understand what you're trying to get out of it, a long-term plan, you can set expectations," she said. "You don't have to pretend you're perfect."