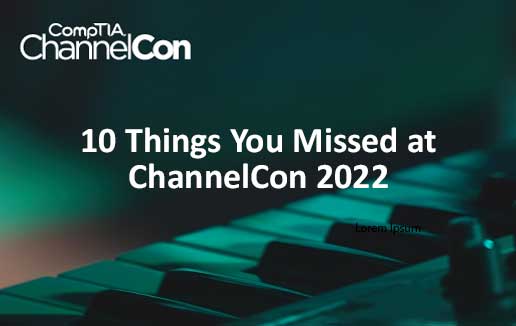 After a three-year absence, CompTIA's ChannelCon conference was once again a live event, a much-anticipated return to in-person meetings, sessions and networking time. More than 1,000 CompTIA members attended 30+ sessions and visited more than 150 booths in the Technology Vendor Fair in downtown Chicago.
If you couldn't attend this year—or even if you did—you may have missed something during the three action-packed days. Here's a list of 10 things you should know from ChannelCon 2022.
CompTIA Takes Over Downtown Chicago
For the first time since 2019, CompTIA members and partners were LIVE together to network, learn and hear about the latest tech trends—plus have some fun along the way. More than 1,000 attendees descended on downtown Chicago for ChannelCon 2022 for more than 30 sessions across Community, Biztech, Cybersecurity, and Vendor Education tracks.
"It is great to be back in person, to see old friends and old colleagues, to meet new solution providers, and to make great connections. Every day I got up early, learned what I had to learn, discussed new things, and you can't do any better than that. I'm glad you guys are back," said Nathan Archer, director of business development at A&H Technology Group.
Introducing… the North America Community
CompTIA's MJ Shoer, chief community officer, and Debbie Schildkraut, vice president, member engagement, welcomed members to the inaugural North America Community meeting at ChannelCon 2022.
The North America Community, representing Canada and the U.S., was created to better align technology businesses and professionals from around the globe with peers in their region of the world. The North America Community joins communities representing the United Kingdom and Ireland (UK&I), Australia and New Zealand (ANZ) and Belgium, the Netherlands and Luxembourg (Benelux). Each regional community includes topical industry committees in areas such as advancing tech talent and diversity, cybersecurity, emerging technology, and managed services.
"It's all about making more opportunities available to our members," said Schildkraut. "More opportunities for you to learn, more leadership opportunities, and more opportunities to grow your business."
Learn more about the North America Community.
CompTIA Celebrates Communities Around the World

Day 2 of ChannelCon kicked off with the CompTIA Communities Around the World breakfast. This first-time event took place live in four cities and was also livestreamed, highlighting CompTIA's presence across the globe. Around the World kicked off with the ANZ Community meeting in Sydney, Australia. From Sydney, members passed a virtual baton via livestream to the UK&I Community in London, followed by the Benelux Community in Amsterdam before finishing with a virtual hand-off to the CompTIA Community in Chicago at ChannelCon. Tracy Pound, chairwoman of the CompTIA Board of Directors, and Debbie Schildkraut, vice president, member engagement, CompTIA, along with a room filled with members and industry professionals welcomed the regional communities from the main stage at ChannelCon.

"These regional communities provide you with opportunities to network locally as well as create meaningful connections to your technology industry peers around the globe. To celebrate being connected as a global community, we are celebrating with CompTIA Communities Around the World," said Pound.
Learn more about CompTIA Communities.
Congratulations Rita Loncar, 2022 Member of the Year
Rita Loncar, head of strategic accounts and federal sales in Canada for Check Point Software Technologies, was honored as the 2022 Member of the Year during a special luncheon at ChannelCon.
"I'm grateful to CompTIA and our [former] Canadian Advisory Board for the opportunity to contribute to the next generation of our IT workforce," said Loncar. "It's a great feeling to open doors for so many of our young generation. To be honored for something I'm so passionate about and that brings me joy is humbling."
Loncar was recently named chair of the new North America Community and serves as a CompTIA Advisory Board member.
Read all about Rita's journey in the new issue of CompTIA World magazine.
Scott Galloway Lets Loose on Health Care, Education, Web3 and More
Scott Galloway is known for his critiques of staid industries, companies and policies. During a keynote presentation, Galloway shared his thoughts on overhyped and underhyped trends in tech industry, including problems in the health care industry, spiraling costs of education and its impact on the workforce, Web3, and much more.
"Companies are increasing their positions with non-traditional certifications. The best thing to help the commonwealth is to stop the fetishization of the elite. We need more on-ramps even if they don't have a traditional four-year degree," he said.
We All Need to Fight for More Tech Workers
When it comes to considering careers, people tend to rank the tech industry low on the list—below sales, marketing, real estate, hospital, food, travel and tourism, healthcare/medical, business, financial and accounting. That's a problem we all need to solve, said CompTIA CEO Todd Thibodeaux during a State of the Industry keynote address.
"We can't think people will just want to work in tech anymore. We have to tell more stories, show that a career in tech is better and that it's accessible," said Thibodeaux, who asked for members to help CompTIA develop a library of job profiles, instructors, guest lecturers, cases and career resources.
Industry Advisory Councils Get Down to Work
CompTIA's seven Industry Advisory Councils held working meetings at ChannelCon, continuing their work on projects and resources to help members improve their businesses. For some, ChannelCon was the first opportunity some members even had to meet in person, despite serving on a council for a couple of years.
"It's all about the give back. Coming to ChannelCon in person was really impactful. We were able to do a lot, talk about what's next for the channel, what are the impacts, what are the things that are really relevant today," said Juan Fernandez, chief encouragement officer at MSP Growth Coalition and chair of the Channel Development Advisory Council. "Bringing a lot of great minds together to try to steer the ecosystem of technology forward is what we are all passionate about. That's really helping to impact on the channel and moving it forward.

'Breach' is the New Four-Letter Word
Security experts might be inspired to shoot off some colorful language in the midst of a cyberattack but there's one word to avoid at all costs. "Do not use the B word," said Michael Crean, CEO of Solutions Granted, during the session "What Organizational Maturity Means Today: Essential Practices and Skills."
Instead of breach, use a phrase like network incident or security event. The word breach should be avoided because it's inflammatory and comes with legal ramifications, said Blair Dawson, legal expert from McDonald Hopkins.
"If the word breach ever needs to be used, that will be a very dedicated and concerted conversation," said Dawson, during the session "I've Been Compromised, Now What?" "There's nothing more salacious or interesting to a local journalist than saying you've had a breach. Why deal with that static when you have so much to deal with already?"

Access cybersecurity resources.
MSPs: Make Friends, Then Sales!
One recurring theme across several ChannelCon sessions was trust—building it within your company, managing it with partners, knowing customer's expectations of it, how it is changing in the current IT landscape, which companies deserve it, which companies are squandering it, etc.

For MSPs, trust features heavily on the kinds of partner relationships MSPs are building because so much rides on good relationships. You can have the best solutions, the supporting metrics, the most downloaded white paper, but if your partners don't trust your expertise and ability to execute, they will find another MSP and you have to start over elsewhere. In this climate, nurturing relationships is as important—if not more—as developing products and selling new services.
Technology Vendor Fair Showcases Solutions, Services
This year, more than 150 vendors and distributors shared their latest and greatest products, services and programs during the Technology Vendor Fair at ChannelCon. Vendors also participated in a recruitment challenge leading up to the event. Congratulations to the winners who shared ChannelCon with their partners, bringing new people and businesses to the event and helping to make this year's conference a success!
1st Place: MSP-Ignite
2nd Page: Solutions Granted
3rd Place: Gradient MSP
4th Place: SBT