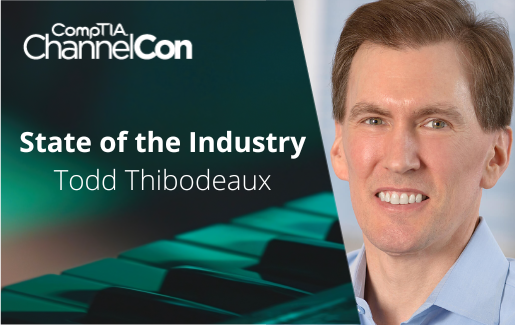 There are 40 million adults in the U.S. that want or need a career but are unsure of what they want to do—or how to do it. Many in this so-called "career intent" category also believe technology is too difficult a field to pursue. And that's a problem, said CompTIA CEO Todd Thibodeaux during a keynote address at CompTIA's ChannelCon conference in Chicago.
"People think it's hard to learn to work in our field, that it costs a lot of money and takes a lot of time. There are five or six barriers to overcome," Thibodeaux said.
With the number of tech job postings in the hundreds of thousands, it's incumbent upon the entire industry—from vendors to MSPs to IT pros—to do more to break down some of the obstacles preventing the career intent from pursuing a career in technology.
"We've been so fat and happy. We need to do a much better job fighting for these people, advertising about working in this industry. We do amazing things for so many businesses and individuals. We need to tell that story," Thibodeaux said. "All the companies and businesses also have to step up and hire those people. If we train people and don't hire, there's no outcome."
Tech ranks below numerous industries considered by career-intent individuals, behind sales, marketing, real estate, hospital, food, travel and tourism, healthcare/medical, business, financial and accounting.
The tech industry needs to figure out how to attract those people, according to Thibodeaux. "We can't think people will just want to work in tech anymore. We have to tell more stories, show that a career in tech is better and that it's accessible. You don't have to be math or science genus to work in this industry. That's a big one we still need to overcome."
'Everyone Is Born to Share'
To start, CompTIA is undertaking a new initiative, a multi-faceted program that aims to attract career-intent individuals and let them test what a tech career entails, and then provide a multitude of learning environments to help them start and progress in the IT industry.
"Our goal is to create the most respected place to start, build and supercharge your tech career," Thibodeaux said. "We've identified about 30 job roles that collectively entail about 90% of tech role employment. We need about 200 people who are doing these jobs that we can talk to so they can provide authentic information about what challenges you face, how long it takes to get a career, what they love about it."
As part of the project, CompTIA also needs to engage about 100 instructors to help train the next generation of tech workers, and hundreds of guest lecturers to create content that explains what tech is and what can do.
"You all have so many amazing stories to tell," Thibodeaux told the ChannelCon crowd. "Not everybody is born to teach, but everyone is born to share. We need hundreds of videos on any number of topics. If you beat back a malware attack and want to do 10 minutes on that, great. If you upgraded to a new Wi-Fi system, it would be great to have a video on that. As long as it's focused on the challenges we're facing and comes with energy, we want it."
Additional tools and resources will be developed to help those already in the tech workforce stay there, he added.
"It's about keeping people in the industry and helping them grow and be successful in their careers. These tools will also be for people already in the industry. We want to provide a much richer set of materials for them too," said Thibodeaux. "We want a set of tech-specific resources focused on ensuring positive mental health, navigating a diverse workforce, changing fields of work, emotional intelligence and continuing education. This initiative is about unlocking potential—for the industry and for the millions of people needed to work in it."