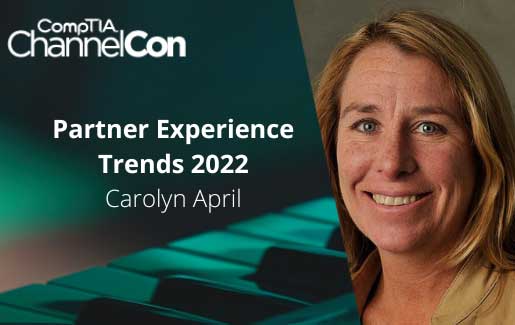 Vendors and channel firms are vetting potential partners more thoroughly than ever and getting clearer on what they need out of these relationships. Half of the channel firms surveyed by CompTIA said they've dropped a vendor because of a poor partner experience.
"That alone should be a bit chilling for the vendors in the room," said CompTIA researcher Carolyn April, who presented the findings of two new reports on IT channel partnerships, Partner Experience Trends 2022 Vendor Perspective and Partner Experience Trends during ChannelCon.
Now that cloud technology has expanded the traditional reseller model into a huge ecosystem, there are more players in the market, getting partnerships to work takes more effort.

"On the vendor side, the cookie cutter model doesn't work anymore," April said.
What is PX?
In the IT channel, partner experience (PX) includes a lot of things, from recruiting to onboarding to tech support. Most importantly, partner relationships need to make it easier for all parties and end users to do business.
"All of those touch points count as part of the partner experience, and if any of them are not good that can ruin the entire relationship," said April. The data backs it up. According to the research, 35% of those surveyed said a good partner experience is critical to keeping a vendor, and 57% call the relationship important.

"Channel firms could be making money with a vendor but if their partner experience, habits and quality are not in alignment they know there's another vendor down the street," April said. There are plenty of ways vendors can enable partners, but it's on both parties to do better.

If channel service providers want vendors to bring in leads and great products, they have to offer employee education to make the partnership work to everyone's advantage.
"A good partner experience is not a 'nice to have' it's a 'need to have,'" said Brian Mullaney, chief revenue officer for CrushBank Technology. Vendors, too, are getting more selective to find partners that offer strategic value as well as revenue. "Vendors are vetting you quite closely."

Related Content: Partner Experience: The Benefits of Dedicated Resources | Trend Watch
How to Be a Better Partner
Michelle Accardi, CEO of Logically, said her company has experience on both sides of channel partnerships and does her best to use past experience to offer better partnerships.
"Vendors tend to say, 'When you hit this number, then you're important to me.' I think we all want to be considered important, and a partner who will help you ramp up and if you don't hit that goal, you want a partner who says, 'How can we help?'"
Both partners and vendors have responsibilities when it comes to good partner experiences.
Vendors need to trust employees to take action on partners and their needs. "As you empower your team you get this force multiplier," said Michelle Ragusa-McBain of Cisco Systems. "You have to have extreme trust and allow people to make mistakes."
On the partner side, make sure you're contacting the vendor when necessary, not whenever. "We try to make sure we can handle most level 1 and 2 issues and only have to go to the vendor on the highly technical issues," said Lance Thompson, senior vice president of business development for Acrisure Cyber Services. "Then you're cutting calls down tremendously and you're not always depending on them to give you the easy answers."
Transparency and communication can always make the relationship better. Choosing the right stack and the right vendors for your employees and customers is also part of the channel partner's responsibility.
"Make sure you're rowing the same way," said Ragusa-McBain. "You want the people who can give you the real talk, who understand the environment you're in and what people think of it. Keep it candid and keep it honest."

The number one thing both sides of the partnership want is ease of doing business. Make doing business more difficult and even longtime partners might decide to pack it up. "You can quit customers that become a pain to work with, and the same goes for partners. You want somebody who is easy to do business with," said April.

Related Content: Partner Experience Trends: The Shifting Dynamic Between Vendors and their Partners | Trend Watch
Download Partner Experience Trends 2022 Vendor Perspective and Partner Experience Trends.