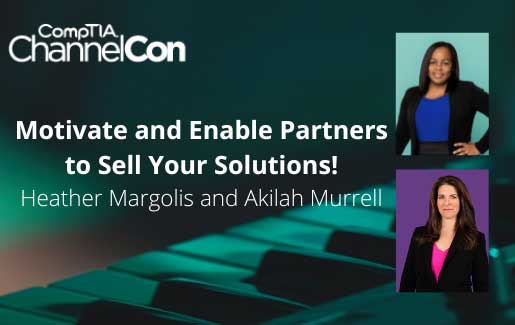 In the current climate, many businesses are learning how to navigate the post-pandemic economy, including a (possible?) recession, continued supply-chain issues, the Great Resignation, and whatever else pops up. But one thing we have learned about the past few years is that fortune favors the prepared.

At ChannelCon 2022, Heather K. Margolis and Akilah Murrell, both of 360Insights, offered their top tips for how vendors can encourage their channel partners to sell their solutions when the economy is uncertain and "business nerves" are fried during the session, "Motivate and Enable Partners to Sell Your Solutions."

Know and Assess Your Partners
Whether you've been doing business together for years or they are a new partner, doing a deep dive on who your partner is and what their pain points are right now can be a productive exercise. Things probably have changed for your partners in the past few years—employees and roles have shifted, budgets have rearranged, products or services are primed for a breakout. Only from doing the homework can you engage your partner with solutions that will work for what they need in this moment.
"Right now, really understanding where your partner is starting from and catering to their immediate needs is most important," said Murrell. With so much growth and change happening in IT channels, building your partner relationships is an integral step to solidifying your role as a trusted solution provider. You don't want to lose to a competitor because you didn't do the homework.
Educate Your Partners
After you've assessed the landscape for your partner, it's time to align what you see as the most cost-effective and impactful solutions to their vision. This is not the time for status quo. Because of the uncertain economic climate, there is a convergence of "megatrends" reshaping the technology market and channels. Things like pandemic experience, demographic shifts, customer expectations, sustainability, everything-as-a-service, and more have led to a huge impact on channel marketing, including:
Technology redefining sourcing, partner's roles, and value proposition.
New types of partners entering the channel.
Business needs evolving in the rebalanced economy.
Sales and experience taking precedence over price.
Engage Your Partners with MDFs
MDFs—marketing distribution funds—are a resource that a vendor grants to its indirect sales channel partners to help with sales and marketing programs. An example is "X amount of engagement could credit the partner with X amount of dollars" in MDF to be used toward services, add-ons or monetary rewards. In the right hands, it's like bonus money to build your business. Planning, coordinating with vendor partners, and following through on MDF-backed programs are considered important success factors.
Murrell and Margolis agree: Enabling your partners to spend MDF wisely is the best investment for their business.
"If a company wants to set up a digital marketing campaign that pushes customers to their website, but their website is hard to navigate, that's not helpful to anyone," said Margolis.
Instead, she suggests revisiting where the company is in its journey right now and see where the funds would have the biggest impact. "If you can give [MDF] to partners who show initiative, who will use it in the right way, that's the goal. You want the partners who have a clear idea of how to spend money smartly for the business," said Margolis.
Incentivize the Right Things
In the "Before Times," the highest sales revenue was the only trophy. But so much more goes into building a quality, positive experience for the customer. Other aspects—think reliable customer engagement, active social promotion, interesting and engaging content—are proven metrics that push a marketing qualified lead (MQL) into a sales qualified lead (SQL). The sales teams and companies emphasizing quality in addition to quantity are going to reap the rewards.
"People do business with people, not brands. You want to incentivize the behaviors that move the needle," said Murrell.
Support your partners in incentivizing their staff to do their best without forcing it or making it a requirement. How? Margolis suggests one way is to make social engagement part of channel account manager training. The partner-to-partner networking comes into play and ensures there are more people driving an audience than just them.
Align Content with Your Partners
Equipping your partners with the right content throughout the sales funnel is like enjoying the entire cupcake, not just the cherry, because the more content you have, the more engagement opportunities there are for your partners to push out your solutions and their messaging. But "posting just to post" is not quality engagement. Show your best content and it will be an easy decision for your partners to want to share it as well.
"If you can share partner content, that gets more eyes. Engage with that content and you're both increasing your reach," said Margolis. "And creating content along the entire funnel adds to the opportunities."
"You want to give partners a reason they want to share your content," says Akilah. "Showcase the joint value proposition and they are more apt to share, repost and engage for you."