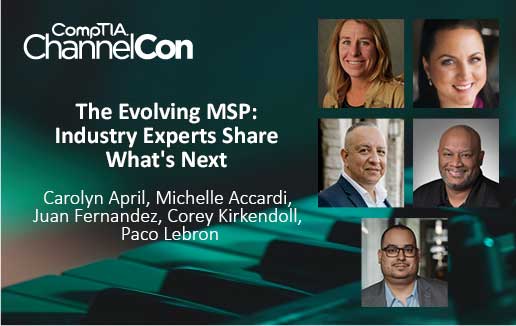 Managed service providers (MSPs) worry about a lot of things—the changing customer, the need for employees with new and advanced technical skills and breaking into new markets, among others. And while these things may keep MSPs up at night, they also present business opportunities.
"MSPs, at least some smart ones who had planned ahead for the future and planned ahead for a crisis, they fared well during COVID. The move to remote work really spurred a lot of companies to need instant IT help," said Carolyn April, during a ChannelCon 2022 session on the role of the evolving MSP that also featured a panel discussion moderated by Juan Fernandez, CEO of the MSP Growth Coalition.
According to
CompTIA research
, MSPs indicated they had a generally optimistic outlook about the industry earlier in 2022. However, April provided a caveat: It's likely attitudes have shifted over recent months with unpredictable and uncertain market conditions.
"We all worry about the big existential things that can happen," said April, citing MSP concerns over macroeconomics and supply chain disruptions. "But most of them we don't have any control over."
A Shift from Service to Experience

According to CompTIA research, 54% of MSPs say customer experience expectations is a top change driver in the industry.
"Customers are definitely changing—the way they buy, who they are, and that impacts the business that you are running," said April. "If you were running an MSP 10 years ago, I would guess that the type of customer you deal with today is different than the type of customer you dealt with 10 years ago... and you've either made adjustments or you haven't," said April. If you haven't, it's probably keeping you up at night, she added.
One major shift with customers—the expectations around customer experience.
"I believe the term customer service is dead," said Paco Lebron, founder of ProdigyTeks during the ChannelCon panel discussion. "I think customer experience is basically the next thing. It's not just different terminology—it's the frictionless experience around your ability to sell and support."
According to April, for customers, ease of doing business is paramount.
"Customers are willing to drop you even if you are selling them something that they think is fantastic. If it's fantastic, but they can't work with you… they'll look for somebody else, so it's really important to improve their customer experience," said April.
Retaining Your Best and Brightest

Despite uncertain economic conditions, retaining employees remains a challenge for MSPs—particularly with technical staff who continue to be in demand. But for MSPs to meet the needs of today's customers, ensuring your employees are invested in your business is a must.
"The key is to hang on to your great employees. I think the way you hang on to great employees is first you create an atmosphere that they want to work in and have transparency," said Michelle Accardi, CEO of Logically during a ChannelCon panel session. Accardi shared information about her company's weekly "collab call," where employees are recognized for their achievements as well as provided a forum to ask questions, share challenges and obstacles, and provide feedback to leadership.
In addition to recognizing employees and providing transparency, the MSPs agreed that focusing on upskilling is another critical aspect of supporting employee retention—whether through tuition reimbursement, technical certifications, other skill development opportunities, or 1:1 mentoring.
"Employees will stay and be motivated if you and your managers are engaged with them day to day," said Accardi.
But remember to listen when offering these opportunities for growth.
"Sometimes we expect fish to climb trees. Instead of saying what you want employee to do, ask the employee what they want," said Accardi.
From Competitors to Collaborators

One positive change the MSPs have all seen over the last two decades is the willingness of their peers to share and collaborate. It's a theme that continues to resonate with MSPs, particularly those who have tapped into
peer networks through CompTIA
.
"One of the things CompTIA stands for is community," said Fernandez, citing the myriad opportunities to connect with other MSPs.
But it wasn't always that way. "I think our industry has evolved," said Corey Kirkendoll, president and CEO of 5K Technical Services. "Earlier on these conversations weren't there with other MSPs. Building relationships with each other is the biggest thing and the best thing."
Lebron agreed. "Ask for help. There's plenty of people who want to share and plenty of work to go around."