Trends in Managed Services 2022
Long touted as the natural landing spot for technology resellers looking to move beyond the transactional world of hardware sales, managed services and its recurring revenue model continues to be a gold standard for many in the channel. It's also a model that is evolving rapidly to keep pace with the complexities of today's technology business landscape. Pair that natural evolution with the last two years of unprecedented pandemic upheaval and you'll find an MSP ecosystem in 2022 that is ping-ponging sharply between excitement and worry for the future.
A few takeaways from CompTIA's Trends in Managed Services 2022 research stick out:
The ongoing pandemic and other macroeconomic uncertainties have impacted firms more significantly than you might think, resulting in cautious optimism at best, and abject pessimism among some respondents at worst. The state of the economy, Covid's next steps, supply chain woes, and concerns about access to credit and capital sit high on the list of things keeping MSP owners and employees up at night.
Infrastructure-level monitoring and management still comprise the lion's share of most MSPs' day-to-day existence, but increasingly newer, more sophisticated services and business approaches are taking up residence as companies strive to remain competitive, meet changing customer needs, and foster growth.
Cloud computing isn't the enemy, but it is a change agent. The impact of cloud on the industry is viewed mostly favorably by MSP respondents, but its dominance as a model nonetheless has mandated a slew of adjustments to business strategy. For some, that's meant ramping up the emphasis on customer experience and support to offset a declining role in initial technology transactions. For others, it's manifested as a shift from a traditional managed services operator to full-time cloud services provider (CSP).
Cybersecurity and emerging tech, including automation, will play starring roles in the MSP of the future's future. More detailed findings on these subjects will be explored in two forthcoming research briefs based on the same CompTIA study.
Today's MSP Profile
MSPs have been part of the technology channel since the early 2000s, when Internet speeds and uptime reliability reached a level acceptable enough to enable easier remote management of decentralized computer networks. That meant ambitious resellers eyeing repeatable services revenue could begin signing customers to contracts and providing IT necessities such as help desk and/or patch management administration from afar. As hardware commoditized and profit margins on product resales eroded, transitioning to a model known for predictable, recurring revenue streams screamed progress.
But interestingly, what was once predicted to be a sprint to managed services instead turned out to be a much slower, non-linear march to the destination. Today, roughly 40% of companies in the channel identify as offering managed services to some degree. Of that group, 37% call themselves pure-play MSPs, meaning they derive more than three quarters of their sales from recurring revenue activities. The majority, 64%, are hybrid MSPs, which translates to just what it sounds like: businesses versed and dependent on managed services, but still waist-deep in traditional, non-recurring revenue streams of work (think project and product sales).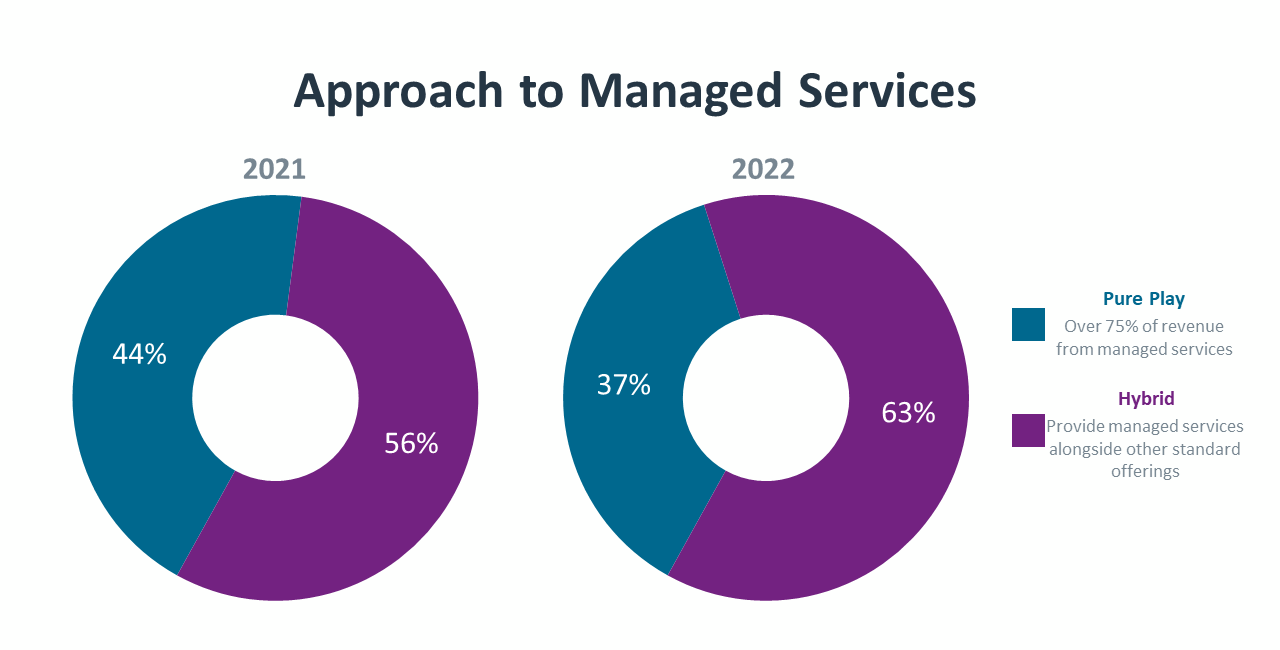 The hybrid model might seem like a hedge of sorts from taking a full plunge into managed services, yet the diversification makes a lot of sense from a revenue and resiliency perspective. If the pandemic has taught businesses anything, especially smaller ones, it's that the need for a ready-to-go plan B, C, or sometimes D, is not theoretical. This realization might explain the increase year-over-year in the percentage of MSPs identifying as hybrid. Even pure-play MSPs (30% of them) still fulfill regular requests for non-recurring revenue types of work, whether that's product sales, consulting fees, or one-off projects.
MSP Attitudes About the Future
Regardless of pure-play or hybrid status, the state of managed services is at a juncture today that bears reviewing. Various dynamics are at play: the relative aging of the model over these last 20 years; the market changes brought on by cloud computing's widespread adoption and a raft of new and emerging technologies; and the unforeseen challenges of the recent pandemic concoct a perfect storm if you will for business owners pondering their immediate and long-term future.
So how do MSPs feel about the future? In the main, pretty good. You can argue that the last two-plus years have been a true outlier based on the pandemic's stranglehold on the normal course of business and frankly, life. Yet many MSPs performed well during this time, able to capitalize on the mass move to remote work that many companies had to grapple with overnight. MSPs were uniquely suited for outfitting and managing customer technology networks that now included endpoints in more kitchens and bedrooms than centralized office cubicles.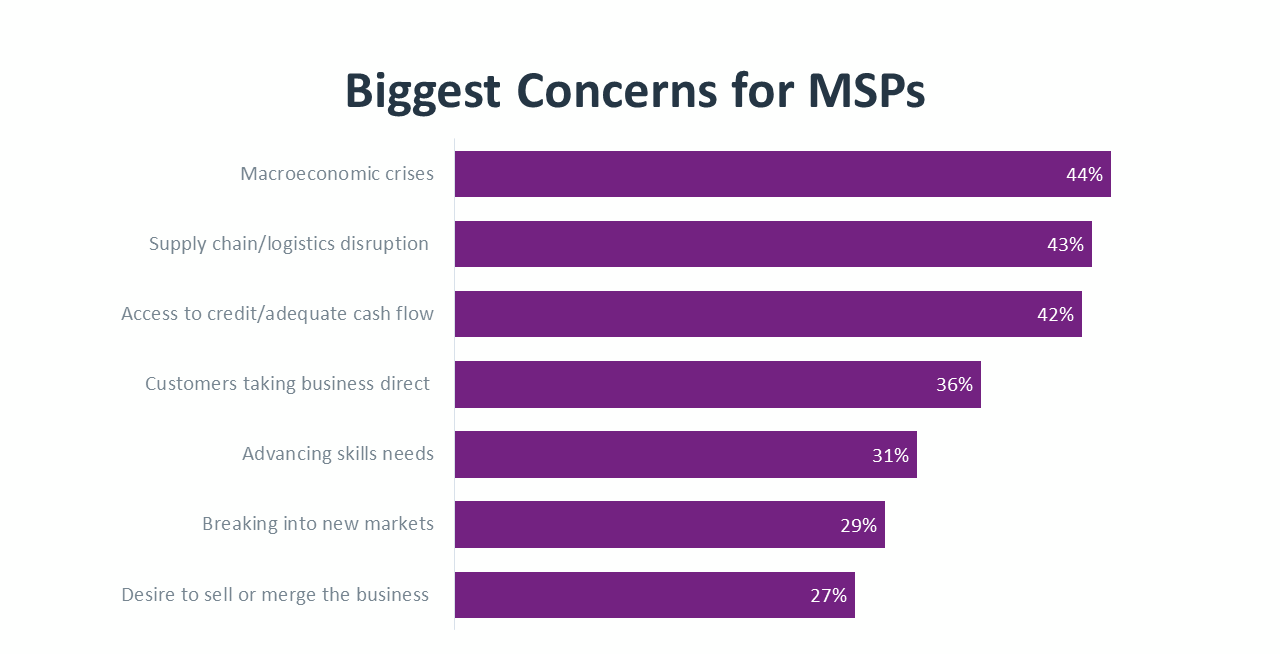 When asked about both the managed services market in general and their own business' prospects for the next year, about half of respondents reported being bullish on both. Another quarter believing things will at least hold steady in the months ahead. That's good news, though what is most accurately characterized as cautious optimism. The expectation is that customer spending will ramp up and pandemic-related interruptions will abate. And as we will discuss further in this report, savvy MSPs have been using the pandemic to shore up their business by expanding into new services areas and aggressively targeting things like improved customer experience and marketing efforts.
But it bears pointing out that there are also some relatively high negatives coming from this survey's results. Between 11% and 14% of respondents said they were either pessimistic or very pessimistic about the state of the managed services market and/or their own business over the next year. That compares just 4% of a similar group of respondents from CompTIA's IT Industry Outlook 2022 fielded last year who reported being "uneasy" about their future. The answer to why business attitudes dampened could lie in when the data for the two studies was collected.
Data for the IT Outlook study was collected in October 2021, while the data for this current MSP research was captured in January of this year. Last fall, the country had not yet met the Covid Omicron variant, and as such attitudes about the pandemic were beginning to look up in terms of returning to a more normal course of day-to-day business. Eight in 10 channel firms at the time said they were feeling good about the year ahead. Then, in December, the pandemic resurgence resulted in renewed lockdown status. Inflation, which had been creeping up on select goods and services, now affected a much wider swath of items. And supply chain bottlenecks, previously thought to be subsiding, continued to stymie businesses in need of parts, inventory, and the ability to forecast and project accurate delivery times to customers.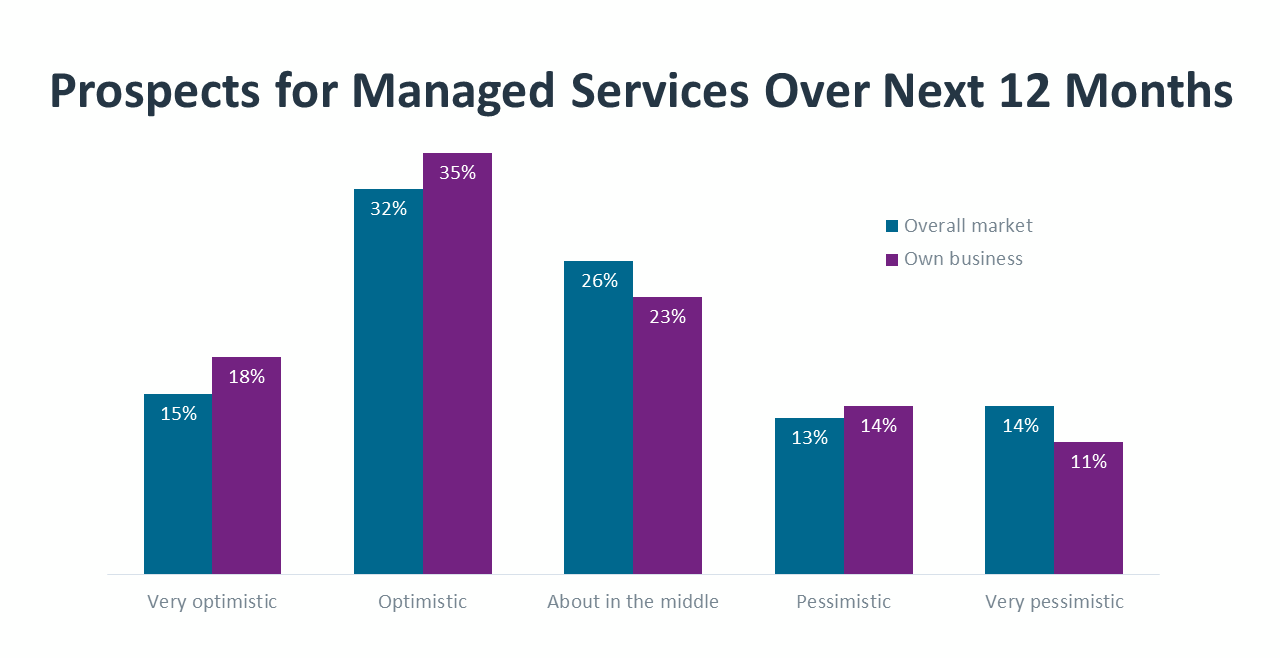 The toll on the psyche is real. MSPs worried about the impact of macroeconomic factors on their customers, justifiably extended that worry to how it will affect their own business. But there's good news regardless of whether you're glass half-full or glass half-empty. Most MSPs have taken this past year or so to double-down on new areas of focus and try to fix existing inefficiencies and other problems in their current business. Like many of us made changes to our lives during the pandemic, whether that was kicking off a workout routine, re-reading the classics, or learning Mandarin (ok, not all of us did these things, but some tried), businesses ran with the opportunity to apply some new thinking and tactics.
While tackling what can be tricky alterations to your business isn't always palatable, for most MSPs the results have been rewarding. Eight in 10 say business tweaks large and small have been positive in effect. On the superlative end of things, half of pure-play MSPs said the results of changes have been "very positive," reflecting exceptionally high marks for a survey of this nature.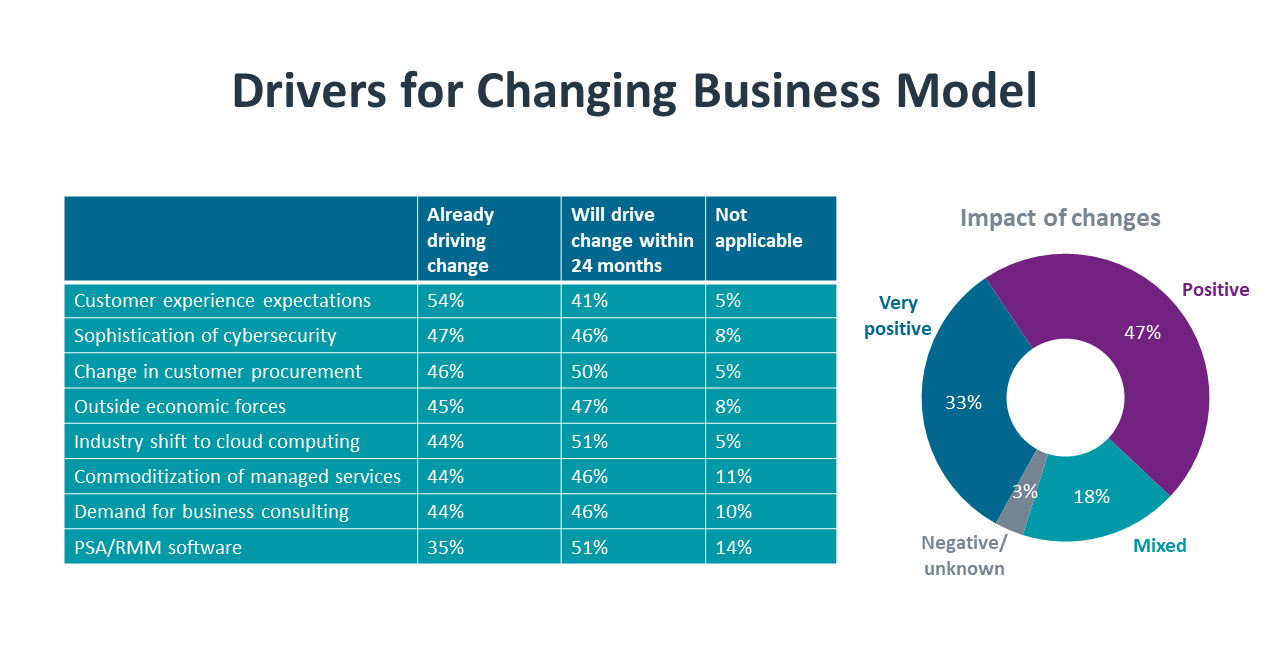 Among focus areas, lots of attention is being paid to customer experience, for example. If MSPs are learning one thing in the cloud era, it's that customers today, especially those non-IT line of business workers, are buying technology directly, often SaaS solutions online. To be taken out of the actual transaction has many MSPs rightly looking to where they can add value. One way is by providing a superior experience, which is especially critical for MSPs that operate with customers on long-term contracts.
Great CX takes the form of top-notch communications; omnichannel choices and ease-of-doing-business features built into all interactions; responsive support; and creativity. For example, if an MSP isn't selling the SaaS solution, they still have a role that will exponentially boost their CX quotient: Consulting. Choice-overwhelmed customers need help determining the best solution for their business needs out of hundreds of look-the-same, sound-the-same online marketplace applications offerings. The MSP's consulting influence here cements a trust and stickiness with customers that can be both lucrative and valuable. Nearly half (46%) of MSPs said shifts in customer procurement habits are driving change in their own business, while nearly the same number (44%) said the demand for business consulting is also pushing them in new directions. The two dynamics are intertwined.
Cybersecurity, all its twists, turns, and frustrations, is another change agent for many MSPs looking to their future. What might have been a minor part of their portfolio previously is rapidly being seen as mission critical (for good reason). In a follow-up research brief, we will detail how MSPs are tackling cybersecurity in their business.
MSP Services: What's on the Menu?
Given the explosion of technologies on the market and varying customer needs, what are MSPs selling today and what do they expect to offer in the next couple of years? Generally speaking, tried-and-true network services, help desk, storage and device management are mainstays in the MSP arsenal. That fact has not changed significantly over the years, though it has built a foundation on which MSPs build their reputation and a nice cushion during lean times.
Today, however, many MSPs are broadening their customer reach and profit margin potential by offering more premium services, often software-oriented, in addition to their traditional slate of infrastructure wares. By premium, we are talking about things like business applications-as-a-service solutions, data analytics, cloud-based services, more advanced types of cybersecurity, and consulting-level work around compliance and privacy, to name a few.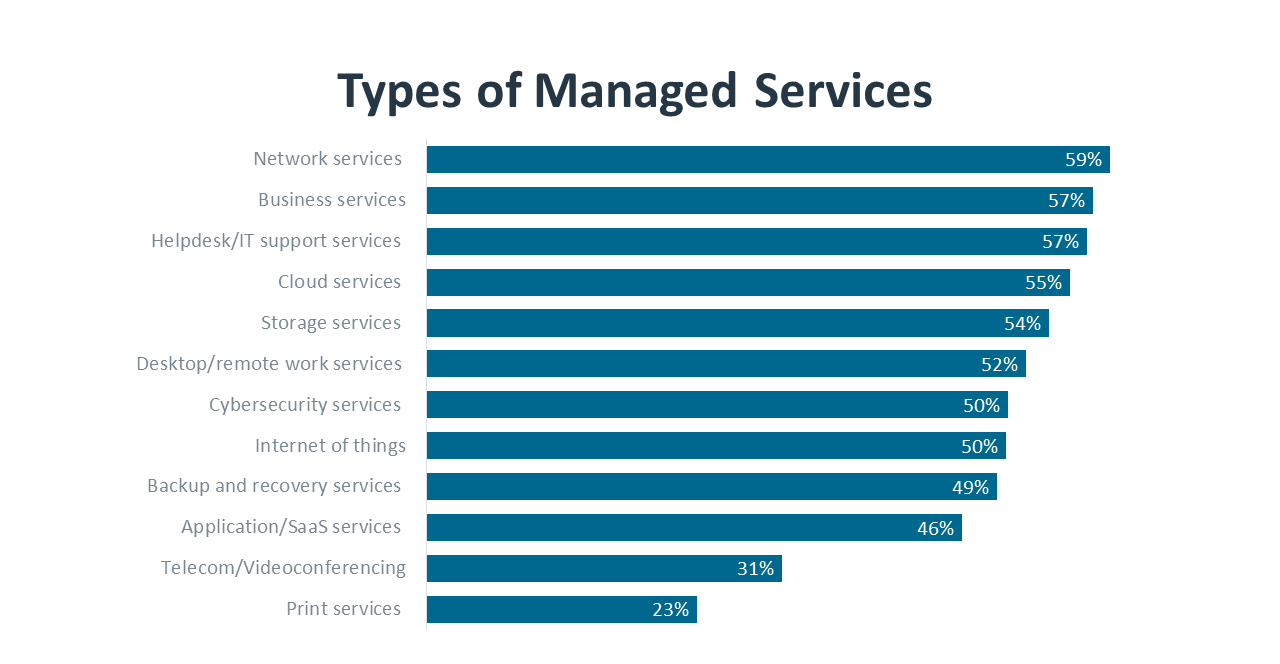 Nearly half of MSP respondents said they have added premium services to their line cards to a moderate degree in the past year, while 43% have done so to a significant level. Just 9% are staying exclusively in their lane of traditional managed services.
Pure-play MSPs are most aggressively pursuing services further up the stack, with 54% of them reportedly selling these offerings to a significant degree in the last year. That compares with 36% of hybrid MSPs. This makes sense because pure play MSPs derive nearly all their overall revenue from managed services activities. To grow and expand, they either need to sell more of what they already do (traditional managed services) or roll out new types of services—or both. Adding practices around something like data analytics or compliance, for example, will help them both upsell existing consumers of their traditional services, while also wooing new clients into the fold.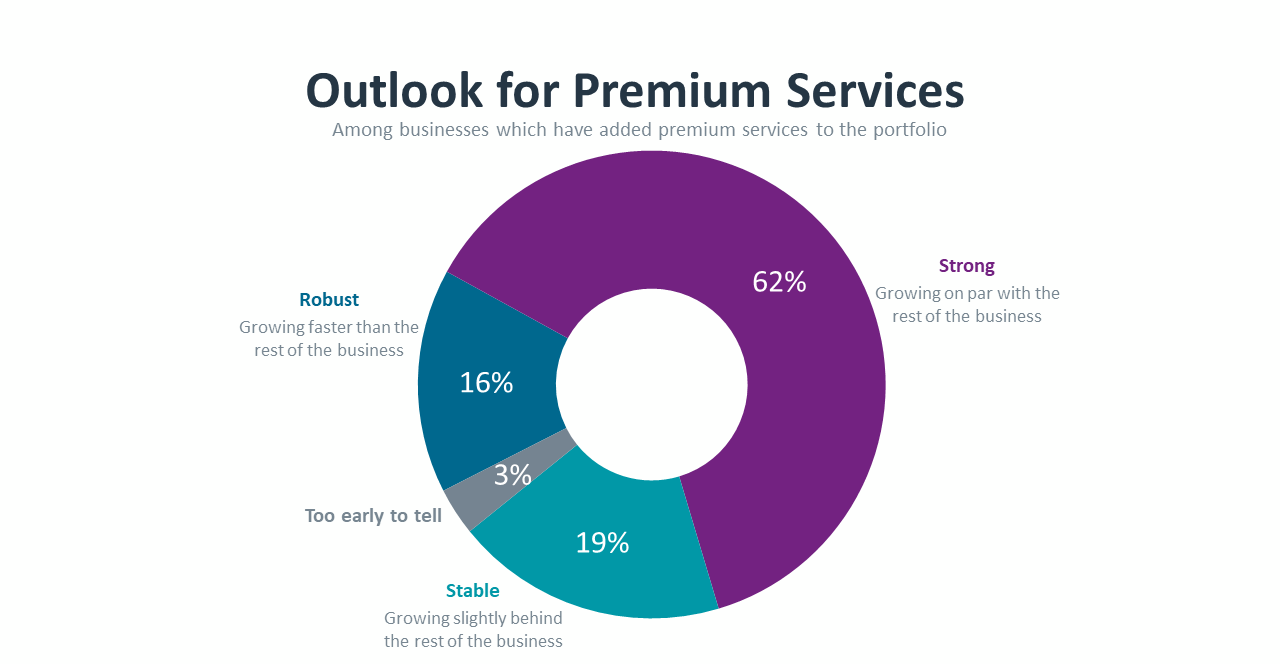 And while the reviews are mostly rave about the revenue impact portfolio expansion has had, there are nonetheless inherent challenges, especially as MSPs dive into some of the emerging technology areas such as internet of things, blockchain, artificial intelligence, virtual reality and more. A deeper diver on emerging tech in managed services is included in a third brief based on this study's findings, but for now let's identify what is likely the biggest challenge: the human factor.
MSPs cite two primary impediments to adding emerging technologies and other premium services to their line cards: the need for technical training among staff (44% report this) and a difficulty hiring people with the necessary skill sets (37%). Skills gaps and hiring hurdles are nothing new in the life of today's technology business owner, but as companies seek to elevate their game with services beyond tables stakes, this problem will exacerbate. The skills are out there, but it's a jobseeker's market today and MSPs are competing not just with other tech firms for new hires, but companies in every industry category. Smart MSPs are investing in their existing staff by providing internal training and access to certifications and other credentialing avenues for professional development. Vendors, as well, have good reason to work with MSPs to offer necessary technical training as part of their partner programs. It's a win-win for both parties in the end.
MSPs and the Cloud
Finally, when thinking about the MSP of today and especially of tomorrow, the conversation can't exclude cloud computing and its impact on just about everything.
Customer buying habits, as previously discussed, have changed inexorably since the widespread availability of online marketplaces and everything-as-a-service via a conglomerate of large cloud providers. In CompTIA's annual State of the Channel study from 2021, three quarters of solution providers and MSPs said they have customers today that procure technology direct from online marketplaces such as Google's, Amazon's, Microsoft's, and the like. It's a way of life now.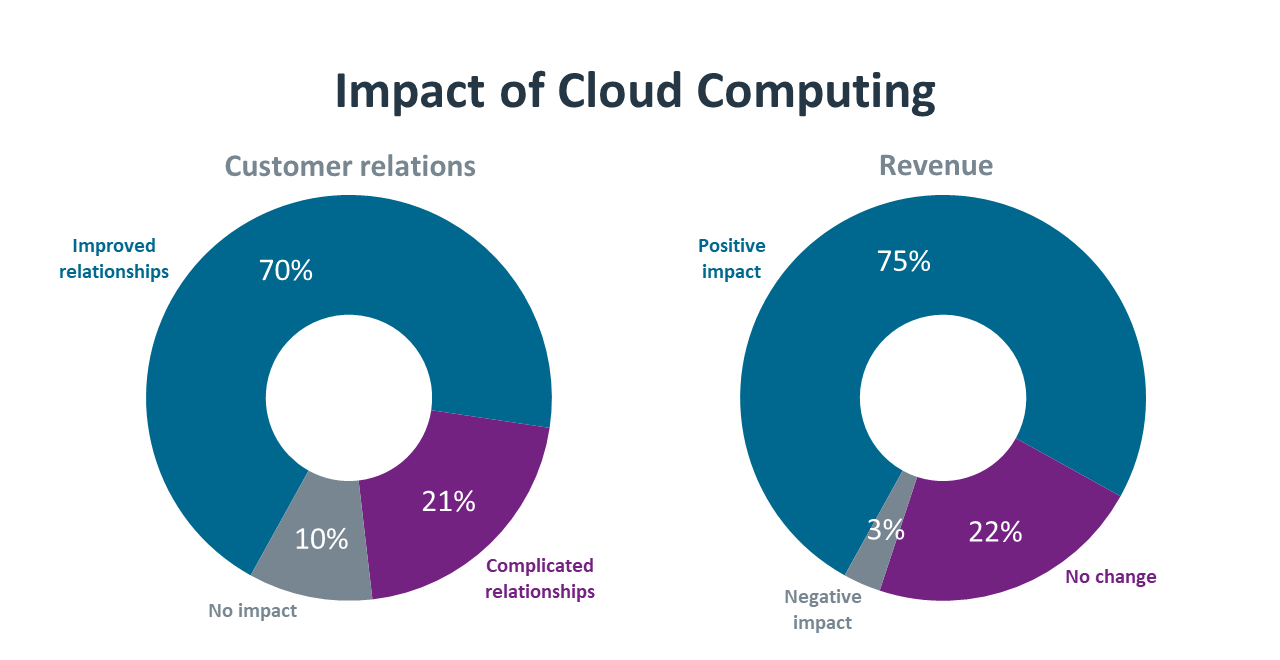 And yet, what would on its face seem to be a threat to MSPs—and solution providers, in general—has not, in their opinion, turned out that way. In fact, 70% of MSPs say that the cloud as a ubiquitous technology platform has improved their relationships with customers. Twenty percent said it's complicated things, although that can be interpreted variably depending on whether "complicated" is a negative outcome or not. Complications, for example, could have led MSPs to new thinking that resulted in alternate, more fruitful ways of doing business with clients.
One way in which MSPs are capitalizing on their customer's use of cloud services is by ceding the procurement piece of the equation and doubling down on the management angle. For 22% of respondents, this has meant transitioning their identity to a cloud services provider, or CSP, vs. a traditional MSP as we've described in this report. As a CSP, these companies manage and monitor their customers' workloads in the cloud and serve as the liaison between clients and the third-party cloud providers. They also manage SaaS subscriptions, capacity issues, and help vet cloud services in line with client business needs.
Is the CSP label just more tech nomenclature? It's hard to say. Sixty-percent of respondents said they function as both an MSP and CSP, which implies that they offer the typical infrastructure services that reside both on-premises and in the cloud, coupled with pure cloud services as described above. It's a nebulous distinction, arguably, but the CSP label does seem to resonate as a new type of business model for today's MSPs. And it's popular. Consider that just 4% of MSPs say are sticking exclusively to their traditional business model in the foreseeable future.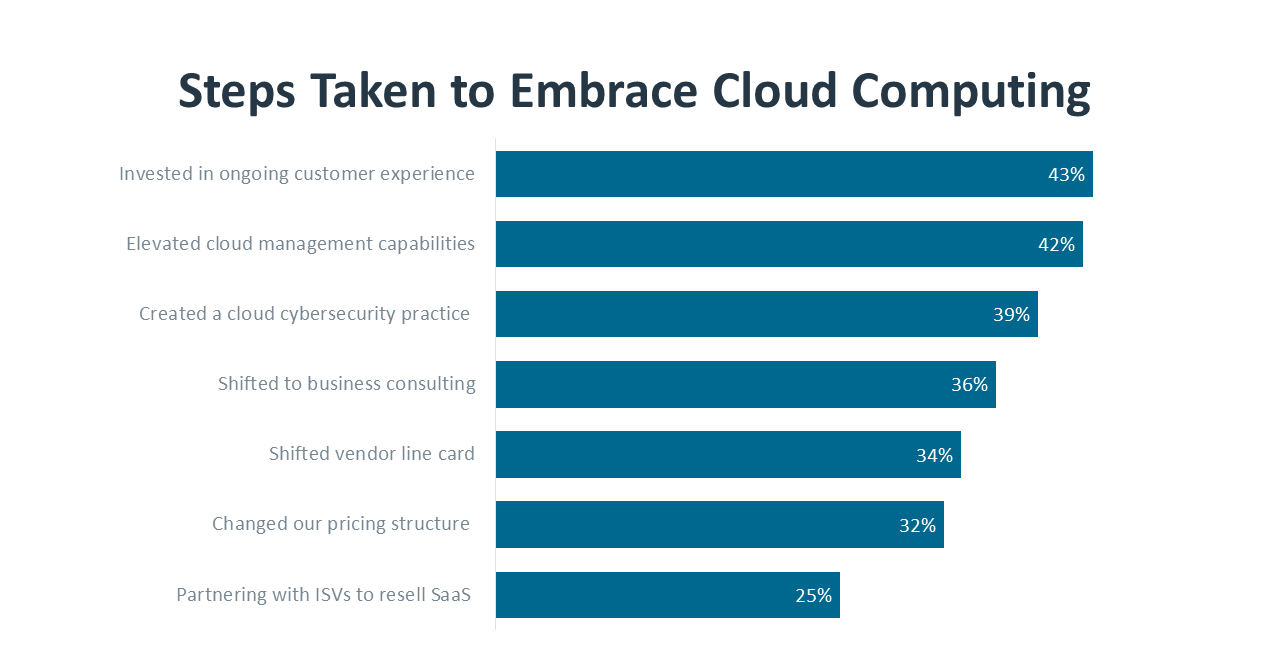 For those embracing the cloud paradigm, a host of key actions have been taken to adjust. CX is one area. Respondents explained that one reason for their investment in improving CX is to offset the declining role they are playing in initial transactions, as described above. This again underscores the significance of providing superior services, communications, and support over the lifecycle of a client relationship vs. overemphasizing the sale.
Others are aligning themselves with third-party cloud services firms that offer additional assistance in managing customer workloads that are spread across multiple cloud environments—a common, yet sometimes-overwhelming scenario to track and oversee, especially among small-sized MSPs that comprise most of the ecosystem. Another faction is making higher-end security services a focal point, promoting their cybersecurity expertise to overcome any reluctance a customer might have to cloud services based on their perceived malicious threats to data and/or privacy.
Bottom line? Most MSPs today understand cloud is likely to be an essential element of their operations, offerings, and business model. Case in point: 6 in 10 believe cloud adoption has and will continue to increase the relevance of managed services in general, while roughly 2 in 10 see cloud as a benign presence with neutral impact on MSP relevance. A minority, 17%, believe cloud diminishes managed services' standing in the market. It's unclear, however, whether that group has made the fundamental adjustments that reflect the reality that cloud is here to stay.
Read more about Managed Services, Industry Trends.