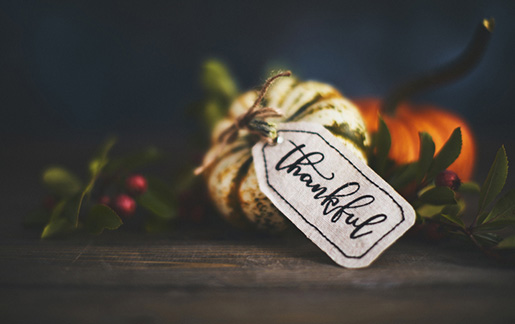 Are you ready for 2021 yet? I don't think I've ever been more ready to put a year in my rear-view mirror than I am with this one. From the pandemic and unprecedented business disruption to a stressful election, 2020 has been… a memorable year to forget.
But not just yet. It's Thanksgiving time, one of my favorite holidays and a great occasion for all of us to count our blessings for the last year. If you think there's not a lot to be thankful for this year, try harder. As I look back at what we've been able accomplish at CompTIA during this trying time, I'm very thankful for all our employees, members and partners that worked so hard to deliver so much to a very taxed tech industry this year. Here are 10 things the CompTIA membership team is thankful for, silver linings that have helped us get through the past 11 months.
We Could Work from Home. From someone who spent about as much time in airplanes and hotels as I did in the office in 2019, it was nice to stay put for a while and work from home. Don't get me wrong, I very much miss interacting with my team and CompTIA members, but it was nice to have time to catch up with ourselves at home. Collectively, we proved we all can work from home—and be just as productive. And for those of us with children that are students, we gained a greater appreciation for teachers!
We Can Learn Online. After the pandemic closed many testing facilities, CompTIA pivoted our training and testing online, keeping doors open for thousands of individuals to join our industry, including many that were transitioning to the tech workforce from other careers. As we continue to leverage online training and testing, we have a new, proven onramp for the industry.
We Increased Focus on Cybersecurity. The pandemic showed us early on that we had a woefully inadequate defense against cyber threats. We had to come to terms with that and deal with it right away. The launch of the CompTIA ISAO was perfect timing and we are thankful for the industry partners and members that are supporting it and helping our industry improve our cyber resilience.
We Stood Up Against Racial and Social Injustice. We were all shocked and saddened by too many cases of racial injustice and many companies and organizations took swift decisive action, putting diversity, equity, and inclusion (DEI) programs in place and ramping up existing initiatives too. I'm proud to say that many businesses are leveraging the good work that CompTIA's Advancing Tech Talent and Diversity Community has done, using the resources, guides and tools they have built for the industry.
We Reconnected at Home—and Went Green. We are an industry always on the go, traveling non-stop. But with our suitcases in storage, we had a great opportunity to spend more time with our families and local friends—and we learned that we could accomplish quite a bit on a Zoom call or online event. And we reduced the carbon footprint our industry produces!
We Expanded our Audience. While nothing can replicate the experience of in-person meetings and networking, the rise of virtual events allowed us to cast a wider net and engage with an even greater audience. We took our Communities & Councils Forum, ChannelCon and EMEA Member & Partner Conferences online and introduced both CompTIA resources and our wonderful network of members to a whole swath of new contacts and businesses. Around the world even!
We Found New Ways to Engage. With everyone working from home, we immediately sought novel ideas to bring our members the content they need to manage and grow their businesses. We launched our own YouTube channel for members, CompTIA World, and introduced our first episodic series with hosts Dr. Georgette Fraser-Moore and MJ Shoer. The shows have garnered thousands of views and allowed us to talk about business transformation and cybersecurity—and share the spotlight with some of our most engaged members!
We're Starting More Conversations. Improved communication tools and resources were so important this year. We needed to find better ways to share best practices, ask questions and get the help we needed. With that in mind, CompTIA launched three Technology Interest Groups—around Advancing Women in Tech, AI and Drones, as well as forums for Government & Public Sector and COVID-19.To date, we have more than 11,000 active forum users—all of whom have sparked lots of interesting, informative discussions and shared ideas and, perhaps most importantly, supported each other.
We Proved it Was Technology's Time to Shine. The tech industry was getting a bad rap in the market, with issues including data privacy, security, and taking away jobs. But the industry responded in force. From remote work solutions to distant learning to cybersecurity, technology stepped up and allowed life and business to continue "normally" as much as possible.
We Did It! More than anything, I'm thankful that we're all still here. We survived 2020 and we have a lot to look forward to in 2021. I'm thankful for a wonderful network of friends and colleagues that I can rely on through the most chaotic time of our lives. I'm proud that we're getting through this together and I look forward to working with you all and advocating for all the good that the tech industry does. Happy Thanksgiving all, take the time to be truly thankful!
Nancy Hammervik is the executive vice president, industry relations, at CompTIA, and CEO of CompTIA Tech Career Academy.