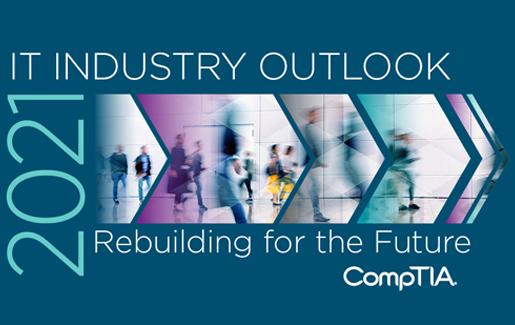 Usually, the end of the year is marked by two sentiments. First, there's a sense of completion when reflecting on everything that's been accomplished. Second, there's a sense of anticipation when considering new opportunities for the year ahead. This year, both of those feelings are somewhat complicated by the realities of 2020. It's been a difficult year with many unforeseen challenges, some of which led to new opportunities and successes—just not the ones we were expecting. As far as next year goes, there is more uncertainty than any other time in recent memory, but also hope.

CompTIA's IT Industry Outlook 2021, with the theme "Rebuilding for the Future," acknowledges these circumstances. There is rebuilding because of the damage suffered in the past year; there is an view toward the future because the lessons we have learned will lead to something new. It's hard to say that this is a good time for anyone, but being in the tech industry is one of the better places to be as digital transformation accelerates. For those in the business of technology, here are four ways to leverage the insights from the research when planning for the year ahead.

Understand the core trends.
End-of-the-year trends are often a bit flashy or futuristic. Especially in the past few years, there has been a focus on emerging technology as the IT landscape has been shifting. However, there are two reasons why the trends this year are mostly getting back to basics. To start, CompTIA's whitepaper on The Role of Emerging Technology in Digital Transformation described how emerging technologies increasingly sit on top of a stable computing platform, so it's important to make sure that clients have a robust platform. Beyond that, many of the pieces that will go into rebuilding efforts are continuations of trends we have seen before. From cloud-first architecture to shifting channel dynamics, the 10 trends in this year's report help clarify the blueprint for future success.

Watch CompTIA research analysts Seth Robinson and Carolyn April break down the 2021 Industry Outlook Report.
Account for variables in the forecast.

According to IDC's latest estimates, most of the impact from the COVID-19 pandemic will hit the industry in 2020. Global revenue is projected to be $4.8 trillion, down from the original estimate of $5.2 trillion. In 2021, IDC is projecting global revenue of $5.0 trillion, an increase of 4.2%. If that holds, it would represent a return to the type of growth the industry saw prior to 2020.Of course, that's a big if. Companies in CompTIA's survey are mostly concerned about lingering effects from the pandemic, especially customers continuing to postpone purchases. On the other hand, there is a real need to transform operations. The top factor that could drive positive growth is additional business from existing customers as they add more pieces to any quick fixes from 2020.

Build a range of technical skills.

While most of the IT pros surveyed work in end user IT departments, the approaches being taken by these teams in 2021 also apply to technical staff at channel firms. The biggest takeaway is that companies are building skill across all four pillars of CompTIA's IT Framework. There are networking and cloud skills needed for infrastructure roles, user experience and quality assurance skills needed for software developers, compliance knowledge and risk analysis skills needed for cybersecurity roles, and database administration and data management expertise needed for handling corporate data. There is still a space for generalists in an IT environment, but the complexity of IT solutions is driving more specialization. If hiring is not an option, in-house training is essential for keeping the workforce up to speed.

Invest as needed to stay ahead of the curve.

Even with all the uncertainty, technology firms are feeling some degree of optimism about their prospects for the new year. Over half of the companies surveyed expect that their performance will at least be on par with 2020, with 37% expecting to return to growth. Previous economic downturns have shown that treading water is not the best approach. Instead, strategic investments can ensure that a company is ready when the turnaround begins. Aside from investment in technical skills, one key area that channel firms should focus on is sales and marketing. When considering their current budget allocations, 35% of companies feel there is not enough budget allocated to sales, and 43% feel that the marketing budget is too low. These activities have never been the biggest strength of the channel, and now is the time to address the role they play.
Forecasting is a tricky business, and companies should be careful when placing their bets. After all, none of the 2020 forecasts included the suggestion to plan for a global pandemic. The obligation for tech firms is to understand the fundamental forces driving any forecast, then to use their own creativity to build a plan for the future. While the rebuilding process will not happen overnight, there will hopefully be progress in 2021, and most of that progress will happen through technology.