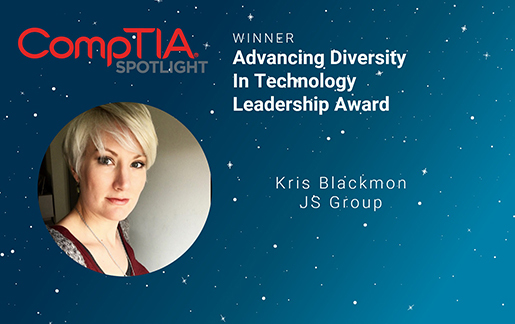 Implementing diversity, equity and inclusion (DEI) initiatives isn't a one-time effort, it requires consistency, intention, and openness. Kris Blackmon, a passionate ally in driving DEI, understands the importance of lifting up underrepresented voices and breaking down systemic discrimination in order to build a safer space for diverse talent in the technology industry.
The chief channel officer of JS Group and member of CompTIA's Channel Development Advisory Council, Blackmon recently spoke with CompTIA to tell her story, including what is important to her and the role DEI plays in creating a company culture that is inclusive and invested in change. Here's what she had to say:
Why is Advancing Diversity in Technology important to you?
"If you take a look at the audience of many tech events, odds are you'll not see as much diversity as in other industries. According to the EEOC, almost 70% of people working in tech are white, and only 20% of tech executives are women. Yet we know that companies in the top quartile for gender-diverse executive suites were 15% more likely to generate above-average profitability compared to the bottom quartile of companies whose executive teams were predominantly white and male, according to McKinsey. Yet many diverse workers shy away from tech, and many of those who do enter the profession leave jobs because of a lack of diversity or a hostile culture."
"This poses a problem for the tech industry that won't just solve itself. People tend toward people like them; it's only natural. If you're a white male that spends time with and does business with a whole bunch of other white males, then the people you talk to and recruit into the industry are far more likely to be white males. We have to actively work to expose ourselves to other demographics. We have to be intentional about advancing diversity in tech, which is why organizations like CompTIA are so important to the industry. When we expose ourselves to other points of view, other cultures, and people who don't look and think like us, then we open ourselves up to innovation because we have a wider breadth of ideas that speak to a wider breadth of customers."
What challenges/trends around Advancing Diversity in Technology do you think deserve more attention and awareness?
"For me, there's another case for advancing diversity outside of it just making good business sense. Those of us born with privilege have a responsibility to lift up those who aren't. Our culture is built on social structures that promote and sustain systemic discrimination against women, people of color, members of the LGBTQIA+ community, single mothers, and a slew of others. It's up to those of us in positions of privilege to change the system, one person at a time. The more we can mentor diverse talent and create a safe space for them in technology, the more opportunities we can open up for those communities. Many of these groups don't have the resources to pursue the advanced education that lots of positions in tech require. They may not have been exposed to STEM education, maybe couldn't go to college, and probably don't know many people in the tech industry to serve as role models and mentors. That's why we as an industry have to be intentional in efforts to reach out to and advance these communities within our industry. We have to go the extra mile, put in that extra effort, and make the investments in both time and resources to make tech as inclusive as possible so we can reach diversity goals."
How are you working with CompTIA to help address those issues and promote that awareness?
"CompTIA has a wonderful community devoted to advancing tech talent and diversity. It puts out a slew of resources guiding the industry in how to recruit, hire, and retain diverse talent so that business owners and hiring managers have a roadmap for how to proceed. I love how that community works in tandem with other industry associations with the same mission like Xposure Inclusion and Diversity Council and Alliance of Channel Women. Work like this takes a village; no one organization can do it themselves. I sit on CompTIA's Channel Development Advisory Council, and we have conversations there, too. How can we support businesses in the channel in their DEI efforts? How can we draw more attention to these issues? CompTIA is constantly engaging in this conversation."
What are you most proud of in your career and what's helped you get to where you are now?
"I ran the MSP 501 program at Channel Futures for years, and it was one of the most rewarding things I've ever done. I got the chance to really get to know channel partners, their challenges, and their opportunities. Through that program, I truly got to know the channel and what partners need from vendors, distributors, and the industry in order to succeed. That program is what enabled me to join JS Group as chief channel officer a year and a half ago. Without it, I wouldn't have gained the intimate familiarity with the channel that I need in order to succeed in this role.
"Channel Futures is also where I first became super involved in DEI efforts. In the wake of George Floyd's murder, they created the Allies of the Channel Council, which I chaired. Through the ACC, I was introduced to Xposure, and I now sit on the board of that organization. Being involved with DEI in this industry we all love is something I'm deeply committed to and proud of."
What advice do you have for MSPs and other tech businesses around increasing diversity in technology?
"Be intentional. Be open. And be consistent. DEI isn't a one-time effort. It's something that needs to be baked into an organization's culture. Start by joining a group like CompTIA's Advancing Tech Talent and Diversity Community where you can learn strategies to advance diversity and inclusion within your business, and then actually act upon those strategies. Recruit from places that are comprised of diverse candidates that don't look like you. There are tons of organizations dedicated to helping these communities find employment opportunities, so take advantage of them. Consider investing in training these candidates to have the skills they need to succeed. Oftentimes, that's a good business decision, because it's often less expensive to upskill talent than to hire highly skilled workers at super high salaries, so it's a win- win. Once you do have diverse talent in your organization, make sure you're creating a company culture to support them and help them succeed. Too many diverse workers leave the tech industry every year because they don't feel welcome. Again, that has to be an intentional effort. Form an employee resource group so these workers have a space to feel heard. Sponsor their membership in organizations like CompTIA so they can belong to a community that actively supports their career growth. It's all about being intentional, open, and consistent."