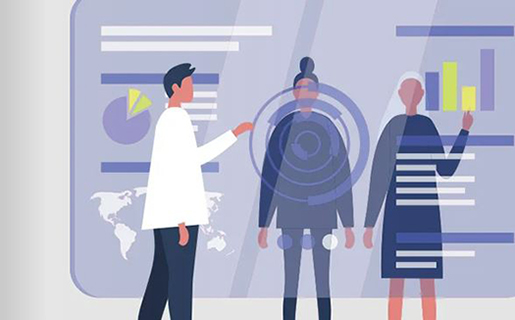 This article originally appeared in the Spring 2022 issue of CompTIA World magazine.

It's hard to make significant improvements in any area of business without the right data, and that includes making strides to improve diversity, equity and inclusion (DEI) within an organization. But for technology companies, there's still a disconnect between data and diversity. Even with awareness and desire for action, the data-driven business approach still seems to be lacking.
"For tech SMBs… I don't think we're quite there yet," said Carolyn April, senior director of industry analysis at CompTIA. According to April, companies are more likely relying on gut-level responses to general observations than data. However, to reap the benefits of DEI, companies need more than a gut check. Data can reveal the true state of DEI, how to improve it, and what impacts those changes have throughout an organization.
So where does your tech company start, and how do you use data to make a difference?
Related Content:
Make a Case for DEI at Your Tech Company | Trend Watch
Need-to-Know Basis
A great place to begin working with DEI data is to determine what knowledge gaps you need to fill. What are your goals? Perhaps you want your sales teams to better reflect your customer base—or the customers you hope to gain. Maybe you're looking to increase the impact of existing employee resource groups or see if it's time to create new ones. Or you might be trying to solve basic problems related to recruitment, hiring and retention.
For example, last year, Miranda Ruane, sales account executive with California-based IT management firm, vCom Solutions, headed a data-gathering initiative of the company's new diversity committee. She aimed to confirm the suspicion, based on observation, that there was a need to diversify the company's customer base, which could mean more opportunities for business.
On the other hand, some companies might need to gather data to determine what, in fact, their DEI goals should be. April says there's a higher level of awareness of DEI disparities among technology companies as the industry has received more scrutiny over the years. Still, knowing what's needed inside one company will likely require an examination of data.
Gather What's Available
When thinking about DEI data, most people think first about the makeup of a company's employee base. Common dimensions around which to gather data include:
Gender and gender identity
Disability
Ethnicity
Socioeconomic status
But that's not all there is. April expects to see an increase in additional ways to analyze data, such as looking at employee experiences at different phases of the lifecycle or across different pay scales. You can also compare experiences of people with similar titles or lengths of their tenure with the company. Oftentimes, this information is readily accessible through the HR technology and services an organization uses every day.

What's more, there's no need to limit DEI data analysis to internal relationship.Consider the following:
Supply chain data
Partners
Customers
Contractors
Consultants
Sub-contractors
The realities of doing business—and being human—are complex, so there could be dozens of data categories to compile even at a small company. One key, according to Harvard Business Review, is to focus on what you can control. For instance, if you're primarily interested in DEI among your workforce, the actions within your company's control are external hiring, internal (lateral) hiring and promotion. These internal data points are readily available.
Externally, you can't control what partners do. You might have to request data or generate it yourself to meet your goals, but you can choose to factor DEI data into deciding who to do business with. For example, vCom's diversity committee began by simply polling the sales team about the demographics of leadership at their customers' companies (to the best of their knowledge).

That brief probe uncovered a lack of racial and gender diversity, so they began to work on how to connect with more diverse customers.
Sometimes the data doesn't come easily. Laws governing employer requests for personal information can vary from one place to another. U.K.-based Sophos, for instance, would unlikely be able to use vCom's data gathering method.
"One of the challenges as a global company is being very aware of understanding local country legislation, and what's legal to ask of our employee base," said Fiona Ho, Sophos' senior human resources director, U.S. and Latin America. "In some counties, we can't ask." Instead, she says Sophos can examine trends in recruitment, pay, benefits and career progression to find opportunities to better serve employees.
Don't underestimate the potential of a simple employee survey either. Yvette Steele, senior director of member communities at CompTIA, says surveys can generate actionable insights about what's happening inside an organization. You can tap into existing survey data or create new ones for specific purposes. Software designed to analyze text responses can generate quantitative data from open-ended responses. Finally, remember data gathering and analysis can itself introduce bias. Be sure to use tools with algorithms designed to remove bias. Also be alert to the inherent potential for bias among the people in your organization who gather and analyze DEI data.
Bank on Benchmarking
All that data gathering becomes meaningful only when paired with smart benchmarking. There's enough DEI data available that no organization needs to set goals blindly. Steele says appropriate benchmarks are especially critical for small companies, and those new to data-driven DEI.
According to Steele, benchmarking is "a great place to start and get a snapshot of how you're doing compared to other organizations like yours." If it your current processes won't allow you to come close to those standards, that signals a need for closer internal examination.
DEI leaders can consult a number of national and industry-specific sources for a general picture of DEI in the workplace. Individual companies are also publishing their DEI data, allowing similar organizations to make comparisons.
That said, Ho sees benchmarks as guides, not rules. "The benchmark is not necessarily the standard that we want to hold ourselves to. We may want to hold ourselves to a higher standard." She says benchmarks are just one part of the information needed to decide how to move forward with data findings.
In a few cases, some goals don't need benchmarks. "Pay equity doesn't need to be benchmarked against other companies," said Ho. "We just decided what is our standard."
Putting Data to Work
"I don't think you look at [DEI data] in any different way than any other data," said April. "You have a set of metrics that you want to measure against… and then you look at the data and see how you're stacking up."
As companies looked for ways to make meaningful DEI moves last year. HBR laid out a four-pronged approach to making the best use of diversity data:
Present it in a way that's simple, salient and comparable.
Leverage it to empower the right people to act.
Use it to set goals that create accountability and increase follow-through.
Leverage it to shift social norms around DEI.
The first two are closely linked. Unwieldly data analyses can confuse or discourage people from trying to reach DEI goals. Rather, data should help everyone in your organization quickly understand the problem, goals, and their own role in helping achieve those goals. It needs to feel concrete.
To that end, Steele suggests presenting data according to what's most meaningful to your audience. For example, some might be interested in understanding the experiences of people in a specific demographic; others might want to now how different groups are using a single product.
Steele adds that it is important to share data with all employees not just senior leaders. "Lots of times the best ideas in organizations come from places they lease expect."
Widespread sharing empowers everyone to act, gives them a sense of ownership, and also makes everyone accountable for fostering DEI.
"The intersection of factual data and what you get from employees will let you see what's going on inside the organization, what your priorities are, what you want to achieve and by when," said Steele. "That's how you're going to be able to commit to taking the action. The data justifies and empowers the action."
Data Journeys are Unique
No two companies will have the same DEI data journey. Each will have its unique sample community, data gathering process, insights and solutions based on that data.
For example, Ruane says quantifying customer demographics created a green light to diversify vCom's customer base and a search for creative ways to do so. Among its first initiatives, vCom's DEI committee moved to expand an existing discount program by adding a focus on more diverse customers. The company also joined Tech for Black Founders, which aims to remove barriers for Black technologists and entrepreneurs by providing them free services.

"Comparing our specific data with larger data made it clear from every perspective that this is what we needed to do," said Ruane.
There's no doubt data is integral to meaningful action around DEI. Yet Ho urges leaders to remember that a company culture oriented toward equity and inclusivity is what truly ensures the data journey has a lasting positive impact. "When it comes to building a truly inclusive community, that data is not the end all be all," she said. For smart channel companies, it's just the beginning.