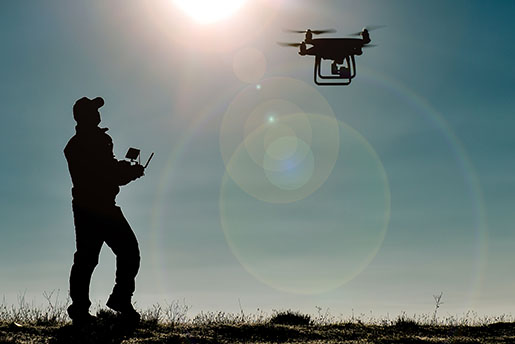 Drones and other unmanned vehicles are becoming valuable tools for businesses. There are a lot of
reasons MSPs should get excited
about drones but there's probably just as many reasons why it's important to know what you're doing in order to ensure a safe, legal flight. The FAA's annual
Drone Safety Day
serves as a reminder for operators, pilots and businesses using the more than 860,000 drones in the U.S. to follow appropriate laws, regulations and policies. With that in mind, here are some tips and insights to help you operate your drone safely:
Comply with Laws and Regulations
Flying drones safely includes making sure you are following all applicable laws and rules. In the U.S., if you charge money when using your drone you are operating as a commercial drone pilot. If you are using your drone for recreational purposes in the U.S., and are not making money from your flights, then you do not need a license from the Federal Aviation Authority (FAA). You still need to follow all federal, state, and local laws and regulations and it is your responsibility to know the laws.
If you are flying a drone commercially you will need a drone license, often referred to as a FAA Part 107 Remote Pilot Certificate, or FAA Part 107. The Part 107 license includes passing a knowledge and safety test, referred to as the Aeronautical Knowledge test that includes questions on regulations, airspace classification, emergency procedures, effects of weather, airport operations, and maintenance and preflight inspection.
Whether you are flying as a hobbyist or licensed commercial pilot, some things to remember including:
Registering the aircraft if it weights over 55 pounds
Keeping the aircraft in visual line of sight
Flying less than 400 feet from the ground
Not flying at night
Not flying over people
Operating only in uncontrolled airspace and not restricted airspace
It's a lot to remember, but the main thing is to operate the drone in a manner that does not pose a hazard to people or objects on the ground.
Protect Your Company, Customers with Insurance Coverage
Flying safe and with complying with laws and regulations is a great start but what happens if things go wrong? If you are operating as a commercial drone pilot with a part 107 pilot license you may want to consider insurance to protect your customer and yourself.
There are three types of insurance to be aware of when providing services using drones: general liability insurance for your company, named insured insurance for the asset owner or customer, and "day of" or job insurance. Here's a look at all three.
Commercial general liability insurance (which can also include an umbrella policy), often referred to as business insurance, is a minimum requirement for basic business operations. Depending on your business and customers, you may need additional insurance over and above basic commercial general liability.

Named insured, also known as Additional insured, is sometimes requested or required and specifically adds the customer as an insured beneficiary under your commercial general and umbrella liability insurance policies.

Job Specific ("day of" or "flight insurance") is typically available based on criteria such as length of the drone flight or mission, distance traveled, and geographical location. Limited specific insurance can even be purchased by the hour and is relatively inexpensive and provides assurance to clients that you are care enough about them to insure their specific job.
Watch Your Weight—Including Cargo and Tethers
Having the correct insurance and flying in compliance with applicable laws and regulations is a great start but do you know the specifics regarding the weight of the drone you are flying? Do you know how to calculate the aircrafts weight for regulatory purposes?
The weight of a drone can have a significant impact on its operations. Simply put, the heavier it is the more damage it can do if it falls or crashes. Commercial drone pilots in the U.S. are limited to a total weight of 55 pounds. (FAA part 107). That includes the weight of the aircraft, and anything mounted on it or any cargo it carries, with batteries, cameras, electronics, sensors, tethers and anything else.
Tethers may include material for transfer or application such as paint, cleaning or rinse agents. Don't forget to include the weight of the materials included in the weight calculation. For example, if the aircraft weighs 30 pounds, and you have a 100-foot tether that weighs 30 pounds when full, you can only lift 25 pounds of the tether up to the maximum weight of 55 pounds—30 for the aircraft plus 25 for the tether—and you would need to ensure at least 5 pounds of tether stays on the ground.
To be safe, try to keep your "all-in" weight at less than 60% of the lift capacity of the aircraft. In other words, if you want to lift 50 pounds, including the aircraft weight, your lift capacity should be around 80 pounds. (50 x 1.6 = 80). If your total weight is more than 55 pounds you would need additional preflight authorization from the FAA to do so.
Don't Fly too High
Both recreational and commercial drone flights are limited to a maximum height of 400 feet from the ground. As a commercial pilot you can request a waiver from this regulation. Also, you are allowed to fly above 400 feet if you're flying near a structure. Just as an airplane flying at 500 feet will gain altitude as it passes a large building, structure, or mountain, with a drone you are allowed to be 400 feet above what you are flying over.
The FAA regulations state in Section 107.51 that a drone's altitude cannot exceed 400 feet from the ground unless it is "flown within a 400-foot perimeter of an object and does not stay airborne more than 400 feet over the structure's immediate topmost limit." The 400-foot limit is easy to explain as most manned aircraft activities occur at 500 feet or higher, except within the controlled airspace near airports. This leaves a 100-foot buffer between manned and uncrewed/unmanned airspace.
The 400-foot limit is measured above ground level, sometimes referred to as takeoff level, as opposed to an absolute reference point such as sea level. However, this does not mean you can fly up to 400 feet anywhere. Drone operators can only fly drones in uncontrolled airspace (Class G) up to 400 ft. When flying 400 feet over an object in uncontrolled airspace, you also must stay out of controlled airspace that requires authorization, such as class B, C, or D. For example, if you are trying to use your drone to inspect a structure that is 1,500 feet tall, but a layer of Class B airspace starts at 1,200 feet, you can only fly near this structure up to the 1,200-foot ceiling.
Know Where to Fly
Knowing where to fly is one of the most important things about safely operating your drone. Recreational users and commercial drone flights are highly regulated and drone pilots are required to know the regulations for where you are flying, and in some instances, have the proper permits and flight authorizations. Those regulations can vary greatly. For example, a flight over a farm (far away from people) is much different than a flight inside an active refinery (where people, expensive equipment, and explosive materials may reside).
It is important for drone operators to check for any flight restrictions before flying. For recreational users in the U.S., the FAA created the B4UFLY mobile app that makes the process of looking up the ability to fly in a geographic location simple. It considers restricted airspace, proximity to locations such as sports stadiums, and temporary no-fly notices and airspace restrictions.
Commercial drone pilots also have automated tools by the FAA, such as the FAA's Low Altitude Authorization and Notification Capability (LAANC), to check a geographic area for flight restrictions and allow for submission of flight requests. This includes automated airspace authorizations at pre-approved altitudes on the UAS Facility Maps, where requests are often approved in real time. For first responders and other entities, the FAA has a special application process for emergency operations, where they quickly issue authorizations for natural disaster and other emergency responses.
Further, there are areas designated as no-drone zones, established by not only the FAA but also by state, local, territorial, or tribal government agencies. Therefore, even if you have airspace authorization to fly in the airspace over a local no-drone zone, you are not authorized to take off or land from the property.
Finally, drone pilots are required to be aware of temporary flight restrictions (TFRs) that prohibit flights in certain airspace for a limited time. This includes major sporting events, presidential movements, and security areas designated by federal agencies.
There is more to flying a drone safely than just knowing details about laws and regulations, insurance, aircraft weight and height restrictions, and where to fly and not to fly. Training, flight time, knowledge of your drones' capabilities and limitations, as well as being able to safely use and operate your drone, are also critical.
The CompTIA Drone Advisory Council created "Drone Standards and Best Practices" as a helpful guide and practical resource for learning more about operating drones as part of a commercial enterprise. We encourage you to utilize it and other resources to ensure you have safe, legal drone flights.
Fly safe, fly well, and fly in compliance with all laws, rules, and regulations.
Robert Dahlstrom is founder and CEO of Apellix and a member of CompTIA's Drone Advisory Council.