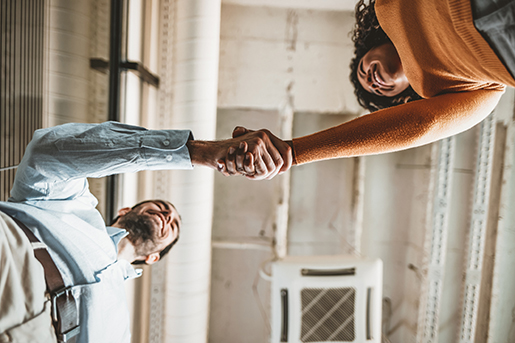 Most people have the wrong mindset when it comes to their marketing. To drive sustainable and scalable lead generation, you have to stop focusing only on lead generation. Instead, start thinking about demand generation.
Demand generation is about driving interest and action throughout the ENTIRE buyer and customer journey. Lead generation is just about getting someone to have a good first interaction with the sales team.
If you want long-term and repeatable results, the answer is demand gen—not just lead gen.
This is where I see a lot of businesses struggling. How do you nurture a prospect and keep the conversation going after the initial touch?
The challenge these days is that there is so much information coming at us from every direction, and frankly, it's overwhelming. To be successful at demand generation, you must find ways to break through the noise and stand out. While this can sound daunting, it can also be fun and incredibly rewarding. It's time to get creative.
Below are three different strategies I've had success with that you might enjoy giving a try:
1. Personalize Video Messages to Increase Stickiness
Video is still the No. 1 way that people prefer to consume information. So why not use it more frequently in your marketing efforts?
One proven way to deliver improved results is to enable sales reps to send personalized video messages to prospects via email. Videos deliver a personal connection and create an emotional bond. They solicit an impact right away and typically get 2X the response rate. It's also really simple to-do and does not require a fancy camera or expensive audio equipment.
A personalized video does not mean recording a video and putting the prospect's first name in the "hello." Take what you know about the prospect and show them you put some time and effort into thinking about a way to connect with them. The videos should be short—no longer than a minute. Here's an example of a quick script:
"Hi Connor, hope everything is going great at XYZ company. It's been a while since we last spoke, so I wanted to reach out and say a quick hello. It looks like the Rangers are going to win the Stanley Cup – you guys must be going nuts up in NY! After the playoffs are over, can we set up a time to re-connect? Hurricane season is approaching fast, and I have some tips on how to make sure your data is backed up and easily accessible in case of a natural disaster. Use the Calendly link below to find a time that works for you. GOOOO RANGERS!"
There are a lot of different platforms available that can help facilitate video interaction with customers – and they aren't super expensive. Don't be camera shy—get your face in front of your prospects! It works! Look for video applications such as gotolstoy.com to get really innovative and help take your video messaging to the next level.
2. Tease Your Content to Drive More Traffic
Content is a big part of the demand generation equation (ever hear the phrase "content is king"?). Sending out educational materials that are easily consumable is a great way to engage with prospects and it's relatively easy to do.
Most companies use forms to capture prospect information and then make the content downloadable after completing the form submission. This is good practice, but here's a tip to increase conversion rates. Next time you are promoting a blog that has a checklist with your "Top 5 Tips about XYZ," let the prospect see the first three tips and then blur out the last two tips in the email. If people want to get all the tips, they have to click through to your full blog post.
Why would you try this? It's a growth loop tactic. You are driving visitors to your website.
People don't like to leave things unfinished. They are willing to click through in order to see all of your tips. Once they are on your site, who knows, they might click around to your other pages or even contact you for more information about your services.
Even if they don't convert, you've got everyone pixeled and can hit them up with a retargeting ad campaign later on.
Now, you've sent one email, but given yourself two additional chances to convert the prospect!
3. Gift Them Something They'll Remember
If most of your outreach to prospects goes unanswered, then it's probably because your sales activities are too similar to everyone else's.
Gifting, sending small gifts, can be a powerful tool in your arsenal when done right. It can dramatically improve response rates and help you book more appointments. You can stand out from the pack and get to prospects faster with an intelligent approach to gifting.
There are a few different situations for which I would recommend sending gifts:
To get appointments (i.e., to set a meeting or IT assessment)
For special occasions (prospect had a baby, it's their birthday, got married, etc.)
Post-appointment (i.e., thank you for your time)
Gifts don't have to be expensive or lavish. Most of the time, company swag, cookies or a Starbucks gift card will work just fine!
You can find out a good deal about your prospects through LinkedIn and you should use that valuable information when you determine what kind of gift to send. Where are they from? Do they have clubs or activities they listed on their page? Where is their alma mater? These details can help you choose a personalized girt to send.
For example, I played rugby in college, and you can see that in my LinkedIn profile. Here's an email that someone once sent me that caught my attention:
"Hi Shannon, my name is Brad and I work for XYZ company—I saw on LinkedIn that you played rugby in college and thought you would like this ball [insert picture of a Temple-branded rugby ball that links to the page on Amazon where you can buy that item].
You're welcome to accept it or swap for something else. At XYZ company we help companies like yours optimize their websites to increase traffic. I noticed a few things on your website that I think we can help improve for you. Are you open to a discussion? Please use my Calendly link below to schedule a time."
I was totally shocked that someone I've never spoken with before would be offering me a gift. You bet I replied to that email (and accepted the gift 😉)! They used a gifting platform to fulfill the order (which is why I was able to accept or switch my item), but you can do something similar without purchasing a fancy platform. You can send eGift cards through a variety of vendors to an individual via email.
Direct mail can also be a really great way get appointments. Robin Robins team (Technology Marketing Toolkit) is fantastic at this. Check out this oversized appointment request they sent to me via direct mail once. Funny, yet very direct—it worked!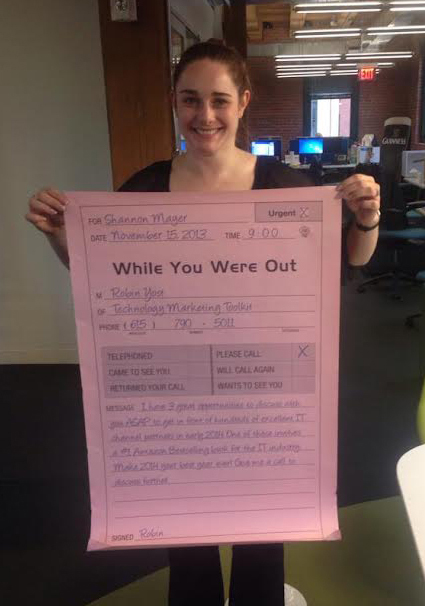 I know an MSP that takes company branded t-shirts and hats to his on-site IT assessments with prospects and leaves a couple for the team. Another MSP who is known to always have candy with them and would frequently leave chocolate bars and lollipops behind for the office after in-person meetings. Here is what we used to leave with prospects and customers when I worked at LogMeIn: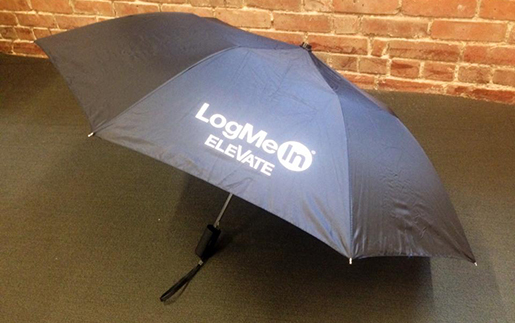 Are your gears turning yet?
Gifting post-appointment is also an effective way to keep the conversation going. Simply sending a "thank you for your time" gift card makes people feel appreciated, special and increases the likelihood of sealing the deal. Warning: do not go too over the top—people can easily see-through grand gestures. You don't want to appear to be "trying too hard." Here's an example email you could use for this purpose:
"Hi Donald, it was great to meet with you and your team last week. I think we uncovered a few areas in your IT environment that we can improve on to enhance you overall security posture. I'm looking forward to continuing the conversation with you on how we can work together.
I wanted to send a little something your way that I thought you'd enjoy. I know you like coffee, so please accept this Starbucks gift card as a token of thanks for your time. Grab a coffee and snack on me and let me know when a good time to connect would be."
The key with gifting is to be creative and as personal as possible. Think out of the box and send something that is going to elicit a response. Another boring email or post card with a "promotion" just isn't going to cut it anymore.
Shannon Mayer is director of demand generation at Kaseya and vice chair of CompTIA's Managed Services Committee.
Looking to Get Involved?
Join one of CompTIA's Communities
and engage with your peers and other thought leaders!