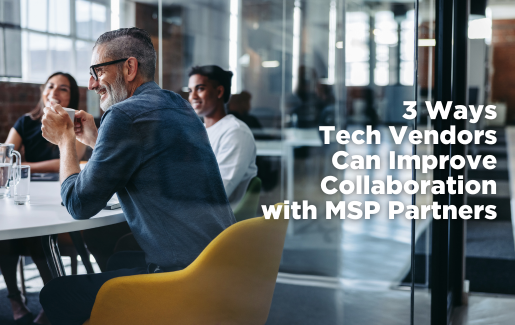 About nine of 10 IT firms consider good vendor partnerships either "critical" or "important" to doing business successfully in the technology channel. Moreover, more than a third (35%) of those businesses said they only work with vendors that have a "seamless partner experience," according to CompTIA Partner Experience Trends research. The results, based on responses from more than 400 U.S.-based IT businesses, demonstrate the chain of interdependency that is today's tech channel.
For MSPs, partner experience (PX) is a crucial issue because of the indispensable role partnering plays in the channel in increasing sales, growing revenue and innovating services. PX is so important, in fact, that half of the companies polled by CompTIA reported having dropped a vendor due to poor PX practices during the last two years.
"It's all about communication," said Rich Freeman, chief content officer of Channel Mastered, a consulting firm for MSPs. Freeman led a ChannelCon 2023 session, "Vendors Are from Mars, MSPs Are from Venus" and believes both parties can improve PX by setting clear expectations for productive collaboration.
But vendors should take the initiative because MSPs have their pick of partners in a crowded market, added Erick Simpson, chief strategist at Channel Mastered. Simpson said facilitating a better experience for MSP partners is a key competitive differentiator for vendors.
Related Blog: Partner Experience 101: Are You Easy to Do Business With?
Simpson and Freeman offered three ways tech vendors can improve collaboration with MSPs to cultivate lasting relationships that generate higher profits for both parties:
1. Put (MSP) Profits First
"Can I make money?" is the first question MSPs ask themselves when considering a new vendor, said Simpson, who managed an MSP earlier in his career.
Freeman added, "that's how they're judging vendors." He believes profitability is the most likely reason an MSP will leave one vendor for another. As evidence, he cited findings from the PX study showing "compensation/pricing clarity" among the highest partnership priorities.
To widen transaction margins for both participants, Simpson advised vendors to not only teach MSPs the value proposition of their own solutions but learn the benefits MSPs deliver to their clients. He said MSPs want to know: "Do you understand my business beyond reselling your products?" And vendors who explore the rigors of satisfying MSP customers gain knowledge that enables joint growth strategies.
"The easier a vendor makes interacting with them, the more time MSPs can spend selling that vendor's solutions," said Simpson.
He explained that today many vendors are developing consumption-based compensation models for partnerships because the administrative burdens of pricing and processing fall largely on them, not MSPs. For the same reason, he said many vendors are increasing investments in building integrations for their solutions.
2. Prioritize Like a Pyramid
According to Freeman and Simpson, traditional vendor partnerships over-emphasize increasing the volume of sales leads as a growth measure. Today, they believe optimizing partner performance should be the primary objective, a focus that aligns with boosting overall profitability.
They encourage vendors to structure partnership programs like pyramids. "At the top, you have your highest performing partners, your A partners," described Simpson. "These partners don't really need a lot of sales support ... they can hit the ground running. They're experienced. They're mature."
One level down are B partners, Simpson explained, "these are partners that, with a little bit of help, become high performers." The pyramid's base consists of C partners, "transacting a couple of times a quarter, or a couple of times a year."
The two channel experts advocate that vendors manage support resources according to potential by focusing on the middle. A-level partners typically need the least attention and care, and investments in C-level partners usually yield the lowest returns. Nurturing B-level partnerships is the best growth opportunity, Simpson said.
And diversified training programs are the best way to foster growth at any level, Freeman stressed, referring to the PX study as proof. Researchers found that channel firms want help from vendors developing skills beyond technical matters, such as fundamentals of business operations, financials, sales and marketing.
3. Appoint a Partnership Manager
Freeman and Simpson recommend that vendors establish a role responsible for cultivating partnerships, whose job is building trust and confidence in relationships with MSPs. These partnership managers should perform regular strategic business reviews that include revenue forecasts, performance metrics and go-to-market planning.
In the past, the two consultants said many MSPs felt as though vendors expected them to do most of the work. Now, dedicated account managers can create a sense of shared accountability in the collaboration between vendors and MSPs. "They cannot succeed without one another," said Freeman.
Improve Your Channel Relationships
Register for CompTIA's Building an Indirect Sales Channel, a live and online course to help tech vendors be more successful and drive win-win sales outcomes.