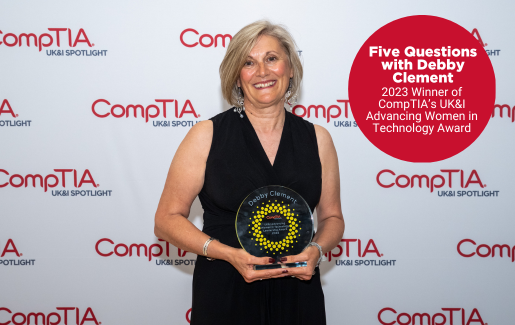 Research shows that the gender gap in pay did not improve during the COVID-19 pandemic—and may have even widened—a frustrating development that needs more attention and initiatives to remedy, according to Debby Clement, vice president of talent, EMEA, at Pax8.
Creating more opportunities for women and other diverse groups is important to Clement, who has long advocated for more equity in the IT workforce. For her efforts in this area, Clement received CompTIA's UK&I Advancing Women in Technology Leadership Award for 2023 in recognition of active leadership in the industry, her personal community and advocacy for women in technology.
Clement recently discussed why it's important to develop initiatives and awareness that help level the playing field and ensure that women have the same opportunities for success and advancement in the IT industry. Here's what she had to say.
Why is it important to you to help women advance women in technology?
I have a very strong interest in this subject on a personal level as creating opportunities for women can reduce poverty by promoting candidates from diverse backgrounds and as a result, improve economic, health and social well-being. From a business point of view, employing a diverse workforce is able to increase revenue with every 10% increase in gender diversity, earnings before interest and taxes rise by 3.5%.
A diverse workforce has many benefits, including improved creativity, innovation and cultural well-being. At Pax8, we embrace diversity—our representation of women employees is 35%, 9% higher than the tech industry average. The number of women in leadership positions at Pax8 is also at 50%. Having women leaders has a measurable impact on an organisation's bottom line.
Manpower's recent survey of 39,000 global companies reveals a talent shortfall of between 64% and 90%. With this talent shortage in mind, businesses must invest to close the gender pay gap. There is an urgent need for businesses to invest in their workforce to create cultural diversity.
What challenges/trends around advancing women in technology do you think deserve more attention and awareness?
It's very unfortunate that we've taken a few steps back on the gender pay gap due to the pandemic. Many women's careers were affected, and in some cases, women were forced to give up their jobs. To attract women and retain women in the workplace, there needs to be more flexibility and creativity around programs that attract them.
Currently, there's a lot of talk about the "gig economy" and "internal skills marketplace" but implementing a part-time gig workforce of women should be also considered. The government should also reconsider its approach to apprenticeships and make it more accessible for women to build their skills. With more funded placements, small- and medium-sized enterprises (SMEs) would be able to attract and retain employees.
According to The World Economic Forum, at the current rate of progress, Europe is projected to attain gender parity in 67 years. Therefore, every company should have a moral responsibility to support teachers and schools with the necessary tools, projects and expertise required to lead this transformation. With less than 33% of schools having a dedicated full-time careers resource, how can we inspire young people to consider a career in tech at an early age? We already lose 75% of female interest by the time they reach university—that is a dynamic that must change.
How are you working with CompTIA to help address those issues and promote that awareness?
Many of our partners are members of CompTIA and we share our knowledge of diversity with them on a regular basis. To continue to share ideas with our community of MSPs, we're dedicated to running workshops and attending events to drive creativity and innovation.
What are you most proud of in your career and what's helped you get to where you are now?
The environment and people you engage with are essential to building a career. When surrounded by great people you can learn from, it's easy to develop and make significant progress. On a personal level, I've been lucky as I've been blessed with a bit of courage, drive and curiosity with a love for learning.
I'm proud of where Pax8 EMEA is today on its diversity goals. Every hiring manager we work with is open to diversifying their team and we actively "select" females from the applicant pipeline because we know that women "undersell" themselves during the application process, particularly on their CVs. But there's always room for improvement.
In our latest round of sales hiring, we achieved a 50/50 gender parity which has had a huge impact on the culture of our company. This has been achieved through every level of the business. Our facilities team, for instance, has worked miracles for us and acted as a big factor in attracting women. Meanwhile, there has been collaboration between different departments such as engineering and operations, which has been instrumental to this success. We have a lot to be grateful for – but it's driven at the grassroots level by our people.
What advice do you have for MSPs and other tech businesses around helping women advance in technology?
My number one piece of advice is to start small. Whether it's sponsoring a tech club at a local school, volunteering to be a careers adviser or supporting local networks, there are so many initiatives available to advance women's careers in technology. At Pax8, we regularly run hiring workshop clinics to improve the skills of women for the future and to help create a close community for the channel.