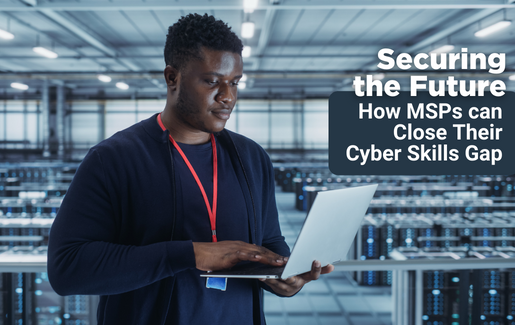 Data breaches can cause significant financial and reputational damage in our digitally connected world. Managed services providers (MSPs) offering clients cybersecurity support have emerged as crucial protectors for organizations small and large, expertly crafting and implementing security solutions that align with unique business needs.
This is no small task. It involves meticulously managing complex systems, including cloud environments, network configurations and application development. If that weren't enough, navigating the maze of regulations such as PCI DSS, HIPAA and ISO 27001 adds layers of complexity, demanding specialized talent. MSP security professionals must thoroughly understand these and other technologies and be able to apply industry best practices to serving their clients.
One of the biggest challenges these organizations face is a huge cybersecurity skills gap. According to Robert Half research, about 90% of technology leaders struggle to find skilled talent, citing security as the most challenging field in which to hire. Here are five approaches to talent acquisition and development that can help you close the gap on your team.
1. Offer Top Compensation
Half of companies polled by Robert Half say they've raised salaries in 2023 to attract skilled technology professionals. Consider the following as you shape your own compensation strategy:
Stay market savvy: While salaries are expected to continue rising for the most in-demand roles, increases are likely to be more measured than in recent years. For some professionals, that might be a reason to look for other opportunities. More than half (51%) of tech workers list wanting a higher salary as the No. 1 reason they'd seek another job, according to our research. Regularly consult compensation resources to ensure your pay levels remain competitive.
Embrace flexibility: Besides a good salary, today's security professionals want balance in their lives—and autonomy, too. Offering choices like remote or hybrid remote work and flexible hours is smart business that can make your team more satisfied and productive, as well as your job posting more appealing to those looking for a new role.
Think beyond the paycheck: Beyond salary, consider other benefits that may be attractive to potential hires, including career growth opportunities and support for ongoing certifications.
Talk it up: Make sure job candidates know everything that's on offer. Transparency about salary and all the benefits and perks of working for your MSP can turn a tempting offer into an irresistible one. In a Robert Half survey, 47% of tech workers said a lack of transparency about pay or benefits was their top frustration when looking for a new job.
2. Invest in Certification Programs
Certifications in this field are not always a nice-to-have. A full 70% of tech hiring managers say they regard them as necessary for security professionals. Consider the following strategies for upskilling your security teams:
Offer external training opportunities: Encourage and support your IT professionals in obtaining certifications from third-party providers. Accreditations like the certified information systems security professional (CISSP) and the CompTIA Security+ certification will not only improve their skill sets but also help them stay current with industry trends.
Link certifications to career growth: Incorporating certifications into career progression motivates existing talent and attracts new professionals excited by your commitment to continuous development.
Choose certifications that match your clients' needs: Picking the right credentials means understanding what the clients of your MSP value and demand. If you work with sectors like finance or healthcare, where specialized security measures such as penetration testing are key, prioritizing certifications like Certified Ethical Hacker (CEH) signals that your team has the expertise to handle these challenges.
3. Unlock Talent Early with On-the-Job Training
Robert Half found that 48% of technology leaders offer on-the-job training to recruit promising junior candidates. This approach helps whittle down the skills gap by bringing in early-career individuals that other firms might hesitate to hire if you focus on high-potential professionals who are likely to be quick learners.
One way to get a jumpstart on recruiting is to attend college job fairs. You'll get face time with students who may not have finalized their career paths and could be drawn to the technological challenges that security MSPs address. Also, consider teaming up with educational institutions for internship programs. These partnerships provide students with practical experience while allowing you to assess their potential in a real-world setting.
4. Consider New Talent Pools and Close the Tech Gender Gap
Women hold just a quarter of cybersecurity jobs globally, and people from different backgrounds or cultures are likewise often underrepresented in the field as well. Working to address this imbalance and create a more diverse team not only brings fresh ideas and perspectives to your workplace but also addresses the skills gap that security MSPs face.
It could also help build your client base: Many organizations prefer vendors that reflect their values, including diversity and inclusion. Prioritizing more diverse representation on hiring panels, expanding your hiring networks and training your managers on the use of inclusive language in job postings are key considerations to incorporate into your recruitment strategy.
Finally, the rise of flexible work, including remote and hybrid arrangements, allows you to hire people no matter where they live. And the deeper the talent pool, the more likely it is to include greater numbers of job candidates from historically underrepresented communities.
5. Make Every Role a Security Role
Security awareness is a shared responsibility that should permeate every role within your organization, not just those with security in their job titles. Consider a systems administrator: While traditionally focused on the upkeep, configuration and reliable operation of computer systems, they also have a role to play in security by ensuring that system patches are applied promptly and user access is carefully controlled and audited.
These practices not only maintain the health of internal systems but also help protect the client assets you manage. To make sure all roles prioritize security when working with clients' assets, consider organizing regular upskilling sessions on cybersecurity best practices tailored to each job function.
The cybersecurity skills gap is not just a challenge; it's an opportunity. By looking beyond traditional talent pools, rewarding ongoing development and recognizing the importance of human creativity and collaboration in cybersecurity, you can offer your clients a service that's both robust and adaptive.
Ryan Sutton is executive director of the technology practice at global talent solutions firm Robert Half.