What happens in Vegas stays in Vegas—unless it's at CompTIA's ChannelCon 2023 conference, held Aug. 1-3. In that case, there was plenty of learning, networking and content for MSPs and other tech companies to take home and implement into their respective businesses.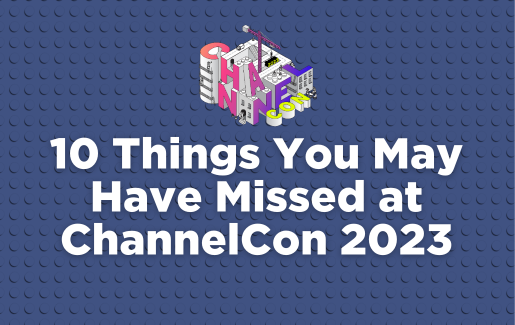 More than 1,000 members of the tech industry came together at The Venetian Resort for ChannelCon and Partner Summit, attending more than 60 educational and content sessions across Community, BizTech, Cybersecurity and Vendor Education tracks.
"I've been in the IT industry for more than 20 years and I've never been to an event like ChannelCon or see a community like CompTIA," said Anthony Bellisario, vice president of managed services at 7 Layer Solutions, a new CompTIA member and first-time attendee. "I knew CompTIA for certifications, but I didn't know how much more the community has to offer. There's a lot I'm going to follow up on and get more involved in."
There's a lot to absorb from three days of making connections and gaining insights. In case you couldn't make it—or even if you did—here are 10 things you may have missed.
AI Is Coming, What Are the Benefits, Risks?
There's so much opportunity around artificial intelligence (AI), but also so much risk and so many unanswered questions. During a keynote session, CompTIA CEO Todd Thibodeaux and several CompTIA board members unpacked what their respective companies are doing with AI, what they've learned and how MSPs should be planning for the future.
"Previous technologies helped organizations to grow faster and scale. AI will take that to the next level and enable everyone to be more productive. But it comes with a lot of risk," said Scott Barlow, vice president of global MSP and cloud alliances at Sophos. Read more.
Mick Ebeling: We All Can Make the Impossible Happen
Mick Ebeling, the CEO of Not Impossible Labs, has built a reputation and a career for doing things that nobody thought could be done. From designing an eyewear device that helps an artist with ALS draw for the first time in years, to opening a facility in Sudan that creates 3D-printed prosthetic limbs for people injured in war, Ebeling has always challenged the status quo. At a keynote session at ChannelCon, he challenged attendees to strive to innovate technology for the sake of humanity. Read more.
New Mentorship Program to Provide Tech, Business Advice to Members
Earlier this year, members of CompTIA's Diversity, Equity and Inclusion Committee started sharing what made them successful. The biggest driver: Help and mentorship received early in their career. Committee members spent the last few months developing a partner program to ensure the next generation of tech and business leaders get the same thought leadership and lessons learned.
The committee, in partnership with the North America Community launched the new mentorship program at ChannelCon, and anyone can now register to either give or receive help. Read more.
Alex Spigel Named 2023 Member of the Year
Alex Spigel, COO and co-founder of Choice Cyber Solutions was named CompTIA's 2023 Member of the Year during a special luncheon at ChannelCon.
"I wanted to get involved with CompTIA to help change the security landscape and help MSPs be more secure and try to make the world a better place," Spigel said. "My advice for others to get more out of their CompTIA membership is to participate. The more you give, the more you get. I absolutely get more from CompTIA than I give."
Spigel is the outgoing chair of the CompTIA Cybersecurity Community (now known as the Cybersecurity Committee), member of the CompTIA Information Sharing and Analysis Organization (ISAO) Subject Matter Expert Council, Cybersecurity Trustmark volunteer leader and North America Community Executive Council member. Read more in the new issue of CompTIA World magazine.
Turning Failures Into Opportunities in Today's MSP Journey
Failing can be scary, but MSPs shouldn't let the fear of failure hold them back; in fact, during a session called The Modern MSP Journey – The Evolution of Managing Change, a panel of industry experts illustrated just that.
"Companies that fail the fastest, the cheapest and with the most persistence win," said Matt Lee, CISSP, CCSP, CFR, PNPT, senior director security and compliance at Pax8. "It's not our successes that define us. It's our failures, isn't it?"
Failure can present opportunities. And learning from failure and creating those opportunities is how we evolve from being in practice to having a practice to best practice, Juan Fernandez, global channel chief, HacWare explained.
By nature, MSPs face a lot of change, but facing change head on and adapting is necessary for any business seeking growth. Whether it be new technology, new cyber threats or staff attrition, the panel urged MSPs to not be afraid of failure and to use it as their launchpad for their next big success. Read more.
Cybersecurity Trustmark Workshops Prep MSPs for Strategy, Policy, Risk Management
Cybersecurity was a common thread across almost every session and discussion. CompTIA held three workshop sessions related to the updated Cybersecurity Trustmark: Culture and strategy, policy development and risk management. Following the workshops, attendees discussed what they learned and shared their experiences during roundtable sessions.
The Cybersecurity Trustmark is designed to help MSPs establish a starting point for their security journey, focusing on the Center for Internet Security's 18 Critical Security Controls and other globally recognized frameworks to form industry-accepted best practices.
"If you have already gone through the process, if everyone on your team has been through it, if you have been in their shoes, it will carry more weight," said Joy Beland, vice president of MSPs for the Protection of Critical Infrastructure, during the risk management workshop. Learn more about the Cybersecurity Trustmark.
Industry Advisory Councils Expand Reach, Scale
CompTIA's Industry Advisory Councils announced at ChannelCon that they will be adding two new councils in January 2024 and members for both are being recruited now. The Workforce Industry Advisory Council will focus on attracting, training and retaining new tech talent, while the Data Industry Advisory Council will focus on how to help MSPs and their customers make better use of the information they have to help grow their business.
In addition, all the councils will look to appoint international members for the first time, giving the councils a more global perspective in their respective topic areas.
"Our goal is to provide industry resources and leadership in areas that matter most to MSPs. IT workforce issues and the opportunity around data solutions are critical areas for our members right now," said Chris Phillips, senior director of industry councils at CompTIA. "You'll see a lot more content and thought leadership coming from all our councils over the next several months and we look forward to adding some voices from outside North America for the first time."
Communities, Councils Announce Annual Philanthropic Endeavors
CompTIA announced the 2023 award recipients for their annual charitable giving endeavors, revealing total of $130,000 that was awarded to organizations across the globe in the United States, United Kingdom, Australia, New Zealand, Germany and the Netherlands.
"This year's group of charities is the perfect example of how technology can be used to solve challenges and create brighter futures across the globe," said M.J. Shoer, chief community officer, CompTIA. "CompTIA and its member communities and councils are proud to support their work to build a stronger, more diverse technology industry and a better world."
Contributions made by CompTIA's member communities, advisory councils and the CompTIA Information Sharing and Analysis Organization (ISAO) support local communities and improve education, access to resources and career options for individuals in need. Find out more.
The Struggle Continues: How MSPs Can Get Customers to Understand Cyber Risks
A common theme during the event was the ongoing struggle MSPs face when it comes to cybersecurity, including an ever-changing threat landscape, a pool of customers that simply don't understand the importance of protecting themselves against cyber risks and more.
"It is an organizational culture issue that is systemic across America. In the same way that in the 50's people scoffed at having to wear a seatbelt because they had been driving that way with the kids in the back for so long," said Joy Beland, vice president, partner strategy and cybersecurity education, Summit7. "We have to address this at a human level with people and processes."
The panel agreed that for any MSP trying to get their clients to understand the detrimental impact a cyber incident can have on their business it's all about breaking down cybersecurity attacks in ways that make sense to them. When you do that, you can help them realize that cybersecurity is no longer a nice-to-have benefit, but a necessity for all business looking to stay secure. Read more.
Technology Vendor Fair Showcases Innovative Solutions, Services
This year, more than 160 vendors, distributors and other tech companies shared their latest innovative products, services and programs during the Technology Vendor Fair at ChannelCon. Vendors also participated in a recruitment challenge leading up to the event. Congratulations to the winners who brought the highest number of partners and prospects, helping to make this year's conference a success!
1st Place: MSP Ignite
2nd Place: Vonahi Security
3rd Place: Infosec
4th Place: Avast
Keep Up with the Latest News from ChannelCon 2023