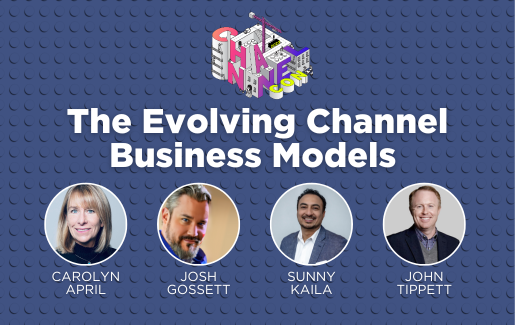 Changing your business model is hard, but it's also inevitable. The IT industry doesn't sit still and neither do your competitors—nor your customers, who expect more, quicker. Your ultimate and long-term success might just depend on how well you plan and execute a transformation strategy.
Whether you're thinking about moving from a product reselling model to becoming an all-purpose MSP or MSP to MSSP or anything else, there are a number of proven tactics you should implement along the way.
"We're in a highly changing, fast-moving world. Everything is moving to the cloud. There are constant concerns about cybersecurity. Everybody's talking about AI now. We're at an inflection point," said Carolyn April, senior director of industry analysis at CompTIA, during a ChannelCon session called Power Panel: The Evolving Channel Business Models.
"If you stay the same, you might eke out a nice living but if want to grow, getting on top of more cutting-edge technologies and services is something you want to do," April said. "Customers are buying more products direct. From MSPs they want more advice, services, integration and help achieving better business outcomes. Be mindful of the direction your customers are moving to make sure your business model aligns with theirs."
Communicate Your Plan
A business transformation plan should be well communicated within your organization, said April.
"It should be top down but every employee needs to be on board. It is daunting," she said. "If you went to work at a place where they said, 'This is how we do things because it's what we've always done,' and then the CEO comes back from a conference and says we're going to do everything different now, it can make your employee base apprehensive."
Fear is a big theme in business transformation that impacts more than rank-and-file teams. Fear of change can also damage an MSP's desire to innovate and expand, said Sunny Kaila, CEO of IT By Design.
"The main challenge MSPs face is being comfortable with what they have. From a people, processes and technology point of view you have to be committed to break the mold," Kaila said. "But the way I look at this is business transformation is not a future activity, it should be a present activity and a continuous activity."
Being transparent with the vision for transformation is critical for employee engagement, said Matthew Koenig, vice president of channel sales at Nodeware. "Tell your teams what you're doing but also why," he said. "What is the end result and how can they help you get there? If you're clear with them they'll feel a part of it and work with."
Do Your Due Diligence
Once you define what your vision is for your company, do your research and talk to others about how they transformed their businesses, Koenig said.
"Break down the plan, talk to your peers. The one thing I love about this [CompTIA] community is everybody will talk to everyone else," he said. "The fear factor is real. People are scared to change and scared not to change. At the end of the day, it's going to happen whether you want it or not. But it's not something you have to do overnight. Have a plan, but the plan doesn't have to be complex. It has to be consistent over time and match the vision."
Focus on Improvements, Not Change
Knowing that both business leaders and employees face change with trepidation means you have an opportunity to reframe the discussion. Replace the word "change" with "improve" said John Tippett, Cytracom COO. "None of us like change. It sounds like something is an emergency. Change feels stressful. Think of it as what am I improving, making better. That makes it feel more incidental."
Along the same lines, consider change a tactic or an outcome, but not a goal.
"'I need to change' is one of worst things you could go with," he said. "Why are you trying to get there? Most people are fearful because they don't understand how to progress toward that goal. If you're going to transition to managed services, why? It should be for something like the market is demanding it or you want more predictable revenue. That's the goal, not change."
Make the Commitment
If you're going to start a business transformation project, be ready to commit to it fully, according to Josh Gossett, CEO of CoreTech.
"It's a mind shift. For me, it was burn the boats, this is where we have to go. So if you're not there, you need to be there first. The mind shift must be 'We are doing this.' To have more you have to do more, to do more you have to be more," Gossett said. "To get there, remember that experience is the best teacher. In fact, somebody else's experience is the best teacher. Somebody else's experience is where you want to go. Someone you had lunch with is where you want to go. Borrow from the people who are where you want to go."
Keep Up with the Latest News from ChannelCon 2023