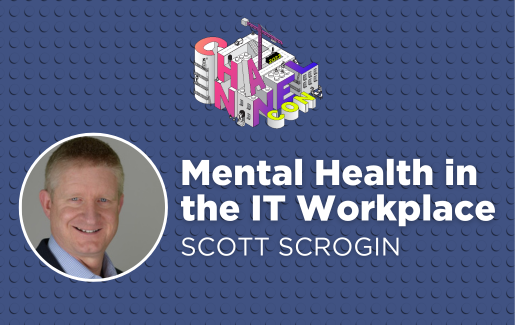 Many IT professionals enter the workforce excited and eager to start their careers, but they often undermine the personal and job-specific stressors that inevitably come with the job. When not handled properly, mental health issues can arise, hindering productivity and overall wellbeing.
Scott Scrogin, strategic initiatives director at ConnectWise, spoke at ChannelCon 2023 to talk about improving mental health in the IT workplace. Here, we'll discuss how prioritizing mental wellness can make a positive difference for you and others, as well as provide practical strategies you can implement to increase awareness, take action and decrease stigma.
Current Challenges in IT
There are a number of challenges that are impacting the mental health of individuals and teams – primarily, the lack of conversation around mental health topics. Although awareness and recognition of its importance has grown over the past few years, mental health is still a taboo subject in many workplaces. This prevents individuals from seeking help and organizations from providing the proper resources, ultimately leading to increased stress and decreased productivity.
The numbers are astounding. In Scrogin's article, he highlights some figures that further emphasize the importance of taking action:
Leaders are also facing the challenge of managing people and teams in new and often unfamiliar situations. The rapid pace of technological change, coupled with financial stress and the shift to remote work, has created a landscape that requires adaptability and resilience. Other data trends and behaviors, such as increased isolation due to remote work, the pervasive use of social media and lack of mentorship for male employees, can further exacerbate mental health issues.
"The bottom line is, if we can't have a conversation about it, this is going to continue to go on," Scrogin said. Leaders in the industry need to break this silence, fostering an open dialogue about mental health and promoting a culture of understanding and support.
Captains and coaches of those teams have a moral obligation to ensure the mental health of team players. Organizations who value their employees' mental health not only increases retention and satisfaction, but it also reflects in how employees interact with customers, improving customer satisfaction.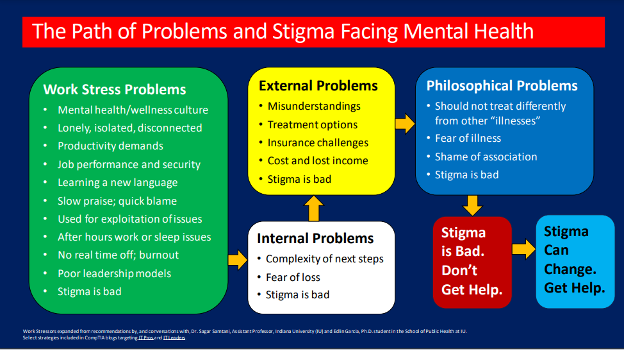 Scrogin's Journey and Key Takeaways
From attending Harvard Business School and becoming the chief operating officer at ConnectWise to losing loved ones and battling depression, Scrogin has learned resilience and improved his ability to navigate whatever life threw his way.
"Yesterday may have been mathematically a negative three, but it's still a plus five from the worst day that you ever had," Scrogin said. "There's always that ability to frame things in a unique way."
After sharing his journey with mental health, Scrogin highlighted three main takeaways:
Be kind, everyone is dealing with challenges
Build flexible plans and relationships that matter
Purpose and self-leadership are keys to managing recovery and avoiding relapse
Scrogin's story is a testament to how life's journey is not a straight line, and what you see today offers only a small window into someone's past and future.
Strategies for Improving Mental Health
Tech is growing at a rapid pace, often leading to high-stress work environments. That's why prioritizing your mental health – as well as your team members' – is more important than ever. Scrogin presented a number of ways you can promote mental wellbeing, foster a supportive workplace culture and equip individuals with the resources they need to navigate their mental health journey.
Here are some strategies you can implement for yourself or your team:
Build Culture

Improve Wellness

Be Proactive

• Build a positive work culture: "Quick to praise, slow to blame."

• Seek personal insights: Move from "how are you doing?" to "are you ok?" or "I see you."

• Encourage participation in activities outside of work: For example, hobbies, music, exercise, friends, sports, etc.

• Share positive resources to cope with stressors: For example, meditation, breathing exercises, prayer, etc.

• Know your why or your purpose: Be a leader accountable to yourself.

• Don't let many small issues become a major mental health concern.

• Set boundaries to enjoy time unplugged, especially with friends, family and activities.

• Create a simple wellness plan during lunch and learns or other times, for example, mental health first aid, sleep, healthy eating, exercise, finances, legal, TED.

• Hold proactive, candid conversations with employees about what to do if something goes wrong.

• Develop onboarding guides, standard operating procedures (SOPs) and tools, but don't reinvent the wheel.

• Host workshops to increase awareness, identify concerns and build cultural acceptance.

• Create a crisis plan to prepare in advance.

• Create FAQs for mental health questions: Who does what, when and why?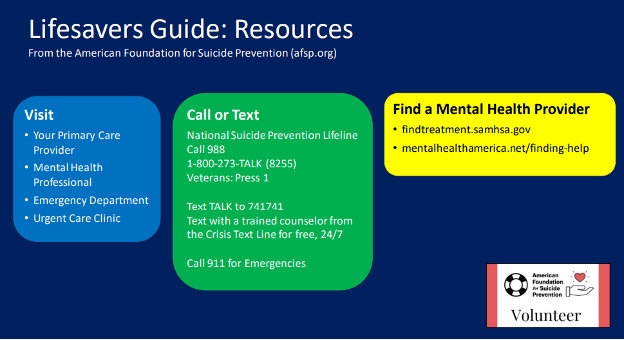 The Key Question

Similar to the popular adage, "Stop, drop and roll," Scrogin created: Acknowledge, educate and care.
"You need to model the behaviors you want others to take on," he said. When navigating the topic of mental health in the IT workplace, he says there are two paths you can take: To act or to not act.
To Act (success)

To Not Act (failure)

• Change lives

• Increase stability

• Increase productivity

• Lower costs

• Reduce burnout

• Reduce stigma

• Continue loss of lives

• Disrupt families

• Lose productivity

• Increase medical costs

• Continue burnout

• Continue stigma
Scrogin leaves the audience with one question: What result do you choose?
Keep Up with the Latest News from ChannelCon 2023