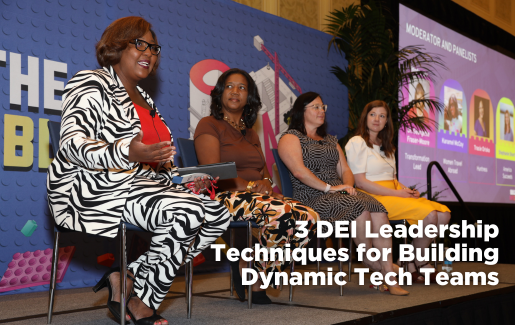 The business case for embracing diversity, equity and inclusion (DEI) strategies to drive profitability and productivity is well-documented. Study after study demonstrates that recruiting a diverse workforce, adopting equitable workplace practices and cultivating inclusive culture for workers yields positive results in terms of revenue growth and employee retention.
Related Content: Make a Case for DEI at Your Tech Company
"Numbers don't lie. Statistics don't lie," Dr. Georgette Fraser-Moore told the crowd at a recent ChannelCon 2023 panel discussion, Tips for Building Dynamic Teams: A DEI Approach. As moderator, Fraser-Moore, president and CEO of Transformation Lead, a global consulting firm specializing in innovative technology and organizational change, said that ample research shows "having diverse teams increases your [organization's] creativity."
Creative thinking is a pivotal factor in nurturing talent and fostering innovation – especially for tech pros working at small-to-midsize businesses (SMBs). For many SMBs competing in technology industries, such as IT managed services providers (MSPs), retaining a talented workforce and implementing innovative products and services provide the competitive means to thrive.
"Diversity was something that was natural to me," said Fraser-Moore, who grew up in ethnically diverse neighborhoods in New York City. But as her professional career progressed, she realized developing DEI strategy did not come naturally to all organizations. Today, she counsels executives that the process must be deliberate and intentional to succeed.
Joining Fraser-Moore on the panel were three other leaders in the field of tech talent and workforce development. Together, they offered three leadership techniques for shaping dynamic, high-performing teams by applying DEI principles.
Technique #1: Lead by Learning
"Education is the key," said panelist Karamel McCoy, entrepreneur, podcaster and founder of Women Travel Abroad. "We're running a world-class travel organization, dealing with lot of different people, lots of different cultures."
McCoy said leaders seeking to reap the business benefits of DEI must take responsibility for learning from the diversity in their markets and industries and teaching those lessons to colleagues. "I actually work for the employees," she said of her educational method, asking questions such as, "What do you need? How can I bring it to you? How can I help you?"
Related Resource: Diversity and Inclusion (D&I) Plan for Technology SMBs
Panelist Tracie Orisko, senior director of sales development and community at the cybersecurity firm Huntress, reinforced McCoy's message. "I have to own it. I have to ask to be educated," she said. "It's not upon my staff to educate me about diversity."
Technique #2: Lead by Listening
"My favorite question is 'What do you think?'" said Fraser-Moore. She advises leaders interested in implementing DEI workforce strategies to facilitate learning about the diversity in their organizations by establishing the habit of speaking second.
Panelist Stephanie Short, vice president of partnerships at nonprofit America Succeeds, underlined Fraser-Moore's advice. "If I say something first, the team may take that as a mandate, and then that can become our approach, our vision," Short elaborated. "There's a tendency not to push back, and that is super problematic [for DEI] frankly."
Related Resource: DEI Glossary
America Succeeds engages businesses in "modernizing pathways into the workforce to drive equity and opportunity," she said. "We work with a really broad set of stakeholders: Business leaders, policy makers, educators, community organizations, learners themselves, other nonprofits," which informs her team's view of diversity across multiple agencies, industries and organizations.
Short also recommends supporting DEI strategies with a "multi-channel approach" to communication inside and outside the organization – especially in today's post-pandemic digital environment. "Be mindful of how [digital channels] are open to everyone so you're getting the breadth of feedback, especially for younger team members."
Technique #3: Lead by Challenging
Orisko encouraged leaders endeavoring to leverage DEI in their businesses to ask: "Where's my challenge network?"
She explained that, in an age of digital "echo" chambers, all team members must be wary of listening primarily to small homogenous groups. "Those people may be saying only things you want to hear. They're telling you things because they believe like you, and they grew up like you and they came from businesses like yours."
"My challenge network grew out of staff helping me understand," their differing perspectives, Orisko said. Today, her advisory network includes former and current colleagues, she added, "They challenge me all the time."
McCoy challenged the audience to shape high-performing teams using a conventional business practice – with a DEI twist: Invite a colleague or partner to dinner, but deliberately choose someone who "doesn't look like you" and agree not to discuss work.
She called this basic method building a foundation for diversity as leaders learn about the people behind the talents and skills they bring to their jobs.
Keep Up with the Latest News from ChannelCon 2023