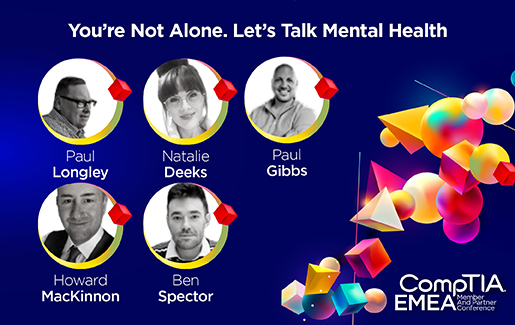 Mental health challenges can impact anyone in the IT industry with the fast pace and churn in the market, pressure to keep up with the latest developments, a need to feel constantly connected, workforce shortages and the move to remote tech jobs. But historically, mental health hasn't been given the priority it deserves.
During a session at CompTIA's EMEA Member and Partner Conference 2022, Paul Longley, founder of Think Mental Health, and a panel of tech professionals got candid in sharing their perspectives and personal experiences with mental health. By having these conversations, the tech industry can begin to destigmatize the mental health challenges faced by professionals.
Disclaimer: This article is for informational purposes only and is not a substitute for professional medical advice.
Breaking Down the Stigma
"Creating change is being able to talk about our feelings and emotions and it being the norm because for years, I kept everything in," Longley said.
For so long there has been a stigma around talking about mental health, and in order to create change in the industry we must openly talk about it and the effect it has on millions across the globe.
"I don't think there's any magic sauce to take the stigma away, but the great thing over the past few years is, especially with the effect COVID had, mental health has begun to be talked about on a wider scale," said Paul Gibbs, managing director of Flexible Group.
"The stigma will probably never fully go," said Howard McKinnon, channel development L&D at Canon UK and Ireland. "What we can do is keep building awareness and discussing it, talking about it and making sure people feel supported."
As a leader, breaking down the stigma within your own organization can be as simple as creating support groups or talking about mental health more openly with employees to foster a culture where workers feel comfortable coming to you with their personal challenges.
"Breaking down stigma and barriers comes from strong leadership encouraging those conversations and encouraging that change," said Ben Spector, product manager and head of solutions, Zomentum. "Whether you experience mental health difficulties or not, if you can be the influencer of change within your organization and encourage those conversations to happen, I think at that small-business level we can start to see the same kind of shift."
You're Not Alone
Some people perceive suicide, mental illness and addiction as conditions that individuals are can control or take responsibility for, but they shouldn't be treated any different than other medical issues. And in all cases, no one should have to fight alone.
Like many others, Longley experienced struggles that he kept hidden, which only made him feel more isolated and exacerbated the challenges he was facing. But once he was able to open up to those around him and start having difficult conversations, he started to see that he wasn't alone.
"The reason I keep doing what I do is because one man every two hours takes his own life in the UK," Longley said. It's the biggest killer of men under the age of 50."
Continuing the Conversation and Getting Vulnerable
Those who struggle with mental illness may experience symptoms such as lack of motivation, exhaustion, burnout and other challenges that can lead to a decrease in productivity at work. Learning to communicate with colleagues about how they can support you can be a game changer, expressed Longley.
"As a management group we used to have breakfast in the morning together and I used to talk to them about my mental health. It was just touching base with other people," Longley said. "As a production manager, I used to talk to my staff, and when I actually opened up about my mental health and that I went to Andy's Man Club, it got out into the factory and people started knocking on my door. They knew that what was said in my office stayed there and it got to a point where we had a code word. My staff asked me how I was, and I asked them how they were."
Being vulnerable with colleagues isn't always easy, but it can help to create a culture where talking about mental health isn't taboo and everyone can feel that they are heard, seen and cared for at work. But that starts with a foundation of trust.
"We have to make these conversations normal; they don't have to be reactive to a critical situation. We all do proactive monitoring in one way, shape or form, and we need to do that with humans. Think of it as a ticket. Let's look at it while it's a low priority and we can probably stop it from moving to a critical instance," said Natalie Deeks, account manager, Uptime Solutions. "If you just pull [colleagues] into regular meetings to have a chat and ask, 'How are you?' that will slowly become the norm."
"Sometimes you think as a leader if you show vulnerability, you're not a leader, but I got the opposite," Longley said. "I showed vulnerability to my staff, they gave me far more back. And as a team we grew, because we could have crucial conversations about mental health."
Related Resource: Think Mental Health