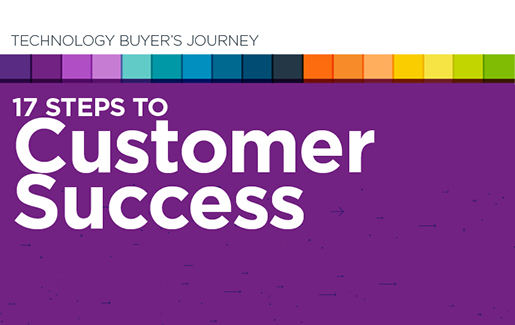 The technology buyer's journey can be a complex, confusing concept to grasp, but it can also mean the difference between keeping a customer happy and losing one to a competitor.
A solution provider's ability to understand that journey—and provide value at each step along the way—is critical to success in today's market, according to CompTIA Channel Development Advisory Council members Jason Bystrak and Ryan Walsh.
Executives on CompTIA's Industry Advisory Councils mapped out the tech buyer's journey, then refined the concept with more detail about each step, including what's changed from traditional roles and how each member of the IT supply chain (vendor, distributor and solution provider) can add value to the equation and maximize success.
The result of their efforts are now available as a downloadable infographic and a Technology Buyer's Journey interactive flipping book.
"There's still a lot of uncertainty and lack of clarity about what everybody does but the differentiation of the roles and the new ways that technologies are being purchased in the subscription economy require that everyone knows where they can add value—and where they should let others add value," said Bystrak, vice president, Cloud Business Unit, at D&H Distributing, Harrisburg, Pa. "A vendor might think they can do it all. But solution providers can do a lot in each of these phases that help vendors. People might think that distribution is disintermediated in this new economy. Absolutely not. There are things that they do better [than vendors and solution providers]."
Alignment up and down the supply chain is critical to successfully providing a positive customer experience, according to Walsh, chief channel officer at Pax8, a cloud services distributor based in Greenwood Village, Colorado.
"There are a lot of changes on the buyer's side. Different buyers are involved. Sales and marketing are more education-led than in the past," Walsh said. "The channel needs to work together to help educate LOB leaders and other decision makers, not sell them."
The councils broke the buyer's journey down into four phases: marketing, sales, technical, and customer success. Each phase is comprised of several steps designed to keep the customer moving along, Bystrak and Walsh said.

Marketing
The first phase of the buyer's journey, marketing, includes uncovering and identifying a pain point, getting the customer to recognize it as a pain point, making customers aware that you have a solution and getting the customer to review potential solutions. For solution providers, this means leveraging education events, social media, business discussions and other tactics to drive the customer to the next phase.
"Customers process things in new ways, so an online presence is important to help them increase pain awareness," Bystrak said. "They might use Facebook, LinkedIn, other social media, or search engines to get that information. Educate around policy and compliance, not technology. Information and education should be tied to the line of business, not just IT."
Sales
Among the six steps in the sales portion of the buyer's journey are: assessment and evaluation, competitive review, legal/SLA/contract, negotiation, quote and acceptance. There's a lot of heavy lifting here—and there's been a lot of evolution in want customers want at each step, Walsh said.
"The channel is doing more trials, more proof of concepts, because the decision has been moved down to the department level or LOB," he said. "People are looking for an Amazon experience. They want to compare solutions side-by-side and they don't want you to run in with a vendor logo. It's really a shared delivery model between the channel partner and the end user, but vendors and distributors also need to provide the resources and information to support along the way."
Technical
Deliver. Implementation. Support. Three important steps for both buyers and sellers to ensure a positive customer experience, but a lot has changed here too and vendors, distributors and solution providers need to ensure they're prepared to manage each step in a new way, Bystrak said.
"It's more API-enabled, more SLA-driven. Training is consumed through different ways now, online and on-demand. Support needs to be instant-on and more automation is expected," he said.
Customer Success
The final four steps: support, billing/paying, adoption and QBR/post-business review, will ultimately determine whether you have a customer or just a transaction, said Walsh. Vendors can help share data and trends for reviews, distributors can provide aggregate billing, and solution providers provide optimization, compliance checks and reporting to ensure all is well.
"How you manage support, service desk, automation, invoicing/billing needs to be accurate, presentable and adding value to the equation," Walsh said. "Expectations have gone up. In the old days, you sold a Microsoft license and you were done. Today, you're responsible for ongoing support and service delivery. It's a very different business model that may require you to transform your business. Mapping out this buyer's journey allows you to see where you might need improvement and what you're doing well."
Overall, many channel partners haven't done enough to adapt to this new buyer's journey, which leaves the door open for competitors or for customers to find other routes to market, said Bystrak.
"Mapping this journey was important to the Channel Advisory Board. Ryan and I are competitors, but we both have a vested interest in helping the whole industry get better and create better opportunity to meet industry demand," he said. "The channel is getting there, but we're not there yet."