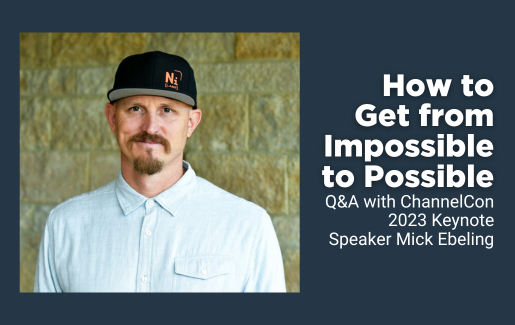 You don't want to tell Mick Ebeling that something is impossible. There's a pretty good chance he'll prove you wrong. After all, Ebeling has made a career of designing and building innovations that others felt couldn't be done.
As the founder and CEO of Not Impossible Labs, he is the driving force behind some award-winning and inspiring products. He's the only person to receive TIME Magazine's Top Invention of the year twice—in 2010 for the Eyewriter, a tracking system that enables physically challenged individuals to communicate and create art through their eye movements, and in 2021 for Bento, which allows food-insecure individuals to discretely pick up no-cost meals from participating restaurants. And then there's the 3D-printing prosthetic lab he opened in South Sudan after hearing the story of a boy who lost his arms in an explosion and thought he was a burden to his family. The list goes on.
Ebeling will detail his journey and why believing in "not impossible" is critical to business success in a keynote session followed by a Q&A with CompTIA CEO Todd Thibodeaux at CompTIA's ChannelCon 2023 conference and CompTIA Partner Summit in Las Vegas. In preparation for the event, we asked him his thoughts on current innovations, why collaboration is important, and how to get out of the "that's impossible" mindset.
Here's what he had to say:
How much does thinking "that's impossible" or "it can't be done" inhibit potential growth and innovation?
One of the opening lines and opening quotes in my book is by Henry Ford. That is, "whether you think you can or think you can't, you're right." And I believe that quote is the perfect encapsulation of how powerful someone's mindset is. I think the majority of the indicators of whether or not someone is going to achieve or do or accomplish starts with the mindset.
Throughout the course of time, we have consistently and consecutively dismantled the reality that something that is impossible should remain impossible forever. We are constantly moving things from impossible to possible. Examples include moving from wearing pelts and skins to now having clothing mass produced or at one time having to communicate through a line and a cable and a rotary phone to now having the ability to see a video over a little tiny device we hold in our hand. The examples go on and on.
So for us, that is just the proof point. That when you look at this, from a pure data perspective, a pure historical perspective, that anything that is impossible today will eventually transition from impossible to possible. The data proves that. When someone has that transition, or that 'aha' moment they now start to see things that are impossible right now as only impossible at this moment, at this time, and they see it as something that will eventually transition from impossible to possible. All of a sudden, that's when the world opens up. That's when possibility takes hold. And for that individual or for their team, true potential now becomes a probability. In fact, it becomes an expectation, and the only variable is the time that it's going to take to achieve that.
What do you think of the current pace of tech innovation?
The most amazing thing about being alive right now is that we have grown to be so accustomed to almost daily, weekly technological advancements that even a couple of years ago would be unfathomable in terms of the progress that's been made. Clearly, when you look right now at one of the most world-changing technological topics, but just topics in general, which is the mass access, and commercialization of AI. Everybody is beginning to grasp how this could potentially affect us, as individuals could affect our society and affect the world. Clearly, there is a lot of trepidation and fear as there is when you look at new things that people don't entirely understand. And I think there is, to some degree, a little bit of concern that is warranted, as we blaze this new path. But the potential of what this could mean for us as a society, in terms of proactivity, is such a massive benefit to society, that it's just a question of how to channel AI in the right direction.
What other technologies or innovations have you been excited about for the future?
Technology will certainly evolve and bring about exciting innovations, but I'd like to think that the exciting part is not so much in the technology but in the mindset. It's going to be a way of thinking that we are going to have to challenge ourselves in terms of not necessarily understanding what the answer is, but how to ask the question. And I think Socrates would be very proud of us right now. In that the future will be more about how we prompt and ask questions and position challenges than it will be for us individually, to have the answer.
Don't Miss Mick Ebeling Live at ChannelCon 2023