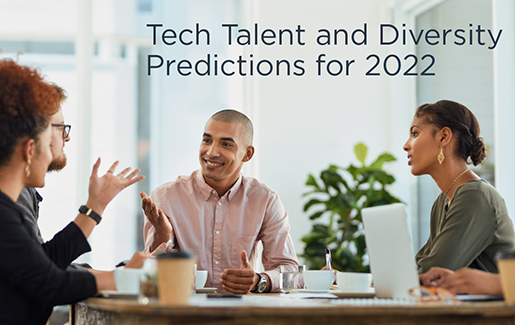 The tech workforce experienced unprecedented change and challenges in 2021. From more permanent work-from-home and hybrid office trends to inroads made in diversity, equity and inclusion (DEI) initiatives, CompTIA's Advancing Tech Talent and Diversity Community has been tracking—and responding to—the year in technology careers.
The community published several resources and guides last year, including Diversity and Inclusion (D&I) Plan for Technology SMBs, HR Manager's Guide to Hiring IT Pros, and 5 Tips for Hiring Without Unconscious Bias. Now it's time to look ahead. We asked several ATTD members to provide a workforce prediction for 2022. Here's what they had to say. Note: Predictions are the personal opinions of the individual council members and do not represent the views of the ATTD Community as a whole or the members' respective employers.
The Great Resignation Will Lead to Fairer, Equal Opportunities and Support
"In 2022, I think we are going to see expectations of organizational leadership and middle managers shift to being increasingly more people-first, empathy-forward, and encouraged to participate in on-going learning related to DE&I in the quest to better support, empower and retain our present and future workforce. The Great Resignation of 2021 is in full effect, and we've arrived in a candidates' market. As a hiring manager, the candidates I've interviewed have raised topics such as mentorship and coaching, career mobility opportunities, support for underrepresented and minoritized groups, fair compensation, and work life balance. This talent pool is asking for an environment to help them thrive, and are determined and selective in where, how, and who they choose to work with." – Ashley J. Martinez, Supervisor, Digital Experience, TD SYNNEX.
A Strong, Continued Push to Keep the DEI Conversation Going
"I think that the high level of sensitivity to DEI is or has dramatically slowed down because many think we have made real progress or there is no need to keep the foot on the gas to keep the conversations and change happening. We have to continue to push hard, and we'll see a lot more of that in 2022. We need to keep the dialog open to not allow this to become a fad and disappear. It is far too important!" – Corey Kirkendoll, president and CEO, 5K Technical Services

Related Content: Make a Case for DEI at Your Tech Company | Trend Watch

Increased Transparency Brings More Accountability
"It's been almost two years since business leaders released public statements committing to equity and taking a stand against racial and social injustice. Promises were made to invest in organizational change, supplier diversity, and organizations leading the charge on social movements. I believe that today's leaders are being held to a higher standard and 2022 will bring about more accountability and pressure to be transparent about progress beyond performative action. Clients/customers/(perspective) employees will expect to see the data behind reported results and will respond accordingly." – Yvette Steele, senior director of member communities, CompTIA
IT Hiring Pendulum Swings Toward Experience, Certifications
"For 2022, I'll be watching to see the pendulum swing for IT certifications vs. education vs. experience. Companies will recognize the increased security risks brought on by working remotely, and security professionals, in all areas, will be in high demand. My die is cast towards experience being the weighing factor for hiring this year. Companies will not have the luxury of time to take a chance on someone who may or may not perform. If you don't have experience, then certifications will be the golden ticket. Certifications, at the very least, show you've studied and have been proven to know what you should know through a verifiable exam." – Nichelle Downing, Information System Security Officer, VA Healthcare System Enterprise Security Operations
Cyber Talent Shortage Spurs More Diverse Perspectives
"In 2022 and beyond, our shortage for talent in the cybersecurity space will continue to break down demographic barriers in many organizations. It has been proven that a well-rounded organization with women and those representing minority cultures provides for better outcomes in cyber security. With each day that passes, the cyber war we fight must be attacked from different vantage points and lenses; choosing to work with others that provide alternative perspectives can make a big difference in fighting the war. More and more inclusion will occur via necessity for better outcomes and filling desired knowledge worker roles in many other organizations and disciplines as well." – Tina Gravel, senior vice president of channels and alliance, AppGate
Leveraging New AI Innovations to Minimize Unconscious Bias
"One of the things I'm looking forward to is the increased use of technology to help decrease unconscious bias in the tech hiring process. While I think that many people are aware of what unconscious bias is, putting what is learned into practice can be difficult. With the recent, ongoing, and future developments in artificial intelligence, I think we will see the integration of AI tools into the recruitment process. These tools can be used to help organizations identify promising candidates for positions beyond gut feelings, reduce biases and bring in more diverse candidates." – Susanne Tedrick, Azure infrastructure specialist, Microsoft
Fewer Opportunities for Women Who Continue WFH Careers
"One thing to watch out for is that as companies go back in some type of hybrid model, those people who choose to stay home, which will be disproportionately women, will have fewer opportunities and advantages in the workplace due to less facetime." – Heather Johnson, co-founder and COO, Gozynta
Startups Embed DEI in their Business Model
"In 2022 we'll see a large number of startups who have diversity, equity and inclusion (DEI) at the core of their business model hitting the scaling stage of their journey. As they grow quickly, the impact they have will grow alongside their financial success. I see this being a new age of business and a better path towards equality, as many of the existing big tech companies have business models that perpetuate inequality." – Stefan Kollenberg, director of client security, Volley
More Accountability for Equity Initiatives
"2022 will be a year of reckoning and retooling. The last few years have seen increased awareness around gender and racial inequities in the workplace. Many promises were made, plans hatched, and programs launched to address these inequities. Some worked, some failed, and others never started. In 2022, we will see a demand for accountability that will be uncomfortable, but necessary to continue to increase parity for all. The retooling will acknowledge what works and do more of that and less of what didn't drive progress." – Val Haskell, tech workforce evangelist and past chair of CompTIA's Advancing Tech Talent and Diversity Community