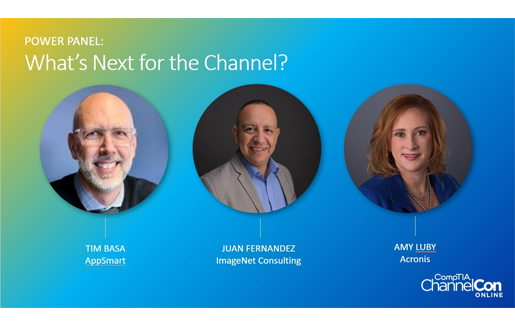 Companies empowering themselves now—by investing in new technologies, services, and skills—have a better chance of recovering faster and securing long-term success coming out of the current economic crisis. It happened in the Great Recession, and it will happen again, said executives during a Power Panel at ChannelCon Online titled "What's Next for the Channel?"
"Many in the channel were trying to tread water in 2008 and make sure they didn't go out of business, but those that were able to invest were more robust when things got better. That's an economic dynamic that exists and hopefully we'll see that in the channel today," said Carolyn April, senior director of industry analysis at CompTIA, and moderator of the session.
It was a sentiment shared by the other panelists: preparing your business now to take advantage of new opportunities and new markets will provide a competitive benefit when "normalcy" returns.
Tim Basa, vice president of sales and operations at AppSmart, said many of his company's partners have taken the time to educate and train their staffs during COVID-19, a notion that should serve them well going forward. "They've said 'What can I do?' Maybe they haven't sold this product suite before, or they didn't sell SaaS, but they wanted to pivot to SaaS or a contact center were quick to get educated," Basa said.
During the last recession, about 25% of channel companies went away, said Amy Luby, channel chief evangelist at Acronis. That could happen again because of COVID-19, but—just like last time—we're likely to see an influx of new channel partners as well.
"Many are operating at breakeven at any given any even during a good economy," she said. "Many let go from corporate jobs [are looking] to do things differently, more creatively than the old business model at that time. It can be super challenging, but if you can [show] creativity and willingness to change, you can really do some neat things with your business and your clients."
Meanwhile, Juan Fernandez, vice president of managed IT services at ImageNet Consulting and vice chair of CompTIA's Channel Development Advisory Council, agreed that creativity is often borne from necessity, and he expects advances around powering the new mobile workforce and creating an improved customer experience.
"That's opportunity we have, to innovate during this time. It's 100% have to think differently," Fernandez said.
From Technology Advisor to Business Consultants
COVID-19 will also help solution providers and MSPs get closer to customers—a phenomenon that needs to happen anyway, according to Basa. For example, restaurants that never did a takeout business before now have pivoted the business toward that model and relied on solution providers to supply them with the technology and processes to make that happen.
"Now that business advisor can take the solution to another customer and say, 'Here's what we're doing across town with another company and here's some enabling technology to do it,'" he said. "The channel is really becoming advocates for how to do business right now."
As part of that transformation, tech companies increasingly are introducing emerging technologies such as artificial intelligence and Internet of Things to make that happen, added ImageNet's Fernandez.
"Customers want to build out future solutions to cross that digital divide. The channel can help them implement AI, IoT, computer learning, and infrastructure-as-a-service and platform-as-a-service into their business model. They're building that improved customer experience through tech utilization. Customers love that approach," he said.
Solving Business Problems Becomes Paramount
Increasingly, customers are demanding more than technology solutions from MSPs and business partners. They're hungry for more collaboration, Basa said.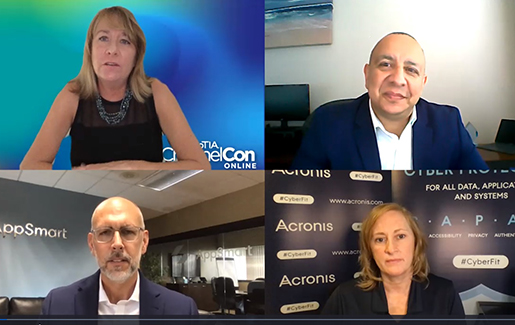 "They trusted someone for technology before, and for marketing, and now they're building mastermind groups within their organization and asking, 'How we can solve this business problem?' Many of our partners having a record year right now because of the brainstorming going on. Customers are taking a leap of faith. It's not crawl, walk, run; it's let's jog and sprint," he said.
A side effect of these changing relationships is that MSPs are gaining more power with their vendor partners too, according to Luby.
"It's taken almost 20 years for vendors to understand community engagement with MSPs is key to driving adoption of the product set. COVID-19 has accelerated cloud adoption and emerging technology adoption," she said.
MSPs are perfectly posed to introduce cloud-based solutions to customers that need remote functionality, and that's forcing vendors to think about how they engage with solution providers.
"My partners do not want to hear about another feature via PowerPoint. We have to deliver some real information to help partners grow their business. If we don't do that, they're not showing up. It's not a captured audience anymore," said Luby.
Predictions and Prognostications for the Post-COVID Era
Overall, the biggest trend for the channel heading into 2021 is the emergence of use cases and the value created around new technologies, according to Fernandez.
"There's going to be a massive shift in everything we do. This monitoring and maintenance conversation is dead. We're going to start to look at cloud workloads and start focusing on enabling this new mobile workforce," he said. But he cautioned that security concerns may tamper any inroads that innovations may make. "Emerging technologies have come in and I don't think best practice [adoption] has followed. That's caused some security concerns. As MSPs are attacked by ransomware, regulations may be forced on us to implement best practices. That's going to hurt a little bit."
We're entering the "age of the MSP," according to Luby. "They're beginning to dominate because of their ability to set up protected [solutions] and deliver remote work services," she said. "The channel is perfectly placed for small business, but I also think the midmarket is an opportunity. That's where traditionally the channel's had difficulty playing, but midmarket IT departments are overwhelmed."
Finally, AppSmart's Basa predicts that we're in for major changes when people go back to offices for work, which will have long-term and permanent repercussions. "We're not going back; we're going forward. This is chess. You have to be thinking of the next move," he said.