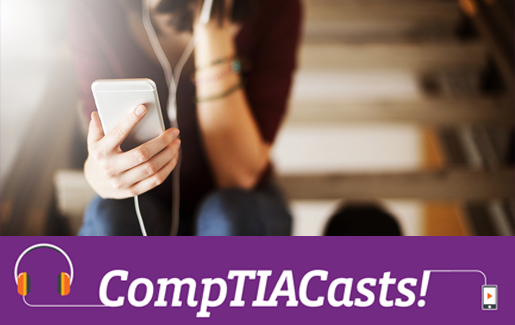 This month, CompTIA podcasts covered a range of topics with member-experts and CompTIA staff providing insight into today's most talked about tech topics—from the future of the tech industry to cybersecurity, the launch of the CompTIA ISAO, and much more. Take a look at what we overheard on CompTIACasts in July 2020, then check out all of our podcasts. Subscribe and start listening today.
Get Ready for ChannelCon Online
Nancy Hammervik, executive vice president of industry relations at CompTIA, joined Gary Bixler on the Biz Tech Podcast to provide an inside look at what attendees can expect from ChannelCon Online. With three days of learning, best practices, business strategies, networking and more beginning Tuesday, August 4, you won't want to miss this event. Register now.
"We've had a lot of time to build out the agenda for ChannelCon, now exclusively online, and everyone can expect what they always got out of ChannelCon. Our focus at ChannelCon is different from other industry events, especially in the channel. It's not so much focused on the partnering, although that is a huge intrinsic value of ChannelCon, but we lead with education, industry insight, training, sharing best business practices, and all of that will still be part of ChannelCon Online with three days of programming and content for you, the listeners to consume at home."
Nancy Hammervik, EVP, Industry Relations, CompTIA
Volley also talked ChannelCon Online, with hosts and CompTIA research analysts Carolyn April and Seth Robinson offering their perspective on the upcoming event. Carolyn and Seth, who both will be hosting individual days at ChannelCon Online and moderating panels, provided an overview of what to expect. Here's what Carolyn had to say about the agenda during day 1 of ChannelCon Online on Tuesday, August 4.
"This really devoted to the business track, more so than it is a technology track… These are solution providers, MSPs, vendors who they work with who will be involved in a lot of the discussion that's going on that day. The second panel I will be moderating is a little more in-depth because it dovetails with some of the research we've done and some of the outside research that we worked with a third party on and it's about partner experience trends."
Carolyn April, Senior Director, Industry Analysis, CompTIA

Introducing the CompTIA ISAO

MJ Shoer, executive director, CompTIA ISAO, and Miles Jobgen, director of the CompTIA IT Security Community, discussed the CompTIA Information Sharing and Analysis Organization (ISAO) on the Biz Tech Podcast. The CompTIA ISAO is dedicated to providing critical threat intelligence to technology vendors, MSPs, solution providers, integrators, distributors, business technology consultants and their customers. In this "behind the scenes" look, you'll hear about what's on the horizon for the CompTIA ISAO as well as the benefits of membership and how you can join.

"We're trying to help [solution providers] be more resilient and more capable. We're providing them the information to further secure their clients because we've all seen—and heard the horror stories—of MSPs that have been hacked and then used to inject ransomware or other malicious activity into a client base. And let's be honest, if that continues unabated, it could do irreparable harm to our industry."

MJ Shoer, Executive Director, CompTIA ISAO
The Pandemic's Impact on the Tech Industry
Also on Volley this month, Carolyn and Seth welcomed CompTIA CEO Todd Thibodeaux for an in-depth discussion about what lies ahead for business and technology. The COVID-19 pandemic has created massive disruption, but there is also opportunity to rethink how things get done and how to use technology more strategically. Todd discusses the transition to remote work, the ripple effects of changes across different industries, and the skills that tech workers need for success in the future.

"I don't think we'll see any major new technologies emerge as a result of [the pandemic]. I think a lot of the things that are necessary for companies to be successful, and operate within this, they were already there because the tech was already employed. I mean, this has just validated the cloud a million times over, this whole experience. Being able to have access to your information off-premise, applications being hosted in the cloud, all of these things that have been in place for a few years."

Todd Thibodeaux, CEO, CompTIA
Also on July CompTIACasts…

The State of Cybersecurity During COVID-19

In this two-part series, members of the IT Security Community Executive Council address the challenges IT solution providers have had to manage in keeping their clients up and running throughout the global pandemic. Recorded during the IT Security Community's recent virtual meeting, you'll hear about the risks that have been exposed, fundamental training challenges, minimum security products to provide your clients a more secure environment, and more.
Identify Your Leadership Blind Spots
Adam Proulx, senior manager of the Canadian Business Technology Community, chatted with Likky Lavji, known as the "blind spot navigator" on the Biz Tech Podcast. In this episode, you'll learn how to identify your blind spots, what the most common blind spots are, and how they could be affecting workplace relationships.

Listen now