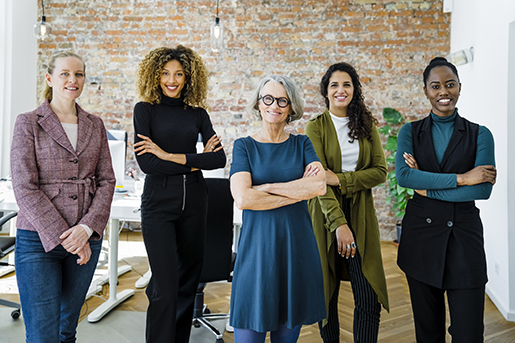 Balancing the demands of a growing business and a growing family have become a common challenge for tech business owners and their employees over the last couple of years. Sacrificing one side, even for a short term, can induce feelings of guilt, inadequacy or failure. But it is possible to achieve both personal and professional growth simultaneously and being successful shouldn't mean you can't focus on your company and your family—especially if you're a woman.
CompTIA recently asked three female-led MSPs to share their experiences at a UK&I Community meeting in Bristol. Here's a look at how they've achieved success—and how they want to inspire others to do the same.
Work-Life Balance
The concept of work-life balance escalated during the pandemic as employees quickly transitioned to working from home, often with their children learning remotely too. Now that the initial adjustment is over, many employers and employees recognize the positives of finding the right mix of work time and family time.
Amanda Stewart, managing director of Illuminate Technology, Roslin, Midlothian, UK, hired one employee during the pandemic and didn't get to meet that person until six months later—a common scenario during 2020-21. Like many MSPs, demand for her services and solutions increased dramatically and tech companies had to find a way to do the best they could with the resources they had.
"That was a bit odd [hiring someone without meeting them], but now that we've got the right number of people, it's given everybody a chance to say 'OK, maybe we can relax a little bit' and have a better work-life balance," Stewart said.
Suzanne Miller, owner of Saskian Technology, Walton-on-Thames, UK, noted MSPs worked fast and furious during the early part of the pandemic because it was needed, but through it all they learned to focus more on family too.
"That was a common theme. People working from home needed better, faster, easier access. But my work-life balance improved immensely. I thought we could scale faster if I worked harder but part of my reason for doing what I do is that I get to spend time with my family, I get to walk the dog, I get to have a life and a business. I wouldn't describe my business as a lifestyle business. I take it very seriously, but I take my personal life very seriously too," Miller said.
Getting More Women in the Room
Claire Jenks, director of Jenks Creative, based in Northumberland, UK, noted that companies with a high percentage of female employees often demonstrate higher workplace satisfaction, more organizational dedication, more meaningful work and less burnout—and are more profitable.
"Women can feel guilty, feel like we've dropped a ball or we're focusing too much on work, or too much on family," she said. "But we bring a lot of benefits to the workplace. We're strong communicators, good at networking, managing teams and working within teams."
But getting women into tech companies continues to be a challenge.
"Back in the 1990s, I had an IT department of six women, which didn't seem so unusual at the time. It was great. It just worked. But I haven't seen another one since," said Stewart. "It's really hard to recruit anyway and to recruit women in IT is much, much harder."
Many successful women say too often they've been "the only woman in the room," but in some cases that uniqueness is what sets you apart too, said Miller.
"In my previous career, communication was important, and the teams were mostly men. I stood out because of that. I was able to be a bridge between them and customers. Communication was a big part of that," Miller said.
Strong communication skills are important not just internally, but also externally with clients, said Stewart. Females can be strong assets for companies looking to increase customer loyalty, she said. "Every phone call from a client, you could get a life story, and they don't necessarily get that from [male] engineers," she said. "Through COVID, I was a bit of a counselor as well as an IT department. Communication in business relationships is important with customers, vendors, and communities like CompTIA."
Bring in the Next Generation
If not enough girls and young women are showing interest in tech careers—or even know it's a possibility—then it's imperative to go get them, said Miller and Stewart.
"When I was in school, you were either a secretary or a nurse, and I'm not good with blood so I became a secretary," said Stewart. "They brought two computers in, put them in a corner and walked out. I was so bored I taught myself WordPerfect and ended up teaching the typing pool how to do WordPerfect. I completely fell into IT."
Today, apprenticeships and partnerships with local schools—down to the elementary/primary level—are great ways to get girls interested and involved.
"I want to encourage women to get involved. I want to talk to them about what a great career it is for women. Amanda and I built our careers whilst we were having children and while our children were small. It is possible to do that," Miller said. "There are all sorts of roles in IT that people can do. You don't have to be a 'techie.'
Stewart's company is involved in a program that brings old laptops to primary schools where students open them up, take them apart and learn about what makes them work.
"Some of the girls are really brutal. It's probably the first time they've been able to do that. Getting your hands on them is important. They always say 'This is the most fun. We actually got to do something.' It's not just talking about careers when they start in high school," Stewart said. "It's important to get schools to show youngsters [hands-on opportunities]. That's where we as an industry need to go. We could be showing them so many things."
Jenks noted that her interest in tech sprouted from her mom being a network manager and her dad as an electrical engineer. "I used to love doing all the programming stuff with my dad, but in school and it was completely different," she said.
The more people see themselves represented in tech, the more likely they will be interested in that too—and think they can, Miller said. "We need to keep going to schools and say, 'You can do this."
Join CompTIA's Advancing Women in Technology Interest Group!
Want to learn more about issues, challenges and opportunities for women in technology?
Start a conversation about changing workplace cultures to be more inclusive, raising awareness of the unique concerns of women, and improving opportunities at all levels of the technology workforce.